---
news
Published:
17 February 2021
Following in Daphne's footsteps: Meet our female physicists
Surrey is home to an incredible range of female physicists who have made their mark in research, industry and public engagement. As part of our Year of Surrey Women in Science & Engineering – marking 50 years since Daphne Jackson became the UK's first female Professor of Physics at Surrey – we talk to just a few of them.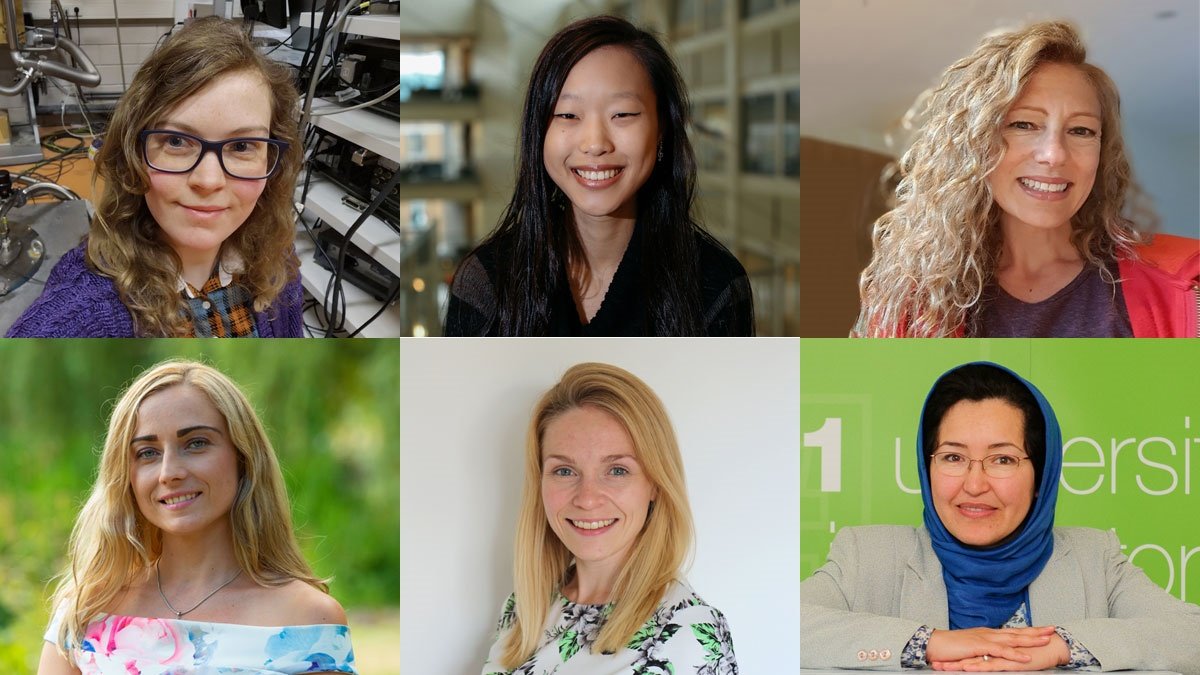 Professor Daphne Jackson is a key figure in the history of UK science. How does her story resonate with you?
Noelia: I come from a non-academic family, as Daphne Jackson did, and can definitely relate to her campaign to shatter stereotypes. There is this myth that academia is for students from wealthy backgrounds when in reality that doesn't have to be the case.
Shakardokht: Her story resonates with me because I was the first woman in Afghanistan to obtain a PhD in medical physics. I came to the UK to study because I wanted to do something about cancer care in my country, where far too many cancer patients were dying. At Surrey, I saw Daphne Jackson's picture on the wall every day and she became a great role model for me.
Stacy: The programme Daphne set up to help women return from a break in their career, which eventually became the Daphne Jackson Trust, is still revolutionary and innovative today. I'd be hard pressed to find a similar programme in the US, my home country.
Who have been the influential women in your academic journey and why?
Izabela: I've been most inspired by my best friends from academia – Professor Vleria Nicolosi, who is a Professor of Physics at Trinity College Dublin and Professor Nicole Grobert, who is Chair of the EU's Group of Chief Scientific Advisors. These are the women who've inspired me to follow their example.
Noelia: My first (and probably strongest) female inspiration was actually a fictional character from the book Contact by Carl Sagan. The main character, Ellie, has an inquisitive mind and is inspired by her father to pursue her astronomy dreams, which reflects my own experience.
Stacy: My mom. The story of her life is one of incredible service, sacrifice, endurance and love – she's the strongest person I know.
What first got you interested in physics?
Stacy: I was painfully shy growing up, so I felt a sort of kinship with the solitude and quiet of the night sky. It fascinated me that the same laws of physics that we observe on our humble planet also govern the seemingly complex faraway worlds of swirling stars, gas and dust.
Daisy: I've been interested in science for as long as I can remember but my particular fascination with physics came during high school when I realised that it underpins the other sciences. For me, being able to deeply explore the workings of the world around us and using that knowledge to make new technologies is very exciting.
Izabela: I became interested in materials science because it encompasses chemistry, physics and engineering. I found I liked to find solutions to problems and challenges.
Shakardokht: When I was around 16, my sister aged nine got hemiplegia, which meant that half of her body was not working. I accompanied her for her MRI scan (on one of only two scanners in Iran, where we were living as refugees) and remember being fascinated by the process.
"Visiting CERN while studying for my A-levels was a big eye-opener for me. Having only seen classroom experiments before, experiencing the scale and ambition of CERN was a very memorable moment." - Chantal
Is there a particular female scientist whose work inspires you?
Daisy: I've always found Emmy Noether, the German mathematician born in 1882, to be a very inspiring figure. She did incredible things during her life, despite facing discrimination, which I deeply admire.
Noelia: The 'Harvard computers' – a group of women who worked at the Harvard College Observatory from the 1880s to the 1940s – have been a huge source of inspiration for me. These women, most of whom were untrained and/or unpaid, observed images showing tens of millions of stars using just magnifying glasses, paving the way for some outstanding discoveries.
Chantal: I'm constantly inspired by the fascinating career of Dr Jess Wade, a physicist in the field of nanomaterials who's dedicated to recognising the scientific contributions made by women and other under-represented communities. She has written over 900 Wikipedia biographies to raise the profile of minorities in STEM.
Shakardokht: Marie Curie, who worked with radiation technology, is a greatly inspirational role model for me.
What's the main barrier to women studying STEM subjects and going into STEM careers, and how can we do more to support them?
Daisy: I think one of the biggest barriers is gender stereotyping. From a very young age we are given clear signalling as to what are considered boys' and girls' subjects. Gender action is a great initiative trying to combat this.
Chantal: I think there's a misconception that STEM subjects are less inclusive because they are male-dominated. My experience of physics is of a supportive community of like-minded people who want to encourage each other, and I have been inspired by many men as well as women.
Izabela: I don't think there's a barrier to women studying physics at Surrey – the students I speak to are very engaged and not put off by the challenging subject matter. The main barrier to STEM careers for women is when you come to start a family. There is quite a lot of funding support in the UK now for career breaks, but this tends to be highly competitive.
Stacy: One thing we can do is make STEM a more welcoming place on a day-to-day basis – not just celebrating the exciting science we're doing but also discussing the challenges and joys of parenting, caring for pets, coping with the pandemic…these types of conversations and the deep community they create have really helped me.
What legacy do you hope to leave for the next generation of women scientists?
Izabela: I'd like to be a role model by showing that having a family does not have to stop you achieving your dreams in STEM.
Daisy: I'm still very early in my career but hope to be one of many female role models in science in the future. I hope that my work on neurodiversity awareness will enable up-and-coming neurodivergent scientists to be empowered to forge their own path and have access to the support they need.
"I hope that I show women in my country that with determination and confidence you can achieve your personal goal. I also want to demonstrate that you can make a practical difference through science. There are so many good solutions gathering dust but not changing society. I think it's important to think about commercialisation and bridging the gaps which currently exist." - Shakardokht
Stacy: I hope I can add another example of what a woman in STEM can be like, and demonstrate that you can pursue your love of maths or physics without letting go of other passions which might be in design, dance, or other things that are sometimes thought of as 'non-sciencey'.
Noelia: There is nothing more powerful than women mentoring and supporting other women. Believe in yourself, find your line of sight and, above all, enjoy your journey.
If you've been inspired by this interview with our female academics and students in the Department of Physics, and think you might enjoy the culture and student experience we offer, check out our courses, including our undergraduate and postgraduate physics programmes.