Media suites
We are home to numerous edit rooms, a listening room and Mac labs, which enable students to perform a host of production tasks.
Edit rooms
The edit rooms are used for a wide range of audio post-production tasks. The rooms have been designed and constructed to the highest acoustic standards to provide ideal work environments for digital audio workstation use and post-production for audio and audio for screen projects.
Studio recordings of classical music are usually made up of a number of takes, which are later edited together. All three edit rooms have Pyramix Native, which is designed specifically for this type of work.
Increasingly, pop music recordings involve significant editing, from correcting the timing of rhythm parts, to tuning vocals. In addition, students often mix at home using their own DAW systems such as Pyramix, ProTools or Logic. To enable this type of work, all three edit rooms have Pyramix Native, ProTools Native and Logic, and edit rooms 1 and 2 have fader controllers to assist with mixing.
The edit rooms are also frequently used for post-production audio work for film and TV. This includes sound effects and Foley editing, speech editing and ADR fitting, and creation of pre-dubs. One example of this is the audio post-production coursework which involves editing the location sound and ADR from a pre-recorded television shoot, and adding appropriate music and effects.
In addition to these facilities, edit room 3 houses a 12-channel Neve Melbourn console, which allows mixing of tracks or stems via a classic analogue console, as well as a range of 2-channel recording and replay devices such as 1/2" analogue reel-to-reel, cassette, DAT, and CD recorders, and a Technics turntable. Edit room 3 also includes a SADiE DAW, commonly used for mastering and editing for broadcast.
Edit room 1
Edit room 1 contains:
Dual boot PC with ProTools and Pyramix
Avid HD Omni interface
ATC SCM20A monitoring
Drawmer CMC2Yamaha PF80 keyboard
AVID Artist Mix fader controller.
Edit room 2
Edit room 2 contains:
Dual boot PC with ProTools and Pyramix Avid HD Omni interface
ATC SCM20A monitoring
Drawmer CMC2 Euphonix MC Mix fader controller
5.1 system controlled by an SPL Surround Monitor Controller for 5.1 mixing.
Edit room 3
Edit room 3 contains:
Dual boot PC with ProTools and Pyramix Avid HD 16 interface
ATC SCM20A monitoring
12-channel Neve Melbourn
Studer A80 2-channel 1/2" analogue reel-to-reel
Dolby A noise reduction
Technics SL1200 turntable
Tascam CD recorder
Prism Sound Titan multi track audio interface.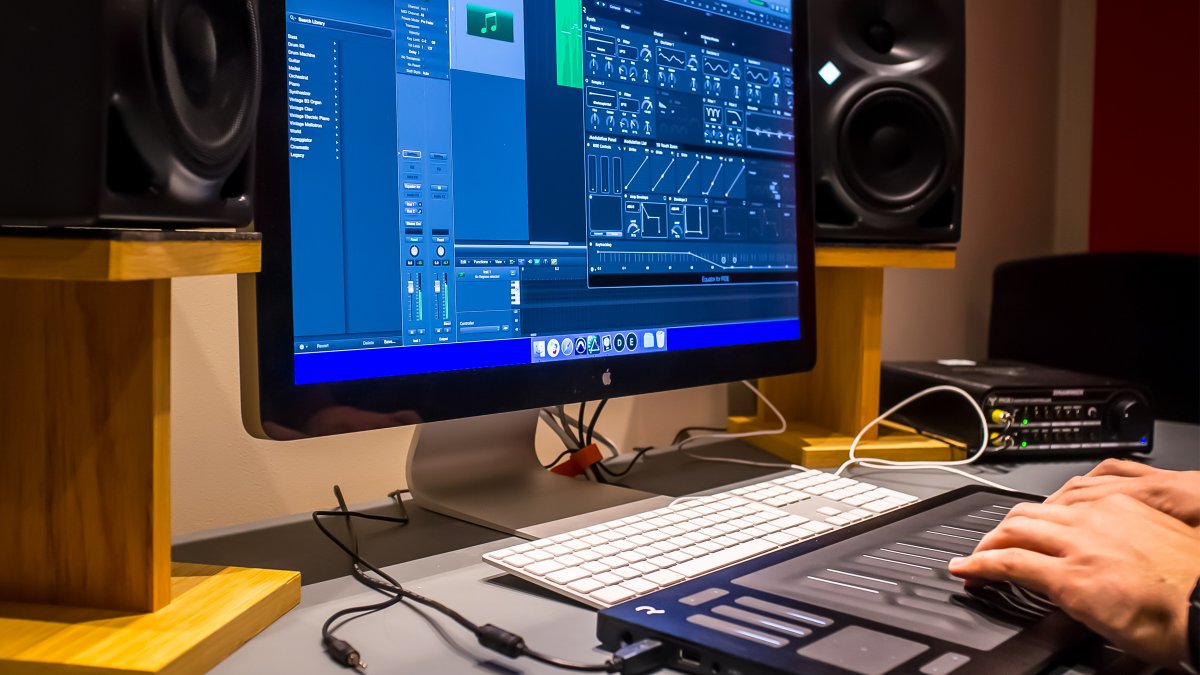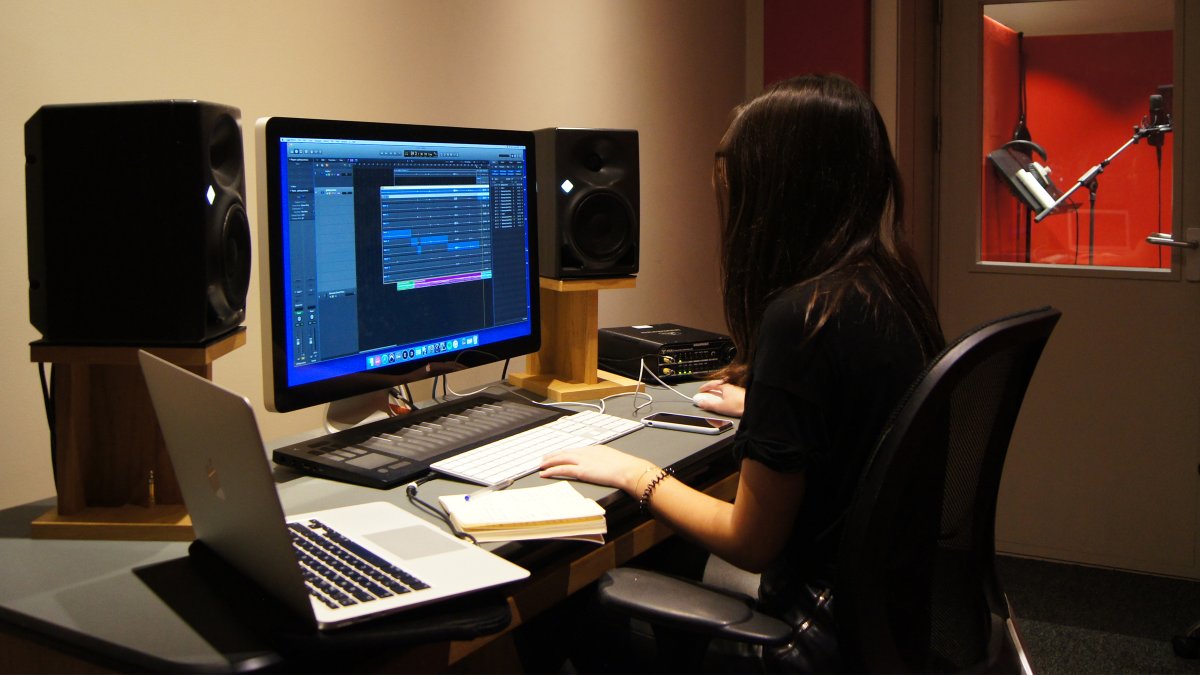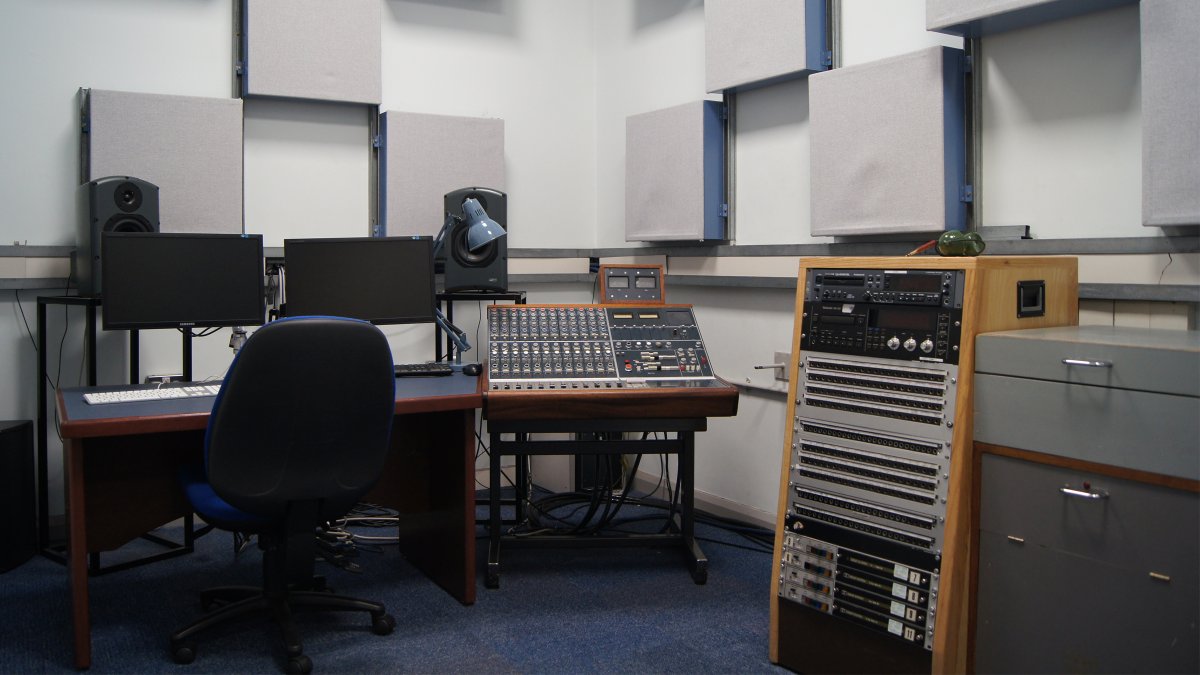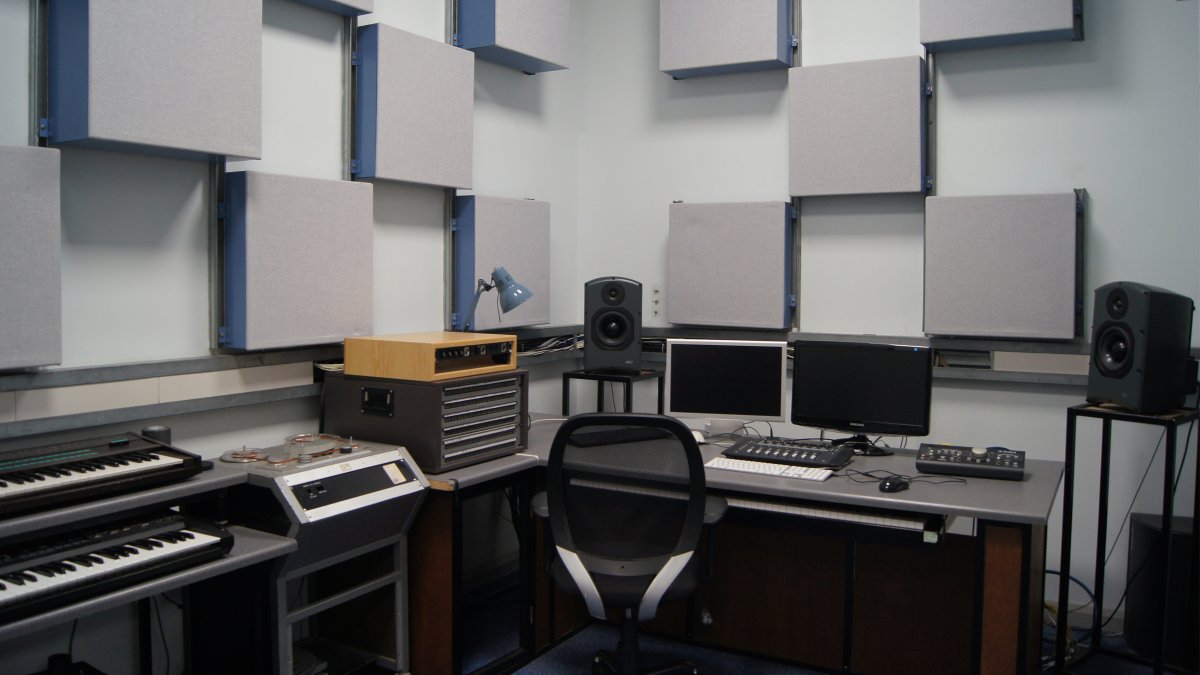 Listening room
The ITU-R BS.1116 critical listening room and audio laboratory (designed and built by Munro Associates) are used by students and researchers to undertake experimental work involving audio measurement and subjective listening tests.
The ITU-R standard is the most critical international standard for listening rooms, with strict criteria for low noise, controlled reflections, dimension ratios and reverberation time. The listening room is equipped with a flexible range of reproduction systems from stereo to multichannel including elevated loudspeakers. This enables listening tests on multichannel surround sound to be carried out effectively.
The room contains a loudspeaker mounting system that can be rigged with a large number of loudspeakers. It is usually configured for 22.2 reproduction, using 22 Genelec 8330A loudspeakers and 2 Genelec 7350A subwoofers. The system includes distributed bass management and built-in time alignment and equalisation of level and frequency response. The system is flexible enough to allow almost any multichannel loudspeaker arrangement, and additional loudspeakers can be added for any format (up to 72 Genelec 8020 loudspeakers).
There is also a pair of B&W 801 loudspeakers with a Chord amplifier for 2-channel stereo, and a set of 5 Genelec 1032A loudspeakers and a Genelec 1094A subwoofer for 5.1 surround sound.
We also have a wide range of test and measurement equipment that can be used in the listening room or around campus, including:
Prism DScope 3 audio test system
Audio Precision 2700 audio test system
MLSSA measurement equipment (running on PC)
B&K 2033 real time audio analyser
Neutrik Cortex MK2 binaural recording & measurement system
B&K acoustic test equipment and microphones
Neutrik Acoustilyzer acoustical analysis system
Lindos MiniSonic MS20 audio test system
A selection of scopes, oscillators, audio test sets.
Enquiries
Enquiries from external bodies or individuals regarding use of the ITU listening room should be directed to Dr Tim Brookes: t.brookes@surrey.ac.uk.
Mac labs
The new Mac labs are used for teaching computer and electronic music. The labs contain rooms with Mac workstations for audio production with Logic, Ableton Live, Max/MSP, feature Genelec monitoring and facilities for the creation of music for screen applications, and are close to our self study room which is also fitted with Mac workstations
Blue and red labs
These labs host an infinity curve green screen studio, 360-degree video capture equipment, and 4K camera equipment, as well as a markerless motion capture space.