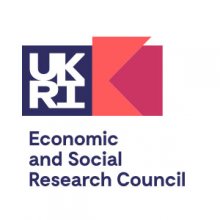 Festival of Social Science 2019
The week-long programme of events offered a thought-provoking insight into some of the UK's leading social science research and how it impacts our social, economic, and political lives.
Festival programme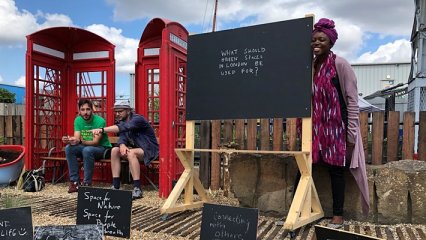 Getting outdoors improves health and happiness, but in the city this also means battling noise, traffic, and air pollution. Since more of us than ever are living in cities, we urgently need to improve urban quality of life. Parks, gardens, plazas, and riversides can provide respite, but how many of us take the time to visit them?
Drawing on research in environmental psychology, architecture, and open data, this half-day event showcased how areas of tranquillity in the city can help us to recover from stress, leaving us feeling happier and healthier. We explained the science behind these restorative environments and their design through talks by leading researchers and practitioners. We explained how technology is making it easier to discover peaceful places in London, and provided training on mapping and sharing them using the Tranquil City Index and pen and paper techniques. The day ended with a guided walk to a nearby tranquil space, and a set of activities designed to increase happiness and relaxation.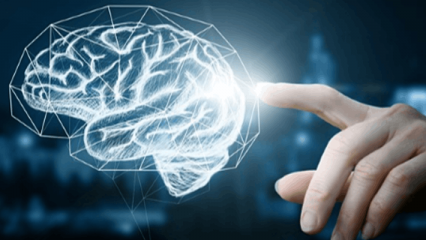 When it comes to employee health and well-being at work, we know two things to be true: first, stress of any kind impairs performance and productivity; second, knowing when stress hits employees – in particular, mentally and psychologically – and what to do to help them, is incredibly difficult (if often near impossible) for leaders and managers alike.
In this interactive session, we offered both employees and business leaders an insight into how a new field of enquiry in management research - organizational neuroscience - can help recognise and tackle some of these issues. Coupling theory with practice, we explained what happens to our levels of well-being when we detect a stressful situation at work, such as being treated unfairly, which inevitably leads us to feel negative emotions. We engaged the audience in a lively discussion and provide a live demonstration on how we can best detect stress and regulate our emotions, leveraging the capabilities of current wearable technologies.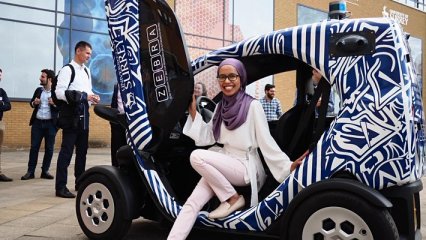 Part 1: How does our future look with autonomous and electric vehicles?
Lead by: Dr Nikolas Thomopoulos (SHTM).
Are you interested to find out what research is being done about Electric Vehicles (EV) and Autonomous Vehicles (AV)? How social science contributes in shaping advanced technologies and our future urban living? How the UK can become a global leader in these fields?
Then join this event targeted to anyone who is interested in finding out about developments surrounding AVs and EVs, both in the UK and overseas. UK experts of leading research projects such as WISE-ACT and Driverless Futures will present their latest outputs and trigger your imagination about the potential impacts of AVs and EVs.
Speakers:
Prof. Graham Parkhurst, CTS Director, University of the West of England
Cherrie Mendoza, Transport Policy Team, Surrey County Council
Alex Beckett, Joju Charging
Dr Nikolas Thomopoulos, WISE-ACT & University of Surrey.
Part 2: Innovations in electric vehicle charging
Lead by: Dr Chris Jones (School of Psychology and Urban Living Theme Champion)
This event will showcase an innovative electric vehicle charging concept, which connects advanced solar-panel technology with state-of-the-art energy storage. Participants will be able to see and interact with prototypes of the two technologies, as well as having the opportunity to speak with the designers and academics who are evaluating public perceptions of the concept.
Also on display will be the University of Surrey's new ZEBRA (Zero-emission) autonomous electric vehicle, plus students from the Centre for Doctoral Training in Energy Storage and its Application (Universities of Southampton and Sheffield) will be running an interactive battery recycling exhibit.
Part 3: Have your say about the deployment of autonomous and electric vehicles
Lead by: Dr Nikolas Thomopoulos (School of Hospitality and Tourism Management).
When and where should Autonomous and Electric Vehicles be used first? After getting a first hand experience of ongoing research about Autonomous and Electric Vehicles, this is your opportunity to have your say and contribute in shaping the future of your local area. Through an innovative participatory approach and a group activity, you will be offered the opportunity to raise your concerns and debate with experts. Join this session to collaborate with other interested individuals and have your suggestions taken further by researchers and policy makers.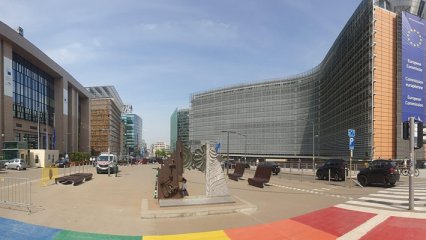 With a new Prime Minister, a looming deadline for Article 50 and the distinct chance of an early general election, Brexit remains at the forefront of our public and political debate. But a lot of what you hear is from partisans on different sides, more interested in selling their position than setting out what the plain facts of the matter might be. To help redress that, we offered the opportunity to pick the brains of some of the leading academic experts on this topic, during a night of question-and-answer in the heart of Guildford.
With expertise in economic, political and legal aspects of the UK's withdrawal from the European Union, we offered a response to all those burning questions that you've never felt you've gotten a straight answer to. And yes, sometimes that answer is going to be that we don't yet know. So, no pitching for your vote, no being evasive, no hand-waving: just straight down-the-line answers, to help you get a handle on all of it. 
The panel included:
Professor Simon Usherwood. Working in the Department of Politics, Simon's research has focused on the negotiations between the UK and EU, the practicalities of Brexit and the wider role of euroscepticism in the UK. He has been Deputy Director of the ESRC-funded "UK in a Changing Europe" programme, dedicated to sharing academic insights into the public debate
Dr Eric Golson. A specialist in economic and trade warfare, Dr Eric Golson is currently the Deputy Head of Department and Senior Teaching Fellow in the School of Economics. He has provided economic consulting to both industry and governments on trade matters
Dr Laura Chappell. Laura is Senior Lecturer in Politics, researching the EU's foreign and security policy, particularly focusing on its military operations and on its conceptualisation of its strategic role in the world
Dr Noreen O'Meara. Noreen is a Senior Lecturer in Human Rights and European Law. Noreen's work has taken her into questions of the legal relationship between the UK and the EU, as well as the role played by European structures for Human Rights and how they relate to both EU and national legal systems.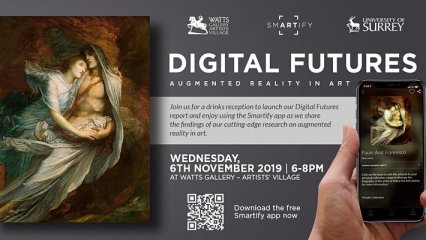 Augmented reality (AR) provides a dynamic approach to engaging with art in a time when the use of digital technologies across the arts and heritage sectors continues to grow at pace.
This event shared cutting-edge research that has been conducted in partnership between Watts Gallery, Smartify and the University of Surrey, exploring how augmented reality enriches visitor experiences, provides new opportunities to reach new audiences, and offers staff and volunteers alternative ways of engaging with visitors.
The audience were able to try the app for themselves and share the possibilities that AR brings to galleries and exhibition spaces.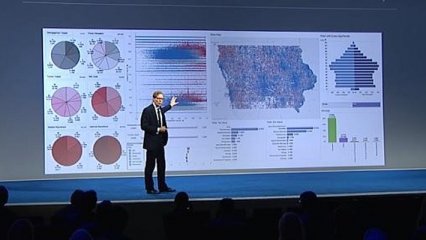 Recent years have seen immense technological advances in the fields of artificial intelligence (AI) and machine learning. Crucially, AI and machine learning rely on data. Our contemporary societies are also hugely data-driven: citizenship and democracy itself are now heavily reliant on data. Without data neither the modern state nor a modern economy would be able to function. As a result, AI is not just the domain of technologists, but a powerful tool in the hands of policy-makers, industry, the media, and citizens themselves.
The event looked clearly at the impact that AI is having on contemporary democracy, and the way in which the social sciences can help ensure machine learning is used intelligently to support, rather than degrade, key values and practices of democracy.
The development of AI poses many questions for the practice and theory of democracy. To what extent, for instance, should polling agencies and political parties be allowed access to large data sets in order to model an individual's voting intention? Should, in trying to prevent political radicalisation, security agencies use sophisticated machine learning to analyse social media accounts? To what extent, if any, can the democratic state become 'digitised' - and would this make it more accountable? Who oversees the aggregation and utilisation of large data sets? The social and political sciences have an important role to play in answering these and related questions.
Organised by the Department of Politics at the University of Surrey, our inter-disciplinary event brought together researchers from across political science in order to address how AI can be made safe for democracy. Using many real-life examples, such as the 2016 EU referendum campaigns, the event showcased the importance of political science for our understanding of the challenges posed by AI. Talks by Surrey academics included the following topics: human rights and AI; political campaigning and AI; the use of virtual environments in democracies; the rule of law and AI; and the implications of AI for gender stereotypes and beyond.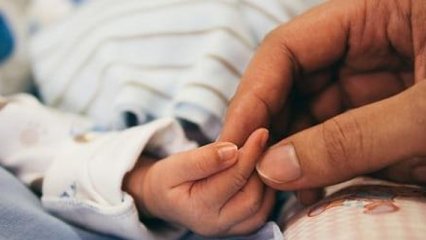 All expectant and new parents want to do the best for their children but doing so can prove a minefield when advice is flying in from every direction.
What does research tell us about the role of proliferating information and advice in the experience of early parenthood? And how can new parents navigate their way through while keeping pressures and anxieties under control?
Between health professionals, family, friends and social media, expectant and new parents can feel bombarded with advice on every topic from what to eat and drink in pregnancy to approaches to baby feeding, sleeping, changing, soothing and more. Good information is important, but the volume and range of advice can be over-whelming, leading sometimes to new parents losing confidence and contributing to post-natal anxiety. Perhaps it's time to let go of the myth of the 'perfect parent'?
As part of the annual Festival of Social Science, critically-acclaimed author Rebecca Asher, together with academics from the University of Surrey, hosted a lively discussion about how new parents can find their way through the sometimes conflicting advice and support they are offered, without sacrificing their own wellbeing. We also considered how parents can best support one another without inadvertently adding to such pressures.
The debate started with remarks from journalist and author, Rebecca Asher (author of Shattered and Man Up). Rebecca Asher's book "Shattered" discusses the weight of expectations new mothers' face, and how strongly gendered these are. The Surrey social scientists build on this from an academic perspective with Dr Ranjana Das discussing how pressures and ideals pervade early motherhood, including through social media communication. While such pressures typically affect mothers most acutely, Dr Paul Hodkinson considered the experiences of dads, and described how fathers can sometimes struggle amidst pressure and advice to be steadfast, solid 'rocks' for their partners. Finally Dr Jo Blanden challenged the source of some established recommendations and asked if all these instructions are really necessary.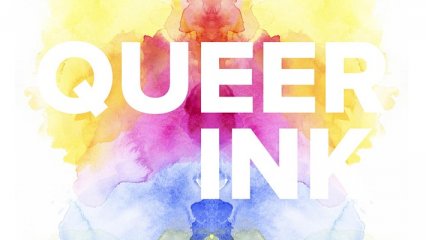 When you look at an ink blot what do you see? What does it mean? Do you think your sexuality can be detected?
In this workshop, participants had the opportunity to learn about the messy history of how Rorschach ink blots were used to detect 'homosexuality' back when it was considered a mental illness. But they also discovered just how these odd inky images were also involved in some aspects of gay liberation. Following a talk by Katherine Hubbard about this queer feminist history and having a go at the original Rorschach ink blot test themselves, the audience were then able to make their own ink blots. By using screen printing they could make and interpret their own ink blots and leave with tote bags, tea towels or posters as souvenirs.
Stay connected
Fantastic result! At Surrey's
@ESRC
Impact Acceleration Account team, we are proud to be contributing to the exciti…
https://t.co/QkUvg8RKUR
An interesting blog by the London School of Economics and Political Science about perceptions of evidence for polic…
https://t.co/fLM6bCVFNF