How we work towards LGBTQIA+ equality
We are committed to ensuring that our institutional values focus on creating equitable opportunities and outcomes for all groups regardless of their sexual orientation or identity. 
Stonewall Workplace Equality Index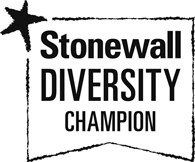 The University is working in accordance with our Stonewall Workplace Equality Index to ensure support and development/progress for all of our staff and students.
We are proud to be a Stonewall Diversity Champion and preparing to submit our application for the Stonewall Workplace Equality Index 2024, which requires a demonstration of commitment to 10 areas of employment policy and practice. This index offers a constant guided review of the University's work to enable us to recognise areas of strength and improvement.
LGBTQIA+ Equality Working Group
This staff-student group advocates for all aspects of LGBTQIA+ equality within the University and raises issues and challenges where appropriate. The University values the voices of its community and discussions ultimately feed into the University's Executive Board.
LGBTQIA+ Awareness Training
The University offers LGBTQIA+ Awareness Training to all staff via interactive sessions, which has proved to be a well-attended course.