2:15pm - 3:15pm
Tuesday 6 August 2019
Weakly supervised crowd counting and conditional rotation prediction based semi-supervised learning
The first work addresses the problem of estimating the object count from images, i.e., the crowd counting problem.
35BA00
CVSSP
University of Surrey
Guildford
Surrey
GU2 7XH
Abstract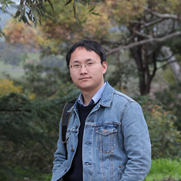 The first work addresses the problem of estimating the object count from images, i.e., the crowd counting problem. Traditionally, the annotation needed for training a crowd counting model is not only the total count of objects but also their locations. However, location-level annotation can be expensive to obtain while in some scenario, it is possible to collect the count-level annotation effortlessly. Our work studies how to effectively make use of the weakly supervised count-level annotation for model training. We show that the straightforward solution by regressing to the total count is not enough due to insufficient training signal. We then develop a new weakly supervised learning algorithm to overcome this drawback and achieve better learning outcomes.
Our second work tackles semi-supervised learning from the perspective of self-supervised/unsupervised learning. Our idea is to construct a self-supervised learning objective which encourages the correct prediction on unlabeled data. Comparing to the traditional self-supervised learning objective, the constructed objective is aware of the down-stream task and can lead to feature representations more suited for the target problem. We implement this idea by modifying the recently proposed rotation-prediction-based self-supervised learning and have achieved promising performance comparing with the state-of-the-art approaches.  
Short biography
Dr Lingqiao Liu received the BS and MS degrees in communication engineering from the University of Electronic Science and Technology of China, Chengdu, in 2006 and 2009, respectively, and the Ph.D. degree from the Australian National University, Canberra, in 2014. He is now a Lecturer at the University of Adelaide. In 2016, he was awarded the Discovery Early Career Researcher Award from the Australian Research Council. His current research interests include low-supervision learning and various topics in computer vision and natural language processing.
Visitor information
---
Find out how to get to the University, make your way around campus and see what you can do when you get here.
Related events