2pm - 3pm
Friday 6 March 2020
3D indoor semantic scene completion from a single point-of-view
Reasoning about scenes in 3D is a challenging problem in computer vision, with many practical applications, from robotics to assistive computing.
35BA00
CVSSP
University of Surrey
Guildford
Surrey
GU2 7XH
Abstract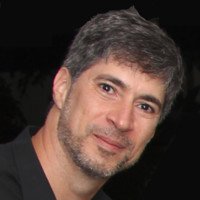 Semantic scene completion is one of the most complete tasks related to scene understanding, as it aims to infer the complete 3D geometry of a scene and the semantic labels of each voxel in the 3D space under analysis, including occluded regions, given a single RGB image and its depth map.
In this talk, Aloísio Dourado will present some approaches his team developed to improve the accuracy of current semantic scene completion methods and to extend the scene coverage from the limited field-of-view of RGB-D sensors like Microsoft Kinnect, to a complete 360-degree coverage.
Short biography
Aloísio Dourado is a PhD student at the University of Brasilia (Brazil). His research is about 3D scene understanding using deep convolutional networks. Aloisio is also a Brazilian government employee and works as a data scientist applying machine learning algorithms to detect frauds and improper payments. He holds a degree in electrical engineering and a master's degree in applied computing. His interests are scene understanding, deep neural networks, machine learning and domain adaptation.
Visitor information
---
Find out how to get to the University, make your way around campus and see what you can do when you get here.