2pm - 3pm
Wednesday 2 September 2020
Motion capture and animation research at CAMERA: From digital humans to digital dogs
Professor Darren Cosker from the University of Bath will be speaking.
Abstract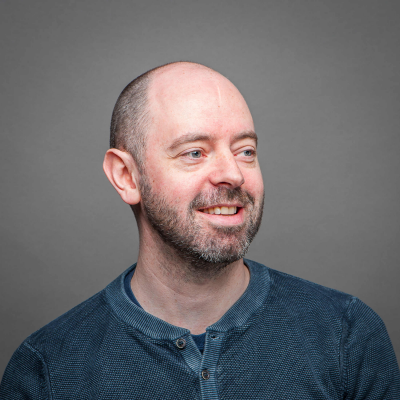 The last few years have seen exciting developments in the area of digital humans. This includes impressive real-time character animation driven by motion capture, high-end digital characters in movies, facial re-enactment and deep-fakes, or methods to create digital human models from photographs. However, there is still a great deal of work left to do to achieve truly convincing humans, or the ability to create convincing characters which are not 'one-off' results taking months of effort.
In this talk, I will cover work in this area at CAMERA including the development of production workflows for creating and animating digital humans. These workflows have been used within our centre to carry out a number of successful commercial projects involving virtual humans - an activity somewhat unique for a university research laboratory.
These projects include the first video game by Aardman Animation (on XBox, PS4 and Steam) and project with Satore Studios which recently won best immersive experience at the Raindance Festival (debuting at Cannes). Along the way I will also talk about projects involving digital characters with DNEG, Cubic Motion and The Imaginarium.
However, digital characters are not confined to humans. I will also therefore talk about work we have recently done on digitising and motion capturing canines - both with marker based systems and markerless using RGBD cameras. This includes the most accurate statistical canine model available to the community as well as a first of it's kind motion capture resource.
The pursuit of realism in digital characters - as well as tools to allow efficient workflows - are still far from solved. Added to that the challenges beyond humans - the animal kingdom - and it is safe to say that we can expect many exciting advances over the coming decade. I will end the talk by sharing some thoughts on future problem areas.
Short biography
Professor Darren Cosker is Professor of Visual Computing (since 2017) at the University of Bath - joining as an Associate Professor in 2012. He is currently Director of CAMERA - a multi-disciplinary research centre combining visual computing, AI, biomechanics, psychology and health care in collaboration with a diverse range of partners including The Imaginarium, BBC, Foundry, NHS and Ministry of Defense.
Since obtaining his PhD in 2006 in speech driven facial animation, Professor Cosker has been primarily interested in problems related to creating digital characters. This includes being awarded personal research fellowships with the Royal Society (2012-2016 including a 50 per cent position with DNEG) and Royal Academy of Engineering (2007-2012) - both focusing on digital humans with an emphasis on 4D facial capture and performance driven animation.
Other collaborations related to performance capture in this period have included developing facial rigging and animation tools with the Imaginarium and Synthesia. In CAMERA, Professor Cosker established an industry standard motion-capture studio and team - including an end-to-end research-to-impact pipeline where his research has contributed to a range commercial projects with BBC, Aardman and REWIND.
Attend the event
The event will be held via Zoom on 95645169571 from 2pm - 3pm. All are welcome to attend.
Related events