---
news
Published:
10 January 2023
Aerospace engineering students are best in class!
Students on Surrey's Aerospace Engineering degree are leading the way in prestigious competitions – having been named Grand Champions of the IMechE UAV Challenge for the second year running in 2022 – paving the way for exceptional careers in the aerospace industry.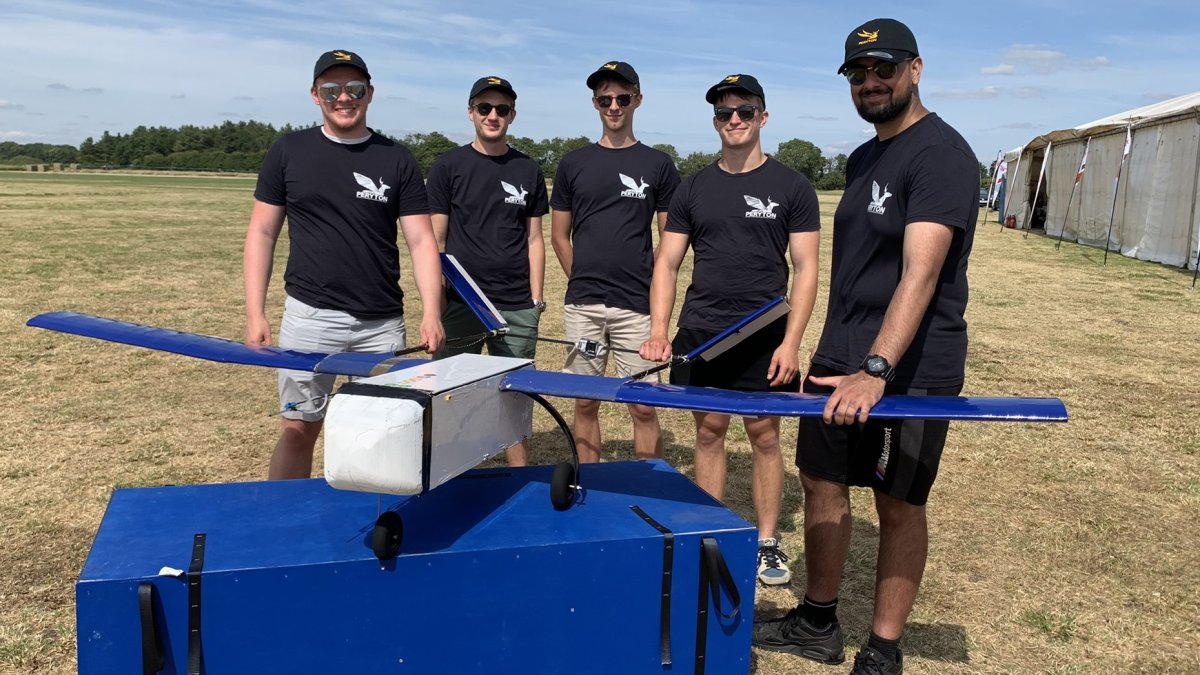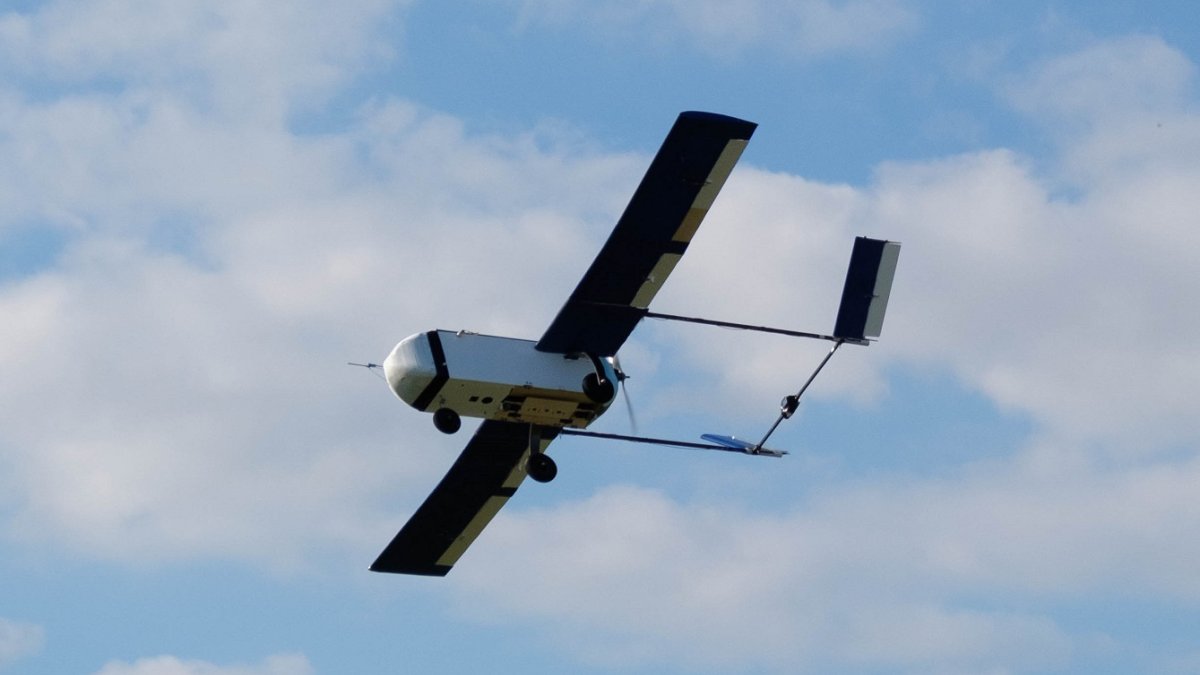 Team Peryton – made up of students on the Aerospace Engineering BEng (Hons)/MEng – have beaten off fierce competition from international teams to secure their two-year winning streak. The IMechE UAV Challenge tasks teams with designing and building an unmanned aerial system and achieving a fully autonomous mission from take-off to landing, including a payload drop and target recognition.
Team Peryton attributes its success to an intensive design cycle and 10 days of thorough testing over several months in the run-up to the competition – as well as the fantastic support provided by the School of Mechanical Engineering Sciences. This includes access to Surrey's Centre for Aerodynamics and Environmental Flow, a world-leading facility which hosts the only environmental wind tunnel in the UK and is enabling the development of more sustainable aerospace technologies.
Opportunities like the IMechE UAV Challenge enable students to put their technical skills to the test in the real world and hone their teamwork and leadership skills. They can also give graduates a head start in the jobs market.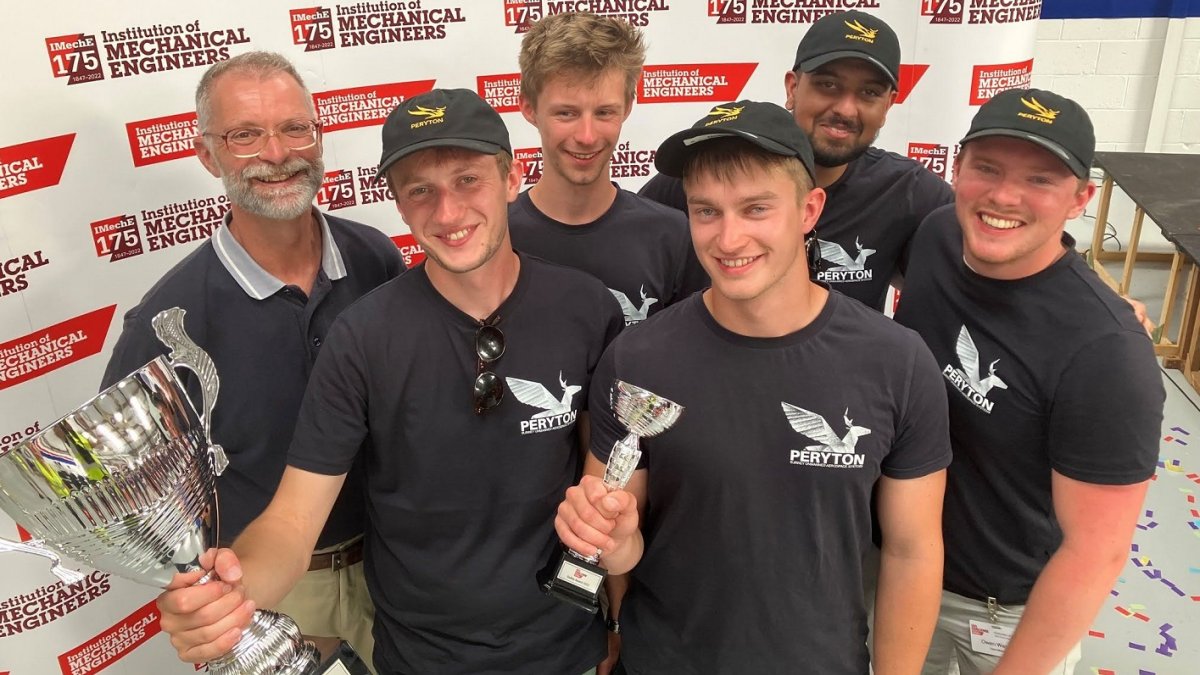 Oliver Gent led the winning team in 2022 and, having now graduated, is employed as a Graduate Systems Engineer at Callen-Lenz Associates Ltd. He says: "For me, the experience essentially secured my job at a UAV company. Taking part in the competition gave me freedom to expand my engineering skills in areas of my interest. Working with and leading the team was unique and an ultimately very rewarding experience. For the whole team the challenge offers great talking points in interviews, with clear application of our learning at university as well as self-learnt areas."
Aerospace students also get the chance to compete (along with those studying Automotive Engineering and Mechanical Engineering) in IMechE's Formula Student – the world's largest student motorsport competition which pits teams from universities across the globe against each other at an annual event at Silverstone. Surrey's Team SURTES has enjoyed great success over the years, including claiming first place in the Virtual Dynamic event in 2020 and being ranked as the best UK Electric Vehicle Team in 2019.
Ranked top 10 for aerospace engineering in the Complete University Guide, Surrey's degrees go the extra mile by enabling students to put their skills to the test – whether that's through an industry-run competition or a year-long Professional Training placement in a relevant aerospace company. With this kind of practical experience under their belt, 95 per cent of our students are in employment or further study within six months of graduating (HESA), with an average starting salary of £30,532.
Dr Robert Siddall, Lecturer in Robotics, says: "The UAS contest is a fabulous opportunity for students to build and fly an advanced aircraft from scratch. The team get to work in wind tunnels, conduct outdoor flight tests and experience a real engineering design cycle. Students learn a huge variety of practical and technical skills which have helped many of them find exciting jobs in the aerospace industry. And it's a lot of fun!"
Discover Team Peryton and its past entries in the IMechE UAV Challenge.
Find out more about our aerospace engineering facilities.
Discover our courses in mechanical engineering sciences, including our Aerospace Engineering BEng (Hons)/ MEng.