---
news
Published:
04 October 2021
Car Free Day brought Guildford Living Lab and the local community together
Team members of the Global Centre for Clean Air Research (GCARE) held a stall in Guildford town centre on 26 September for Car Free Day, when pedestrians were prioritised over automobiles.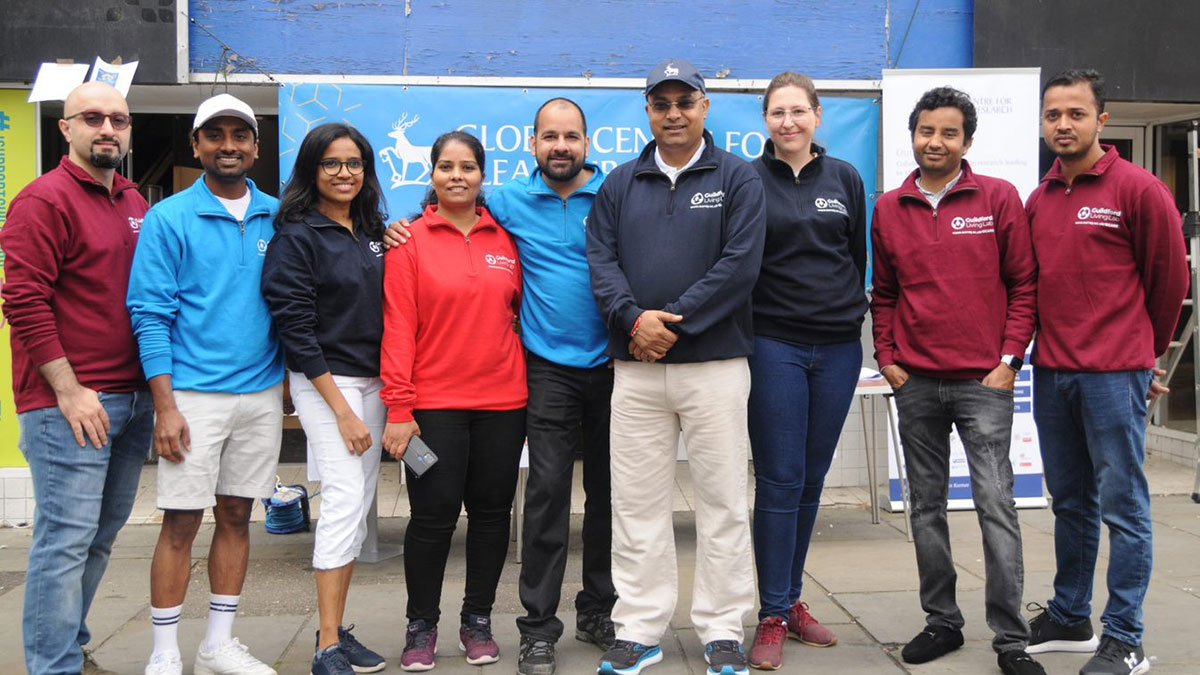 The stall was organised and managed by GCARE's Guildford Living Lab (GLL), which is a platform for collaboration between researchers, community members, and local stakeholders. GLL's mission is to facilitate the co-creation of sustainable solutions for air pollution and climate change.
The research team spoke with Guildford residents about opportunities to reduce their individual contribution and exposure to air pollution. They also discussed interlinkages between air pollution and the climate crisis.
This was an excellent day - a bundle of thanks to my GCARE team members who put together an amazing show and thanks to our very special community members, parents, councillors and numerous environmental and concerned groups to work with us today on Car Free Day allowing us to give some on-the-ground meaning to our research.
Professor Prashant Kumar, Director of GCARE and Curator of GLL
A number of relevant resources have been developed by GCARE over previous years. Many of these resources were presented to members of the public on Car Free Day. This includes public guidance documents and brochures on plant and greenspace management for improved air quality and recommendations for schools, schoolchildren and parents for reduced pollution exposure.
Researchers also demonstrated and encouraged community members to use: An air pollution quiz, which offers information about air pollution and indicates what users can do to reduce their exposure by altering their daily habits; the Sensor Toolbox, which helps citizen scientists with low-cost air pollution sensors to organise their data; and the recently released HedgeDATE tool, which is an interactive tool that helps users to design their gardens or greenspaces for improved air quality. This latter tool is a prototype that was co-developed with members of the local community, and users are still encouraged to provide feedback on the tool via a short survey.
Adults and children of all ages took part and enjoyed engaging in science in a playful manner. The GCARE team also filmed a short video involving community members, local stakeholders, researchers and other members of the Guildford Living Lab, titled 'Let's Work Together.' This video will soon be publicly released via the Guildford Living Lab site and Twitter page.
Hear more from Professor Kumar in a short video clip on Twitter from the day.
If you attended Car Free Day in Guildford and would like to provide feedback on the event, Guildford Borough Council are encouraging attendees to complete a short survey.
Acknowledgements
Guildford Living Lab and the GCARE team would like to thank all collaborators, including Zero Carbon Guildford and Guildford Borough Council. The team also acknowledge support received from projects including the RSA-funded Heat-Cool project, the EPSRC-funded CO-TRACE, INHALE and COVAIR projects, the UGPN-funded SCAN project, and the EU-funded OPERANDUM.