---
news
Celebrating this year's Vice-Chancellor's Alumni Awards winners
We were delighted to announce the Vice-Chancellor's Alumni Award winners and to present their trophies at the Surrey Showcase this month. Congratulations to our winners on their many achievements.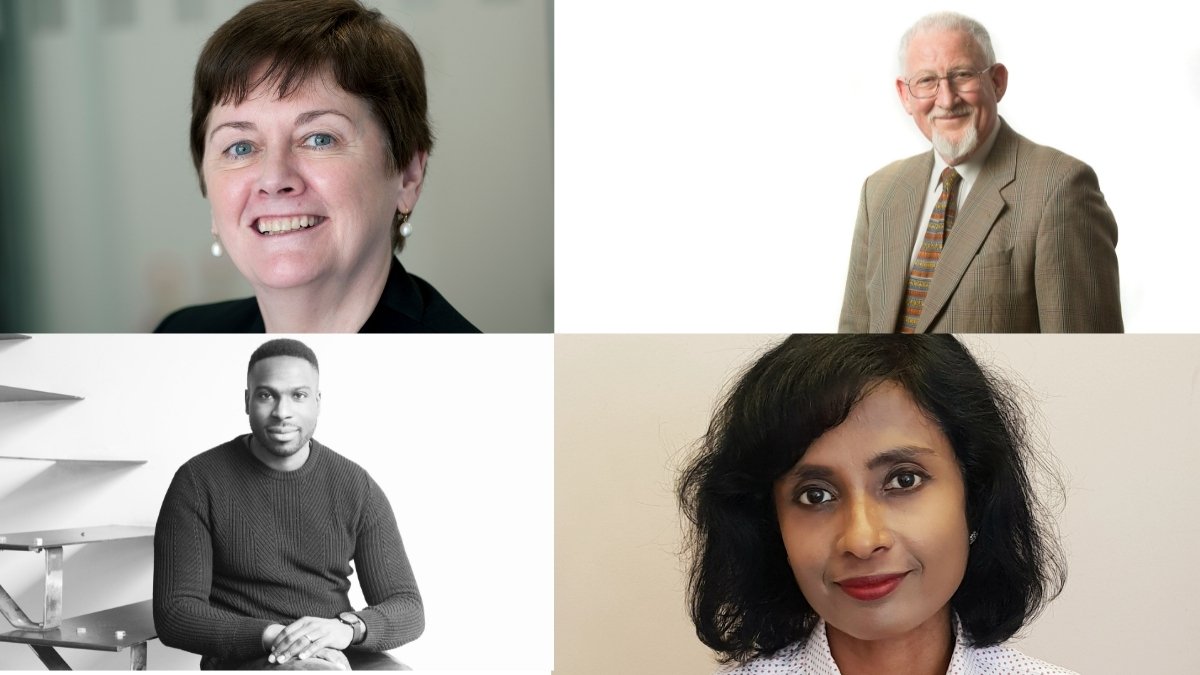 Now in their eighth year, the Vice-Chancellor's Alumni Awards honour former students who have made an outstanding contribution in their field or to society.
Our Alumna of the Year for 2020 is Sue Kershaw (BSc Civil Engineering,1982). Choosing to follow in her civil engineer father's footsteps is what brought Sue to study at Surrey in 1978. After graduation, she started work at Taylor Woodrow – and her career has thrived ever since.
She's managed large infrastructure projects across the globe, including Bangkok's Mass Transit System and its Elevated Motorway.  One of only 12 women in the UK to be elected a Fellow of the Institution of Civil Engineers in 2000, she became the first female president of the Association of Project Management in 2019.
Sue says the highlight of her career was her role as Deputy Director of Transport for the Olympic Delivery Authority for the 2012 London Olympic Games. That team brought the project in on time and under budget, returning £100 million to government.
Currently the MD Transportation at Costain, Sue is also a visiting professor at University College London.
Speaking about the award, she says: "I'm quite humbled by it. It came out of the blue in the middle of lockdown, too, which made it even more special."
The Vice-Chancellor recognised Segun Akinwoleola (BSc Business Management, 2011) in the Young Achiever category. 
From growing up in East London, to achieving a first-class honours degree in Business Management from Surrey, Segun has mixed his two passions to set up his own company.
Segun is currently the Founder of The Gym Kitchen, which provides high-protein, macro-friendly ready meals for health-conscious, on-the-go individuals living and working in today's fast-paced society. His career highlight so far was launching his brand onto the shelves of Asda and the Co-op Food stores nationwide.
Speaking about the award, he says: "It means so much to be awarded the Young Achiever of the Year, particularly as I grew up in a deprived area. Studying at Surrey, graduating with first-class honours, then going on to be recognised by the University has shaped me into the man I am today."
The winner of the Outstanding Contribution to Society Award is Dr Reeba Oliver (MSc Advanced Gynaecological Endoscopy, 2013). 
Reeba is a Consultant Obstetrician and Gynaecologist for Barts Health NHS Trust in London. She works with women who've suffered female genital mutilation (FGM), developing treatment programmes to address their complex physical and emotional needs. This led to her opening the first UK community-based walk-in clinic for FGM in 2019. This has helped break down insurmountable barriers preventing affected women accessing healthcare and it is now part of an NHS pilot scheme to provide similar services nationwide.
With her team, she achieved the first court conviction in the country against FGM, and she's helping make national changes to our police service by providing her expertise on several committees and forums, including the Crown Prosecution Service, the National Police Chiefs' Councils and the Home Office.
She's also an advocate for educating girls and addressing FGM and violence in countries the practice originates in. Supporting clinical teams based in these nations, she's helped create a remote virtual clinical service for women in Somalia and she's in the process of establishing a similar scheme in Guinea.
We are delighted to present a Special Recognition Award to Dr Alan Millington (BSc Chemical Engineering, Battersea College of Technology, 1965, PhD, University of Surrey, 1970)
Alan started his long association with Surrey in 1962 when he studied for his BSc at Battersea College of Technology, the forerunner to the University.
"I failed my O level in German, which meant I couldn't go to the universities I'd applied to," says Alan. "Fortunately, Battersea were starting a BSc in Chemical Engineering and a foreign language O level wasn't an entry requirement."
Discovering he could thrive in this new environment was a revelation to the working-class lad from Doncaster, who recalls nights drinking beer and living in student digs overlooking the Thames.
Finishing his degree in 1965, Alan stayed in London to work.
Then, in 1968, when Battersea College of Technology was becoming the University of Surrey, Alan came to Guildford to take a role as a part-time lecturer and complete his PhD.  And, 53 years later, he's still here and as passionate as ever about teaching.
"I've had offers to work elsewhere," says Alan. "But helping develop inquisitive minds is the best job in the world."
Sadly, Alan says this is the last award he'll receive. He explains: "I have terminal cancer. But I hope to keep teaching for a while longer. Quite simply, it's what I do and it's what I love."
Vice-Chancellor Professor Max Lu said: "My warmest congratulations to our winners who have made big contributions at all levels of society and are wonderful role models, demonstrating real impact. We are very proud of all of our alumni's achievements and the talent shown through this year's awards."
Nominations open for the 2021 Alumni Awards this week - share your achievements or nominate a friend or colleague and you could be our next winner!