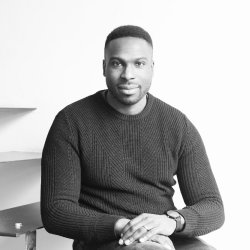 Segun Akinwoleola
From growing up in East London, to achieving a first-class honours degree in Business Management from Surrey, Segun tells us about his favourite memories at Surrey and how he mixed his two passions to set up The Gym Kitchen.
What does it mean to you to be chosen as Young Achiever of the Year?
It means so much to me, particularly as I grew up in a deprived area. Studying at Surrey, graduating with first-class honours and then going on to be recognised by the University, has shaped me into the man I am today.
Why did you choose to study at Surrey?
Surrey was ranked in the top 20 universities for business management and it actively encouraged Professional Training placements. This was extremely important for me, as I  wanted gain valuable industry experience whilst studying.
I've always loved and been interested in business, as well as the art of creating, buying and selling. I thought exploring these subjects further and studying them at a degree level would only increase my passion, and I wasn't disappointed.
What were the best things about your course?
I loved the fact that it was extremely varied – we'd learn about economics, finance, marketing and supply chain. It wasn't specific to one subject, but it gave me the breadth of knowledge which allowed me to go into my chosen field. The lecturers on my course were amazing and extremely supportive, especially Professor Andy Adcroft.
How did you change as a person during your time at Surrey?
I learnt how to adapt in a different environment, connect with people of all types of backgrounds, and strive for the best in life.
What is your happiest memory of your time at Surrey?
Meeting my beautiful wife and some amazing friends.
What is your job at the moment?
I'm the Founder of my own business, The Gym Kitchen, which provides high protein, macro friendly ready meals for health conscious, on-the-go individuals living and working in today's fast-paced society. We offer a range of food products and fitness advice to help people become better versions of themselves. I love the fact that I help people live healthier and happier lives all round.
What do you consider to be your greatest career achievement?
Being able to launch my brand onto the shelves of Asda and Co-op Food stores nationwide.
What advice would you give to students who want to pursue a career in your field?
If you have a dream, you should go for it! There's no better time than now. If you fail, so what? At least you tried and learnt from the process!
Discover our BSc Business Management course