---
press release
Commentary: Is Russia winning the war?
The following expert comment below was written by Dr Joshua Andresen, Associate Professor of National Security and Foreign Relations Law at the University of Surrey, about his views on the ongoing turmoil in Ukraine.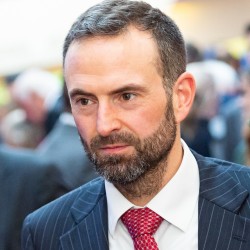 Dr Joshua Andresen
"The only honest answer to the question of who is "winning" the war in Ukraine is that neither side is winning. Of course, "winning" only makes sense in relation to established goals. Russia has clearly failed in its initial goal of regime change in Ukraine. However, the more modest goal of creating a Russian-occupied land corridor between Crimea and occupied eastern Ukraine, which also serves as a cynical buffer zone between the West and Russia, could become a permanent reality.
"On the other side of the ledger, although successful in preventing a complete Russian takeover, Ukraine has ceded control of vast swaths of its eastern and southeastern territory, and has not yet met its goal of driving Russian forces out. The long-awaited Ukrainian spring offensive has yet to fully materialise, most likely due at least in part to the dawdling pace of western arms reinforcements. Only with superior arms will Ukraine be able to break the war's stalemate and make the decisive push against Russian forces it is hoping for. All signs suggest that the Ukrainians want to fight to win the war. The only question is whether the West is ready to back them properly."
Media Contacts
---
Georgie Gould
Media Officer (Faculty of Arts and Social Sciences)
Phone:
External Communications and PR team
Phone: +44 (0)1483 684380 / 688914 / 684378
Email: mediarelations@surrey.ac.uk
Out of hours: +44 (0)7773 479911