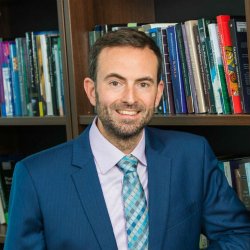 Joshua Andresen
---
Senior Lecturer in National Security and Foreign Relations Law
Biography
Biography
Dr Joshua Andresen (JD, Yale; PhD, Northwestern) works at the cross section of the Law of Armed Conflict, Human Rights Law, and Criminal Law. He is particularly interested in the legal and ethical questions that arise in modern conflict and counterterrorism operations due to power asymmetries, the geography of the battlespace, and technological developments. Dr Andresen's recent work has appeared in the Yale Journal of International Law, the Harvard National Security Journal, and is forthcoming in an anthology by Oxford University Press.Dr Andresen joined the School of Law in 2017 as Senior Lecturer in National Security and Foreign Relations Law. Prior to Surrey, Dr Andresen was Senior Policy Advisor for Europe and Russia in the Office of Terrorist Financing and Financial Crimes at the U.S. Department of the Treasury, where he worked to combat terrorist financing, money laundering, and sanctions evasion. Dr Andresen was also an Attorney-Adviser at the U.S. Department of State, where he worked in the Office of the Legal Adviser for African and Near Eastern Affairs and in the Office of the Legal Adviser for United Nations Affairs. Dr Andresen's work at the U.S. State Department was supported by a Robina Human Rights Post-Doctoral Fellowship from Yale Law School. Dr Andresen's international law and human rights experience includes work at the Court of Justice of the European Union and the Office of the United Nations High Commissioner for Refugees. Prior to his law and policy work, Dr Andresen was Associate Professor of Philosophy at the American University of Beirut.
Research interests
Dr Andresen's research focuses on legal and ethical questions raised by contemporary armed conflict and counterterrorism operations. Among the questions Dr Andresen's work engages are how the laws of armed conflict should be reconfigured for military operations today; under what circumstances International Human Rights Law, rather than International Humanitarian Law, should govern counterterrorism operations; why civilian casualties in war are justified; whether "the good guys" can win within the confines of the law of armed conflict today; and whether procedural and justiciability barriers should prevent judicial review of military activity in U.S. courts.
Teaching
International Humanitarian Law, Criminal Law
Departmental duties
Director of Internationalisation
My publications
The publications feed from the University repository is currently unavailable. Please check again later.