---
news
In conversation with Dr Hana Hassanin
Dr Hana Hassanin is the Medical Director of the Clinical Research Facility at the University of Surrey and is dedicated to conducting research that brings the hope of a cure or relief to millions of patients.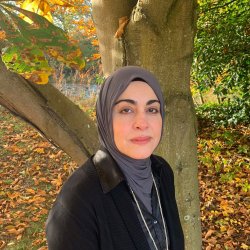 Dr Hana Hassanin
Why did you become a clinical researcher?   
I've always been inspired by the physicians and scientists who not only performed a conventional role in their field but also wrote the history of medicine by their discoveries and contributions. Those clinicians went far beyond just prescribing a medication to dedicating their life to finding new medications, different solutions and giving hope to millions of patients with diseases that have no cure or have only limited options.
Once you qualified, where did your career take you?
After my primary qualification, I had the opportunity to join a great team of clinical researchers alongside my hospital work. This made me a great believer that my research aspirations were so deep inside me that the opportunity appeared much quicker than I ever thought. Almost every opportunity was pushing me towards clinical research.
Since then, I have always been involved in research and in 2009, I decided to dedicate myself full time to clinical research. I have led more than 60 clinical trials in broad-spectrum therapeutic areas including cardiovascular diseases, diabetes, oncology and much more.
What excites you most about your role?
As a clinical researcher, I'm inspired daily and each day brings a very different experience and new knowledge. It's extremely satisfying to see the impact of clinical trials on how we improve patient care and guidelines based on the clinical research we do, and even how we shape new approaches in teaching for new generations of medical students.  
Can you describe the Surrey Clinical Research Facility in just one sentence?
The Clinical Research Facility is a very caring, professional, experienced and enthusiastic family, who dedicate their time to conducting clinical trials to help patients and their families.
I understood the bigger picture and the real impact of clinical trials. This impact that we may not see straight away but will be realised by generations to come.
Have there been any memorable moments from your research?
There have been many highlight moments. One was when a patient came to participate in a clinical trial to treat a specific condition. During our chat, I asked why she was interested to participate. She replied that she was put on a newly approved medication that had given her life back to her and now she wanted to help others. The conversation was very touching. This is not the end of the story. I asked to see the list of medications she was on, as I was curious to know what medication she was talking about. It was one of the medications that I led its early and late clinical trials for over six years. For a minute, I felt very emotional. I understood the bigger picture and the real impact of clinical trials. This impact that we may not see straight away but will be realised by generations to come.
Another very personal moment. I was leading a clinical trial for a new medication in diabetes mellitus patients. This medication showed great efficacy but more importantly lowered the diabetes complications risk and reduction of known side effects such as episodes of very low blood sugar (hypoglycaemia).
During the trials, I witnessed these great results and the huge impact on patients' lives. I wished my dad was still alive. He was a very passionate surgeon who lived with diabetes and late in his life had retinopathy - one of the long complications of diabetes of the eyes that causes eyesight issues. Late in his life, he was not able to perform some of the critical operations he used to; mainly because of his sight deterioration but also because of his fear of low blood sugar episodes which he started getting regularly. My father had a sudden death which was believed to be due to diabetes cardiovascular complications. After my dad's death, I wanted to be more involved and dedicate more of my time to clinical research to help save lives and give them a better quality of life through high-quality clinical research.
Finally, what advice would you give to someone considering a career in clinical research?
For anyone considering a career in clinical research, I would say if you would like to understand diseases better, if you would like to know in-depth why to give or not to give specific medication and how it works, if you would like to make a difference and not just be a prescriber and if you would like to be the one who influences the medical guidelines, then clinical research is your destination.