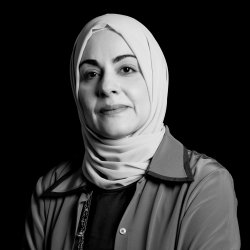 Dr Hana Hassanin
---
Associate Professor in Translational and Experimental Medicine; Director of Surrey Clinical Research Facility; Director of NIHR Royal Surrey Clinical Research Facility
About
Biography
Dr Hana Hassanin is the Medical Director of Surrey Clinical Research Facility. She is a clinical consultant for the Dementia Research Institute (DRI) at the Surrey Sleep Research Centre. Hana has a joint appointment with the Royal Surrey Foundation Trust as the Director of the NIHR Royal Surrey CRF.
Hana had her medical training in internal medicine at the University Hospital of Giessen in Germany. She then worked in Heidelberg University Hospital and was awarded her MD from the "German National Centre for Tumour diseases" in oncology and immunotherapy with a special focus on Pancreatic Adenocarcinoma. She has also obtained a PGDip in Diabetes from Cardiff University.
Hana has extensive experience in the field of "Clinical Pharmacology and Therapeutics". She led as PI/CI over 60 clinical trials- including global multi-national trials- in various therapeutic areas both early and late phase covering osteoporosis, vaccines, cardiovascular, oncology, and immunology.
Hana is passionate about teaching and research and has received the recognition award for broadening the understanding of clinical trials in the international educational event (Aware For All) organised by CISCRP.