---
press release
Surrey awarded £1.7m to improve sleep for people living with dementia
Disturbed sleep is a common symptom for people living with dementia, but it is not known how and to what extent sleep disturbance exacerbates the disease.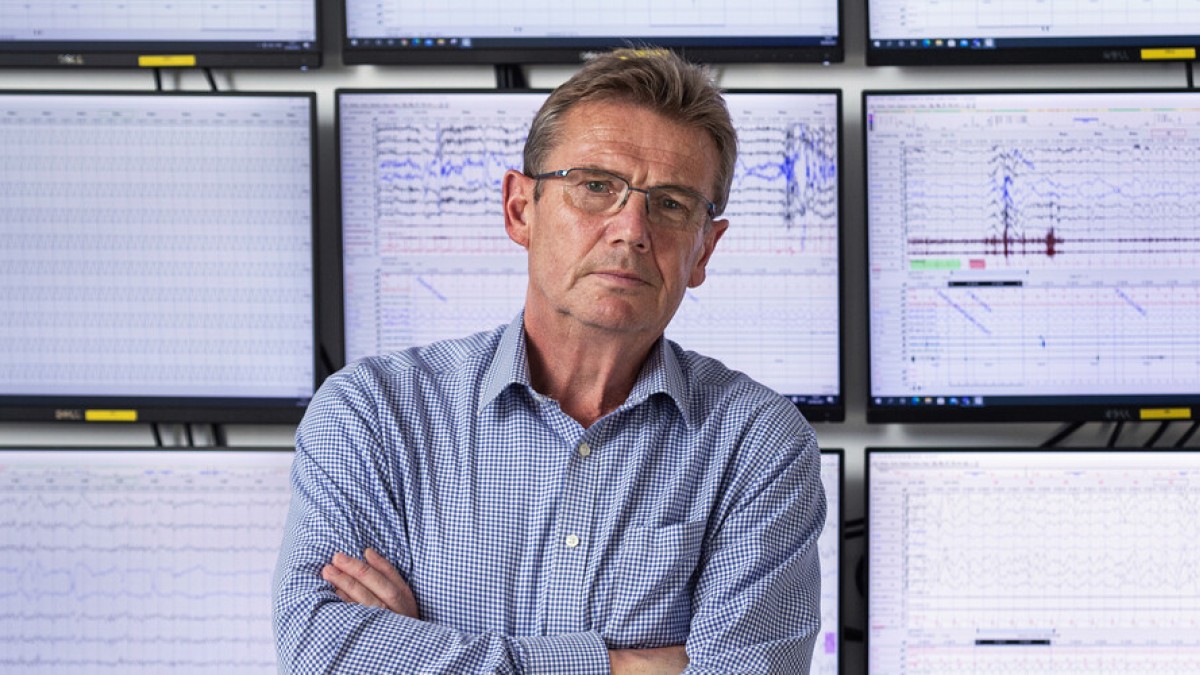 The University of Surrey has been awarded £1.7 million to further research into the sleep and circadian rhythms of people living with dementia.  
Led by Professor Derk-Jan Dijk, the team at Surrey will expand their innovative programme of research that is using new technologies to non-invasively monitor and improve the sleep of dementia sufferers. The research is conducted in close collaboration with Imperial College London and the Surrey and Borders Partnership Trust, as part of the UK Dementia Research Institute (UK DRI). 
Professor Derk-Jan Dijk, Director of Surrey Sleep Research Centre (SSRC), said:  
"People living with dementia often have issues with sleep and, often, their memory is seemingly worse after a bad night. Good quality sleep is integral to our cognitive health, and now we need to test whether improving the sleep of those living with dementia will slow down the progression of the condition and preserve an individual's memory for longer. To assist with this, we have the opportunity to use new technologies to both monitor and potentially improve the sleep of dementia sufferers over an extended period, in a way that is non-intrusive and supportive to people living with dementia and their carers.  
"This award is invaluable in helping us to continue our work and I am grateful to the UK DRI, the Medical Research Council, Alzheimer's Research UK and Alzheimer's Society for making this possible." 
To learn more and ultimately improve the sleep of those living with dementia, researchers are applying digital health technologies that can sense movements and physiological signals of individuals whilst they sleep. This combined with mathematical modelling, machine learning, video analysis of sleep behaviour and molecular biomarker approaches, will yield a comprehensive understanding of the relationship between sleep, circadian rhythms, symptoms and disease progression in people living with dementia.  
Professor Dijk added:  
"A major advantage of the novel digital technologies we're working with, many of which are contactless, is that they pose very little burden on the participant and can be used to monitor sleep and circadian rhythms in the home environment for weeks, months and years." 
The Surrey team will also continue to test new interventions to improve sleep. Interventions to be tested include changing brain oscillations through delivery of precisely targeted auditory stimulation during REM sleep (a sleep stage thought to be particular important for brain function) or improving the light environment to boost circadian rhythms. 
Professor Paul Townsend, Pro-Vice-Chancellor and Executive Dean of the Faculty of Health and Medical Sciences at the University of Surrey, said:  
"Congratulations to Professor Dijk and the team of researchers from across the University in securing this fantastic award. This is testament to their hard work and dedication in this field.  
"This year marks 20 years of the Surrey Sleep Research Centre which continues to go from strength to strength and cements our position as a global leader of sleep research."  
Fiona Carragher, Director of Research and Influencing at Alzheimer's Society and a Surrey alumni, said:  
"As a founding partner and funder of the UK DRI, we are very proud of what the Institute has achieved since its launch in 2017. We congratulate everyone involved in placing it on the map as a global leader in dementia research and for the great impact it has had so far. This has included critical research into developing new diagnostic tools to ensure people living with dementia receive an early and accurate diagnosis, potentially giving them access to one of the disease-modifying treatments we hope to see emerging from the clinical trials pipeline in the coming years." 
### 
Notes to editors 
The team at Surrey consists of sleep and circadian physiologists, mathematicians, cognitive neuroscientists, clinicians and machine learning specialists. Team members at Surrey are   Dr Vikki Revell (SSRC), Professor Anne Skeldon (Mathematics), Dr Kevin Wells (Centre for Vision, Speech and Signal Processing (CVSSP).), Dr Ullrich Bartsch (SSRC), Dr Hana Hassanin (Clinical Research Facility), Dr Ciro della Monica (SSRC) and Dr Ines Violante (Psychology) .  

A public lecture marking 20 years of sleep research at Surrey is scheduled to take place on 25 May. More information to come.  

For more information, please contact the University of Surrey's press office via mediarelations@surrey.ac.uk 
Featured Academics
---
Media Contacts
---
External Communications and PR team
Phone: +44 (0)1483 684380 / 688914 / 684378
Email: mediarelations@surrey.ac.uk
Out of hours: +44 (0)7773 479911