---
news
Published:
14 September 2020
CSI Surrey: students unearth the truth!
Chemistry students became detectives for the day when they were faced with bloody fingerprints, suspicious-looking items and even a body during a practical exercise as part of their Year 1 studies.
At the Crime Scene Investigation Day, students arrived to see three mock crime scenes and were challenged to piece together the evidence they found to determine the crime that had been committed.
The students were divided into three groups, with each group investigating a different crime scene. Set up at locations around campus were an outside scene featuring a fake body; a stairwell scene with fake blood, a ladder and bottles; and a laboratory scene representing a large industrial environment.
Having dressing in appropriate clothing, the investigators took evidence from their crime scene including doing a chemical test, swab and analysis for fingerprints. In the chemistry labs they then recorded what they believed had happened, linking together evidence from all three scenes to deduce the crime that had been committed. The final task was to develop a statement and locus report similar to those provided to courts in criminal cases.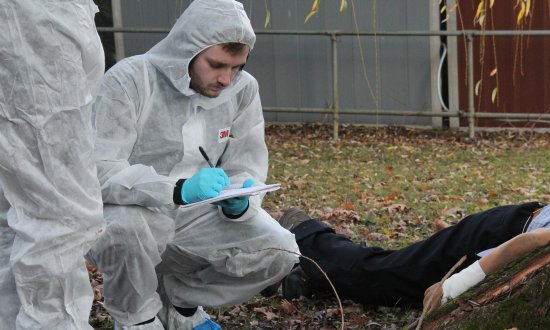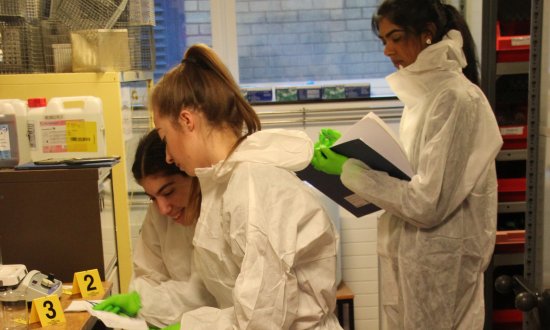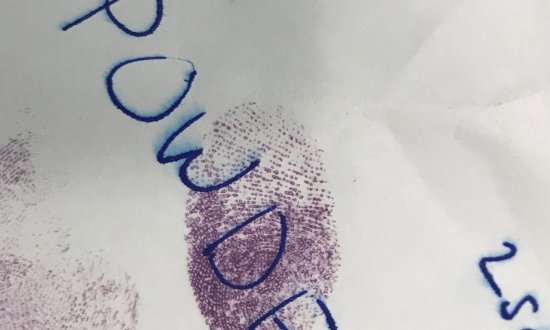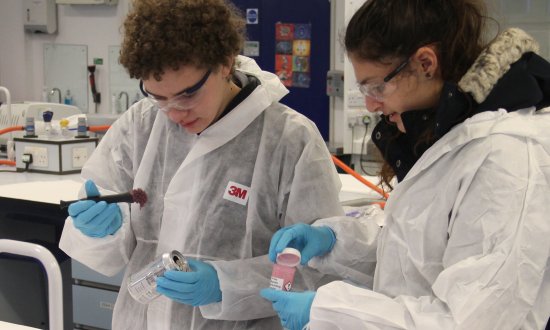 The field day was part of the Year 1 'Fundamentals of Forensic Science: From Crime Scene to Court' module, which aims to introduce students to the chemical methods used in forensic science as well as the legal and procedural aspects.
Dr Patrick Sears, Senior Lecturer in Forensics analysis, said: "It was great to see how all the students got involved with investigating the crime scenes and analysing the evidence back in the lab. It was a really fun day for staff, demonstrators and the students and the way everyone worked together was fantastic."
Students across all degree courses in the Department of Chemistry get the opportunity to learn about how science can be applied to criminal investigation, allowing them to study for a degree in chemistry while gaining an appreciation of forensic practices. The BSc (Hons)/MChem Chemistry with Forensic Investigation course combines the best of both disciplines and gives students a unique qualification which prepares them for a career within a forensic laboratory or the chemical and pharmaceutical industries. 
Why not explore our programmes in chemistry, including our BSC (Hons)/MChem Chemistry with Forensic Investigation?