---
press release
Published:
30 August 2023
The Daphne Jackson Trust Honoured with Prestigious Royal Society Research Culture Award
The Daphne Jackson Trust, a leading organisation dedicated to supporting researchers returning to their career after a break, has been recognised by The Royal Society for its outstanding contribution to the culture of science and research. This prestigious award demonstrates the Trust's remarkable efforts in championing equality, diversity and inclusion within the research community.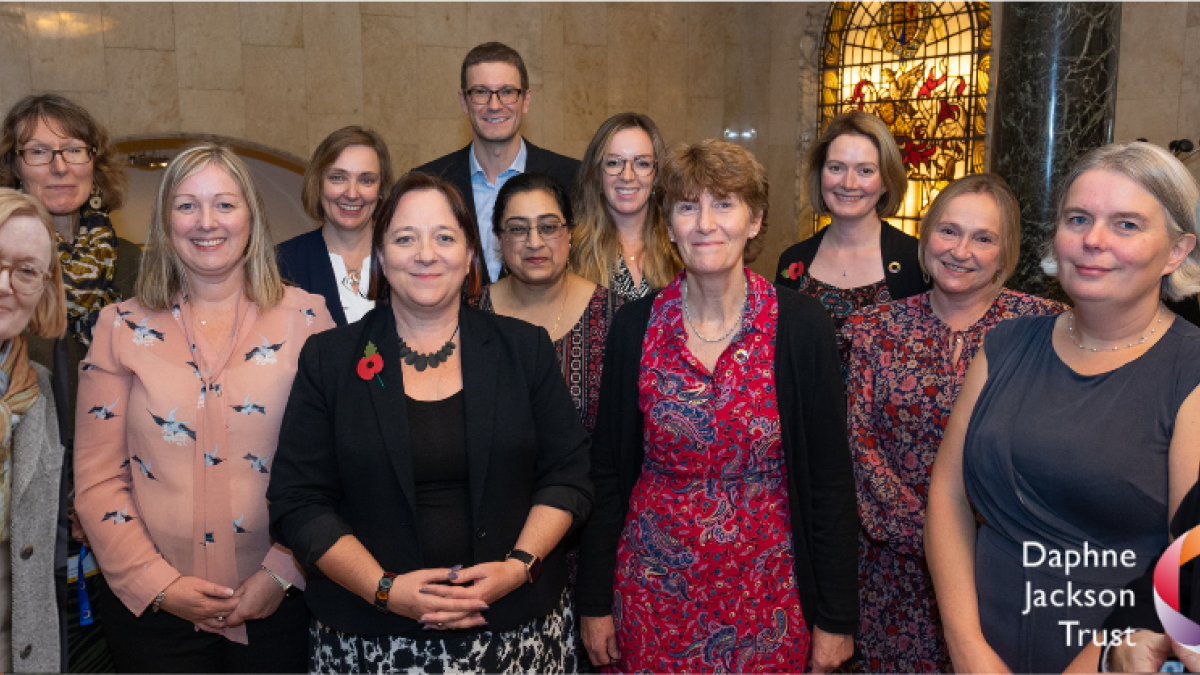 Named in honour of Professor Daphne Jackson, the first female Professor of Physics in the UK, the Trust addresses the issue of prolonged career breaks by empowering researchers who have taken a break from their careers for family, caring or health reasons, to re-establish themselves and continue their impactful contributions to research progress. Through a tailored, flexible Daphne Jackson Fellowship with unparalleled support, the Trust has played a pivotal role in enabling individuals to re-engage with their passion for research and overcome the challenges of career gaps.
Dr Katie Perry, Chief Executive of The Daphne Jackson Trust, said:
 "We are deeply humbled and thrilled to be recognised by the Royal Society for our commitment to fostering a diverse and inclusive research environment. This prestigious award is a testament to the unwavering dedication of our small 13 strong, part-time, team and the resilience of the researchers we support."
Looking ahead, the Trust is excited to continue pushing for change and challenging the status quo in research, encouraging inclusivity across all research disciplines. Its vision is to continue developing innovative programs and partnerships to inspire, support, and nurture researchers throughout their professional journeys, including a new Fellowship programme to support those on a career break in Research Support roles.
Dr Katie Perry continued:
 "Our team are very driven by seeing the difference we make daily to research culture in the organisations with whom we work and the researchers who would not have returned without our Fellowships. I am very grateful that the Trust continues to be hosted by the School of Maths and Physics and recognise how important positive and inclusive leadership can be, such as that shown by Professor Justin Read, former Head of School, who nominated the Trust for this Award. It means a great deal to me personally that we are still hosted at the University of Surrey as I am a Physics alumna myself and was mentored by Daphne Jackson when she was Head of Department." 
This award will undoubtedly fuel the Trust's ongoing initiatives to expand its reach, support more researchers, and amplify the message of inclusivity and equity in research. As the Daphne Jackson Trust embraces this recognition, it looks forward to new partnerships, collaborations, and developments in the pursuit of its mission.
The Daphne Jackson Trust provides an invaluable platform for researchers to re-enter the research environment, bringing their wealth of experience and diverse perspectives on some of the most pressing challenges our society faces. By facilitating opportunities for researchers to resume their careers through tailored Fellowships, the Trust not only strengthens the research community but also ensures that society benefits from a more comprehensive and varied knowledge and insight. Over the last two decades, the Trust has saved over 1,250 years of research expertise and talent being lost from the sector. Ten former Daphne Jackson Fellows are now Professors - a rate which is five times higher in the Daphne Jackson cohort compared with the national average demonstrating their tremendous success.
###
Note to Editors:
The Daphne Jackson Trust is the UK's leading organisation dedicated to realising the potential of research returners after a career break taken for family, caring or health reasons. The Trust is a prominent champion of equality, diversity and inclusion (EDI) and its Fellowship scheme has enabled Universities and Research Institutes to address EDI challenges leading to positive and permanent changes to their research culture. It continues to highlight the issues and barriers faced by returners and has become involved in many key committees and working groups seeking to improve research culture. More recently, the Trust's endeavours have expanded to provide opportunities for research support professionals working across the research and development landscape. These new Fellowships will allow all research professionals, in all capacities to return to their careers after a break.
For media inquiries and more information about the Daphne Jackson Trust, please contact: Francesca Scott, Communications Lead at f.scott@surrey.ac.uk
For more information, please visit daphnejackson.org.
Featured Academics
---
Media Contacts
---
Georgie Gould
Media Officer (Faculty of Arts and Social Sciences)
Phone:
External Communications and PR team
Phone: +44 (0)1483 684380 / 688914 / 684378
Email: mediarelations@surrey.ac.uk
Out of hours: +44 (0)7773 479911