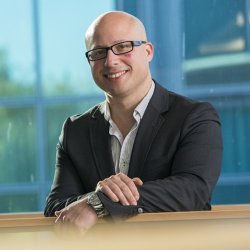 Professor Justin Read
---
Head of the Department of Physics
Biography
Biography
Prof. Justin Read completed his PhD in theoretical astrophysics at Cambridge University, UK in 2004. After a two-year postdoctoral research position, also in Cambridge, he moved to the University of Zürich to join the computational science group. In 2009, he joined the University of Leicester as a lecturer in theoretical astrophysics, and in October 2010 he was awarded an SNF assistant professorship at the ETH Zürich. In April 2013, he took up a full Chair at the University of Surrey, UK. He was recently awarded the MERAC Prize by the European Astronomical Society for his high impact research in computational astrophysics and cosmology.
Publications
A full list of publications (freely available for download) is available on arXiv.org.
Links
Teaching
Prof. Read currently teaches PHYM059: Astrophysical Dynamics.
University roles and responsibilities
Head of the Department of Physics
My publications
Publications
Bharmal NA, Buscher DF, Haniff CA, Read JI
(2003)
A novel wavefront sensor for interferometry,
Society of Photo-Optical Instrumentation Engineers (SPIE) Conference Series
4838
pp. 721-728-721-728
Hobbs A, Read J, Power C, Cole D
(2012)
Thermal instabilities in cooling galactic coronae: fuelling star formation in galactic discs,
ArXiv e-prints
Garbari S, Lake G, Read J
(2010)
Measuring the Local Dark Matter Density,
American Institute of Physics Conference Series
1240
pp. 411-412-411-412
Tanvir NR, Mackey AD, Ferguson AMN, Huxor A, Read JI, Lewis GF, Irwin MJ, Chapman S, Ibata R, Wilkinson MI, McConnachie AW, Martin NF, Davies MB, Bridges TJ
(2012)
The structure of star clusters in the outer halo of M31,
\mnras
422
(1)
pp. 162-184
We present a structural analysis of halo star clusters in M31 based on deep Hubble Space Telescope (HST) Advanced Camera for Surveys (ACS) imaging. The clusters in our sample span a range in galactocentric projected distance from 13 to 100kpc and thus reside in rather remote environments. Ten of the clusters are classical globulars, whilst four are from the Huxor et al. population of extended, old clusters. For most clusters, contamination by M31 halo stars is slight, and so the profiles can be mapped reliably to large radial distances from their centres. We find that the extended clusters are well fit by analytic King profiles with
Read JI, Lake G, Agertz P, Debattista V
(2008)
A dark disc in the Milky Way,
Astronomische Nachrichten
329
(9-10)
pp. 1022-1024
Predicting the flux of dark matter particles through the Earth is vital for current and future direct dark matter detection experiments. To date, such predictions have been based on simulations that model the dark matter alone. Here we make the first attempt to include the influence of the baryonic matter. We show that the presence of a stellar/gas disc at high redshift (z
Dark matter-only simulations of galaxy formation predict many more subhalos around a Milky Way-like galaxy than the number of observed satellites. Proposed solutions require the satellites to inhabit dark matter halos with masses 10(9)-10(10 )Msun at the time they fell into the Milky Way. Here we use a modelling approach, independent of cosmological simulations, to obtain a pre-infall mass of 3.6(-2.3)(+3.8) × 10(8) Msun for one of the Milky Way's satellites: Carina. This determination of a low halo mass for Carina can be accommodated within the standard model only if galaxy formation becomes stochastic in halos below
Read JI, Hayfield T
(2012)
SPHS: Smoothed particle hydrodynamics with a higher order dissipation switch,
Monthly Notices of the Royal Astronomical Society
422
(4)
pp. 3037-3055
We present a novel implementation of smoothed particle hydrodynamics that uses the spatial derivative of the velocity divergence as a higher order dissipation switch. Our switch - which is second order accurate - detects flow convergence before it occurs. If particle trajectories are going to cross, we switch on the usual SPH artificial viscosity, as well as conservative dissipation in all advected fluid quantities (e.g. the entropy). The viscosity and dissipation terms (that are numerical errors) are designed to ensure that all fluid quantities remain single valued as particles approach one another, to respect conservation laws, and to vanish on a given physical scale as the resolution is increased. SPHS alleviates a number of known problems with 'classic' SPH, successfully resolving mixing, and recovering numerical convergence with increasing resolution. An additional key advantage is that - treating the particle mass similarly to the entropy - we are able to use multimass particles, giving significantly improved control over the refinement strategy. We present a wide range of code tests including the Sod shock tube, Sedov-Taylor blast wave, Kelvin-Helmholtz Instability, the 'blob test' and some convergence tests. Our method performs well on all tests, giving good agreement with analytic expectations. © 2012 The Authors Monthly Notices of the Royal Astronomical Society © 2012 RAS.
Charbonnier A, Combet C, Daniel M, Funk S, Hinton JA, Maurin D, Power C, Read JI, Sarkar S, Walker MG, Wilkinson MI
(2012)
Dark matter in dSph galaxies (Charbonnier+, 2011),
VizieR Online Data Catalog
741
pp. 81526-81526
Read JI, Pontzen AP, Viel M
(2006)
On the formation of dwarf galaxies and stellar haloes,
\mnras
371
pp. 885-897-885-897
Read JI, Saha P, Macciò AV
(2007)
Radial Density Profiles of Time-Delay Lensing Galaxies,
\apj
667
pp. 645-654-645-654
Lux H, Read JI, Lake G, Johnston KV
(2012)
NGC5466: A unique probe of the galactic halo shape,
Monthly Notices of the Royal Astronomical Society: Letters
424
(1)
Stellar streams provide unique probes of galactic potentials, with the longer streams normally providing the cleaner measurements. In this Letter, we show an example of a short tidal stream that is particularly sensitive to the shape of the Milky Way's dark matter halo: the globular cluster tidal stream NGC5466. This stream has an interesting deviation from a smooth orbit at its western edge. We show that such a deviation favours an underlying oblate or triaxial halo (irrespective of plausible variations in the MilkyWay disc properties and the specific halo parametrization chosen); spherical or prolate halo shapes can be excluded at a high confidence level. Therefore, more extensive data sets along the NGC5466 tidal stream promise strong constraints on the Milky Way halo shape. © 2012 The Authors, MNRAS 424, L16-L20 Monthly Notices of the Royal Astronomical Society © 2012 RAS.
Saha P, Read JI, Williams LLR
(2006)
Two Strong-Lensing Clusters Confront Universal Dark Matter Profiles,
\apjl
652
pp. L5-L8-L5-L8
Read JI
(2004)
Dwarf spheroidal galaxies - the key to unlocking the nature of dark matter?,
The Observatory
124
pp. 227-228-227-228
Goerdt T, Moore B, Read JI, Stadel J, Zemp M
(2006)
Does the Fornax dwarf spheroidal have a central cusp or core?,
\mnras
368
pp. 1073-1077-1073-1077
Read J
(2007)
Parameterized equations of state for neutron stars,
APS Meeting Abstracts
pp. 11005-11005
We calculate orbits for the Milky Way dwarf galaxies with proper motions, and compare these to subhalo orbits in a high-resolution cosmological simulation. We use the simulation data to assess how well orbits may be recovered in the face of measurement errors, a time-varying triaxial gravitational potential and satellite-satellite interactions. For present measurement uncertainties, we recover the apocentre ra and pericentre rp to
Read JI, Wilkinson MI, Evans NW, Gilmore G, Kleyna JT
(2005)
The mass of dwarf spheroidal galaxies and the missing satellite problem,
IAU Colloq. 198: Near-fields cosmology with dwarf elliptical galaxies
pp. 235-239-235-239
We revisit systematics in determining the local dark matter density Ádm from the vertical motion of stars in the solar neighbourhood. Using a simulation of a Milky Way like galaxy, we determine the data quality required to detect Ádm at its expected local value. We introduce a new method for recovering Ádm that uses moments of the Jeans equations, combined with a Markov chain Monte Carlo technique, to marginalize over the unknown parameters. Given sufficiently good data, we show that our method can recover the correct local dark matter density even in the face of disc inhomogeneities, non-isothermal tracers and a non-separable distribution function. We illustrate the power of our technique by applying it to Hipparcos data. We first make the assumption that the A- and F-star tracer populations are isothermal. This recovers Ádm= 0.003+0.009- 0.007M™pc-3 (Ádm= 0.11+0.34- 0.27GeVcm-3, with 90per cent confidence), consistent with previous determinations. However, the vertical dispersion profile of these tracers is poorly known. If we assume instead a non-isothermal profile similar to that of the blue disc stars from SDSS DR-7 recently measured, we obtain a fit with a very similar Ç2 value, but with Ádm= 0.033+0.008- 0.009M™pc-3 (Ádm= 1.25+0.30- 0.34GeVcm-3 with 90per cent confidence). This highlights that it is vital to measure the vertical dispersion profile of the tracers to recover an unbiased estimate of Ádm. © 2011 The Authors Monthly Notices of the Royal Astronomical Society © 2011 RAS.
Read JI, Hayfield T, Agertz O
(2010)
Resolving mixing in smoothed particle hydrodynamics,
Monthly Notices of the Royal Astronomical Society
405
(3)
pp. 1513-1530
Standard formulations of smoothed particle hydrodynamics (SPH) are unable to resolve mixing at fluid boundaries. We use an error and stability analysis of the generalized SPH equations of motion to prove that this is due to two distinct problems. The first is a leading order error in the momentum equation. This should decrease with an increasing neighbour number, but does not because numerical instabilities cause the kernel to be irregularly sampled. We identify two important instabilities: the clumping instability and the banding instability, and we show that both are cured by a suitable choice of kernel. The second problem is the local mixing instability (LMI). This occurs as particles attempt to mix on the kernel scale, but are unable to due to entropy conservation. The result is a pressure discontinuity at boundaries that pushes fluids of different entropies apart. We cure the LMI by using a weighted density estimate that ensures that pressures are single-valued throughout the flow. This also gives a better volume estimate for the particles, reducing errors in the continuity and momentum equations. We demonstrate mixing in our new optimized smoothed particle hydrodynamics (OSPH) scheme using a Kelvin-Helmholtz instability (KHI) test with a density contrast of 1:2, and the 'blob test'- a 1:10 density ratio gas sphere in a wind tunnel - finding excellent agreement between OSPH and Eulerian codes. © 2010 The Authors. Journal compilation © 2010 RAS.
Garbari S, Read JI, Lake G
(2011)
Limits on the local density of dark matter,
ArXiv e-prints
Teyssier R, Pontzen A, Dubois Y, Read JI
(2013)
Cusp-core transformations in dwarf galaxies: Observational predictions,
Monthly Notices of the Royal Astronomical Society
429
(4)
pp. 3068-3078
The presence of a dark matter core in the central kiloparsec of many dwarf galaxies has been a long-standing problem in galaxy formation theories based on the standard cold dark matter paradigm. Recent simulations, based on smooth particle hydrodynamics and rather strong feedback recipes, have shown that it was indeed possible to form extended dark matter cores using baryonic processes related to a more realistic treatment of the interstellar medium. Using adaptive mesh refinement, together with a new, stronger supernova feedback scheme that we have recently implemented in the RAMSES code, we show that it is also possible to form a prominent dark matter core within the well-controlled framework of an isolated, initially cuspy, 1010M™ dark matter halo. Although our numerical experiment is idealized, it allows a clean and unambiguous identification of the dark matter core formation process. Our dark matter inner profile is well fitted by a pseudo-isothermal profile with a core radius of 800 pc. The core formation mechanism is consistent with the one proposed by Pontzen & Governato. We highlight two key observational predictions of all simulations that find cuspcore transformations: (i) a bursty star formation history with a peak-to-trough ratio of 5 to 10 and a duty cycle comparable to the local dynamical time and (ii) a stellar distribution that is hot with v/à ~ 1. We compare the observational properties of our model galaxy with recent measurements of the isolated dwarfWolf-Lundmark-Mellote (WLM).We show that the spatial and kinematical distribution of stars and HI gas are in striking agreement with observations, supporting the fundamental role played by stellar feedback in shaping both the stellar and dark matter distribution. © 2013 The Authors. Published by Oxford University Press on behalf of the Royal Astronomical Society.
Read JI, Bruch T, Baudis L, Debattista VP, Agertz O, Mayer L, Brooks AM, Governato F, Peter AHG, Lake G
(2010)
A Dark Matter Disc in the Milky Way,
American Institute of Physics Conference Series
1240
pp. 391-394-391-394
Garbari S, Liu C, Read JI, Lake G
(2012)
A new determination of the local dark matter density from the kinematics of K dwarfs,
Monthly Notices of the Royal Astronomical Society
425
(2)
pp. 1445-1458
We apply a new method to determine the local disc matter and dark halo matter density to kinematic and position data for
Cole DR, Dehnen W, Read JI, Wilkinson MI
(2012)
The mass distribution of the Fornax dSph: Constraints from its globular cluster distribution,
Monthly Notices of the Royal Astronomical Society
426
(1)
pp. 601-613
Uniquely among the dwarf spheroidal (dSph) satellite galaxies of the Milky Way, Fornax hosts globular clusters. It remains a puzzle as to why dynamical friction has not yet dragged any of Fornax's five globular clusters to the centre, and also why there is no evidence that any similar star cluster has been in the past (for Fornax or any other tidally undisrupted dSph). We set up a suite of 2800 N-body simulations that sample the full range of globular cluster orbits and mass models consistent with all existing observational constraints for Fornax. In agreement with previous work, we find that if Fornax has a large dark matter core, then its globular clusters remain close to their currently observed locations for long times. Furthermore, we find previously unreported behaviour for clusters that start inside the core region. These are pushed out of the core and gain orbital energy, a process we call 'dynamical buoyancy'. Thus, a cored mass distribution in Fornax will naturally lead to a shell-like globular cluster distribution near the core radius, independent of the initial conditions. By contrast, cold dark matter-type cusped mass distributions lead to the rapid infall of at least one cluster within "t = 1-2Gyr, except when picking unlikely initial conditions for the cluster orbits (
Boley AC, Lake G, Read J, Teyssier R
(2009)
Globular Cluster Formation Within a Cosmological Context,
\apjl
706
pp. L192-L196-L192-L196
Read JI, Wilkinson MI, Evans NW, Gilmore G, Kleyna JT
(2006)
The importance of tides for the Local Group dwarf spheroidals,
\mnras
367
pp. 387-399-387-399
Gatto A, Fraternali F, Read JI, Marinacci F, Lux H, Walch S
(2013)
Unveiling the corona of the Milky Way via ram-pressure stripping of dwarf satellites,
MONTHLY NOTICES OF THE ROYAL ASTRONOMICAL SOCIETY
433
(4)
pp. 2749-2763
OXFORD UNIV PRESS
Read JI, Wilkinson MI, Evans NW, Gilmore G, Kleyna JT
(2006)
The tidal stripping of satellites,
\mnras
366
pp. 429-437-429-437
Read JI, Mayer L, Brooks AM, Governato F, Lake G
(2009)
A dark matter disc in three cosmological simulations of Milky Way mass galaxies,
Monthly Notices of the Royal Astronomical Society
397
(1)
pp. 44-51
Making robust predictions for the phase-space distribution of dark matter at the solar neighbourhood is vital for dark matter direct-detection experiments. To date, almost all such predictions have been based on simulations that model the dark matter alone. Here, we use three cosmological hydrodynamic simulations of bright, disc-dominated galaxies to include the effects of baryonic matter self-consistently for the first time. We find that the addition of baryonic physics drastically alters the dark matter profile in the vicinity of the solar neighbourhood. A stellar/gas disc, already in place at high redshift, causes merging satellites to be dragged preferentially towards the disc plane where they are torn apart by tides. This results in an accreted dark matter disc that contributes
Agertz O, Moore B, Stadel J, Potter D, Miniati F, Read J, Mayer L, Gawryszczak A, Kravtsov A, Nordlund Å, Pearce F, Quilis V, Rudd D, Springel V, Stone J, Tasker E, Teyssier R, Wadsley J, Walder R
(2007)
Fundamental differences between SPH and grid methods,
\mnras
380
pp. 963-978-963-978
Adén D, Wilkinson MI, Read JI, Feltzing S, Koch A, Gilmore GF, Grebel EK, Lundström I
(2009)
A new low mass for the Hercules dSph: The end of a common mass scale for the dwarfs?,
Astrophysical Journal
706
(1 PART 2)
We present a new mass estimate for the Hercules dwarf spheroidal (dSph) galaxy, based on the revised velocity dispersion obtained by Adén et al. The removal of a significant foreground contamination using newly acquired Strömgren photometry has resulted in a reduced velocity dispersion. Using this new velocity dispersion of 3.72 0.91 km s-1, we find a mass of M300 = 1.9+1.1-0.8 × 106 M™ within the central 300 pc, which is also the half-light radius, and a mass of M433 = 3.7+2.2-1.6 × 106 M™ within the reach of our data to 433 pc, significantly lower than previous estimates. We derive an overall mass-to-light ratio of M433/L = 103+83-48[M™/L™]. Our mass estimate calls into question recent claims of a common mass scale for dSph galaxies. Additionally, we find tentative evidence for a velocity gradient in our kinematic data of 16 3 km s-1 kpc-1, and evidence of an asymmetric extension in the light distribution at
Read JI, Gilmore G
(2005)
Mass loss from dwarf spheroidal galaxies: the origins of shallow dark matter cores and exponential surface brightness profiles,
\mnras
356
pp. 107-124-107-124
Knebe A, Knollmann SR, Muldrew SI, Pearce FR, Aragon-Calvo MA, Ascasibar Y, Behroozi PS, Ceverino D, Colombi S, Diemand J, Dolag K, Falck BL, Fasel P, Gardner J, Gottlöber S, Hsu CH, Iannuzzi F, Klypin A, Luki? Z, Maciejewski M, Mcbride C, Neyrinck MC, Planelles S, Potter D, Quilis V, Rasera Y, Read JI, Ricker PM, Roy F, Springel V, Stadel J, Stinson G, Sutter PM, Turchaninov V, Tweed D, Yepes G, Zemp M
(2011)
Haloes gone MAD: The Halo-Finder Comparison Project,
Monthly Notices of the Royal Astronomical Society
415
(3)
pp. 2293-2318
We present a detailed comparison of fundamental dark matter halo properties retrieved by a substantial number of different halo finders. These codes span a wide range of techniques including friends-of-friends, spherical-overdensity and phase-space-based algorithms. We further introduce a robust (and publicly available) suite of test scenarios that allow halo finder developers to compare the performance of their codes against those presented here. This set includes mock haloes containing various levels and distributions of substructure at a range of resolutions as well as a cosmological simulation of the large-scale structure of the universe. All the halo-finding codes tested could successfully recover the spatial location of our mock haloes. They further returned lists of particles (potentially) belonging to the object that led to coinciding values for the maximum of the circular velocity profile and the radius where it is reached. All the finders based in configuration space struggled to recover substructure that was located close to the centre of the host halo, and the radial dependence of the mass recovered varies from finder to finder. Those finders based in phase space could resolve central substructure although they found difficulties in accurately recovering its properties. Through a resolution study we found that most of the finders could not reliably recover substructure containing fewer than 30-40 particles. However, also here the phase-space finders excelled by resolving substructure down to 10-20 particles. By comparing the halo finders using a high-resolution cosmological volume, we found that they agree remarkably well on fundamental properties of astrophysical significance (e.g. mass, position, velocity and peak of the rotation curve). We further suggest to utilize the peak of the rotation curve, vmax, as a proxy for mass, given the arbitrariness in defining a proper halo edge. © 2011 The Authors Monthly Notices of the Royal Astronomical Society © 2011 RAS.
Bacon DJ, Amara A, Read JI
(2010)
Measuring dark matter substructure with galaxy-galaxy flexion statistics,
Monthly Notices of the Royal Astronomical Society
409
(1)
pp. 389-395
It is of great interest to measure the properties of substructures in dark matter haloes at galactic and cluster scales. Here we suggest a method to constrain substructure properties using the variance of weak gravitational flexion in a galaxy-galaxy lensing context; this is a statistical method, requiring many foreground-background pairs of galaxies. We show the effectiveness of flexion variance in measuring substructures in N-body simulations of dark matter haloes, and present the expected galaxy-galaxy lensing signals. We show the insensitivity of the method to the overall galaxy halo mass, and predict the method's signal-to-noise ratio for a space-based all-sky survey, showing that the presence of substructure down to 10 9 M haloes can be reliably detected. © 2010 The Authors. Journal compilation © 2010 RAS.
Amendola L, Appleby S, Bacon D, Baker T, Baldi M, Bartolo N, Blanchard A, Bonvin C, Borgani S, Branchini E, Burrage C, Camera S, Carbone C, Casarini L, Cropper M, deRham C, di Porto C, Ealet A, Ferreira PG, Finelli F, Garcia-Bellido J, Giannantonio T, Guzzo L, Heavens A, Heisenberg L, Heymans C, Hoekstra H, Hollenstein L, Holmes R, Horst O, Jahnke K, Kitching TD, Koivisto T, Kunz M, La Vacca G, March M, Majerotto E, Markovic K, Marsh D, Marulli F, Massey R, Mellier Y, Mota DF, Nunes N, Percival W, Pettorino V, Porciani C, Quercellini C, Read J, Rinaldi M, Sapone D, Scaramella R, Skordis C, Simpson F, Taylor A, Thomas S, Trotta R, Verde L, Vernizzi F, Vollmer A, Wang Y, Weller J, Zlosnik T
(2012)
Cosmology and fundamental physics with the Euclid satellite,
ArXiv e-prints
Bruch T, Read J, Baudis L, Lake G
(2009)
Detecting the Milky Way?s Dark Disk,
\apj
696
pp. 920-923-920-923
Bruch T, Read J, Baudis L, Lake G
(2008)
Signatures of the Milky Way?s dark disk in current and future experiments,
Identification of Dark Matter 2008
Wilkinson MI, Kleyna JT, Wyn Evans N, Gilmore GF, Read JI, Koch A, Grebel EK, Irwin MJ
(2006)
The internal kinematics of dwarf spheroidal galaxies,
EAS Publications Series
20
pp. 105-112-105-112
Read JI, Gilmore G
(2003)
Can supermassive black holes alter cold dark matter cusps through accretion?,
\mnras
339
pp. 949-956-949-956
The shape and wide diversity of dwarf galaxy rotation curves is at apparent odds with dark matter halos in LCDM. We generate mock rotation curve data from dwarf galaxy simulations to show that this owes to bursty star formation driven by stellar feedback. There are three main effects. Firstly, stellar feedback transforms dark matter cusps into cores. Ignoring such transformations leads to a poor fit of the rotation curve shape and a large systematic bias on the halo concentration parameter c. Secondly, if close to a recent starburst, large HI bubbles push the rotation curve out of equilibrium. This makes the gas rotational velocity a poor probe of the underlying potential, leading to a systematic error on the halo virial mass M200 of up to half a dex. Thirdly, when galaxies are viewed near face-on (i
Read JI, Lake G, Agertz O, Debattista VP
(2008)
Thin, thick and dark discs in ›cDM,
Monthly Notices of the Royal Astronomical Society
389
(3)
pp. 1041-1057
In a › cold dark matter (›CDM) cosmology, the Milky Way accretes satellites into the stellar disc. We use cosmological simulations to assess the frequency of near disc plane and higher inclination accretion events, and collisionless simulations of satellite mergers to quantify the final state of the accreted material and the effect on the thin disc. On average, a Milky Way-sized galaxy has three subhaloes with v max > 80 km s -1; seven with v max > 60 km s -1 and 15 with v max > 40 km s -1 merge at redshift z s 1. Assuming isotropic accretion, a third of these merge at an impact angle ¸ 20°are twice as likely as low-inclination ones. These lead to structures that closely resemble the recently discovered inner and outer stellar haloes. They also do more damage to the Milky Way stellar disc creating a more pronounced flare, and warp; both long-lived and consistent with current observations. The most massive mergers (v max s 80 km s -1) heat the thin disc enough to produce a thick disc. These heated thin-disc stars are essential for obtaining a thick disc as massive as that seen in the Milky Way; they likely comprise some
We perform a detailed investigation into the disruption of central cusps via the transfer of energy from sinking massive objects. Constant density inner regions form at the radius where the enclosed mass approximately matches the mass of the infalling body. We explore parameter space using numerical simulations and give an empirical relation for the size of the resulting core within structures that have different initial cusp slopes. We find that infalling bodies always stall at the edge of these newly formed cores, experiencing no dynamical friction over many dynamical times. As applications, we consider the resulting decrease in the dark matter annihilation flux due to centrally destroyed cusps, and we present a new theory for the formation of close binary nuclei-the "stalled binary" model.We focus on one particularly interesting binary nucleus system, the dwarf spheroidal galaxy VCC 128 which is darkmatter dominated at all radii.We showthat its nucleiwould rapidly coalesce within a fewmillion years if it has a central dark matter cusp slope steeper than r-1. However, if its initial dark matter cusp is slightly shallower than a logslope of-0.75 at