---
press release
Published:
05 October 2021
Dr Kamalan Jeevaratnam receives Fellowship to the Royal College of Veterinary Surgeons
The University of Surrey's Head of Department Veterinary Pre-clinical Sciences, Dr Kamalan Jeevaratnam, has been awarded the 2021 Royal College of Veterinary Surgeons (RCVS) Fellowship.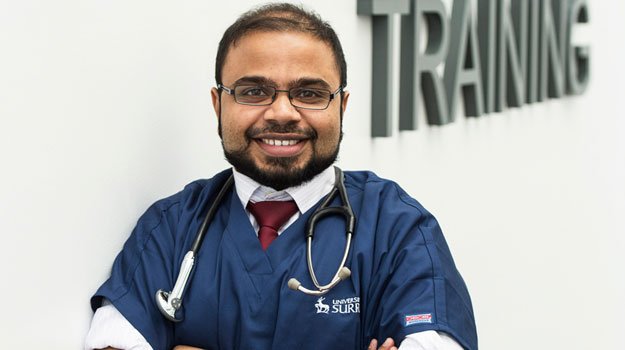 Dr Jeevaratnam has been given the RCVS honour for his "meritorious contributions to knowledge."
Dr Jeevaratnam is one of only 38 surgeons to join the RCVS' Fellowship this year. The new fellows will be formally welcomed in an online ceremony as part of Fellowship Week on 7 October.
Dr Jeevaratnam, Head of Department Veterinary Pre-Clinical Sciences at the University of Surrey, said:
"As a clinician scientist, the Fellowship to me is a recognition of the knowledge in cardiology built over more than 10 years with the support of some amazing collaborators and colleagues around the world. The One Health and interdisciplinary nature of what we do as a team continues to inspire me and I hope to continue this work. I am looking forward to establishing more collaborations locally and international to continue my learning in hope that we can make further contributions in the field of veterinary and human cardiology."
Professor Chris Proudman, Head of the School of Veterinary Medicine at the University of Surrey, added:
"I am delighted that Dr Jeevaratnam has been named as one of a small number of veterinary surgeons to be awarded Fellowship of the RCVS. The award recognises Dr Jeevaratnam's outstanding research in the field of cardiac physiology, work that makes important contributions to both human and animal health. As a successful Malaysian veterinary graduate now working in the UK, this award also recognises Dr Jeevaratnam's leadership of diversity within the veterinary profession."
Media Contacts
---
External Communications and PR team
Phone: +44 (0)1483 684380 / 688914 / 684378
Email: mediarelations@surrey.ac.uk
Out of hours: +44 (0)7773 479911