---
press release
"Everything about Surrey's nursing programme was magical," says 1982 graduate as the University of Surrey celebrates 40 years of nursing
Celebrations are underway at the School of Health Sciences at the University of Surrey to mark 40 years since the first cohort of students graduated from its nursing programmes.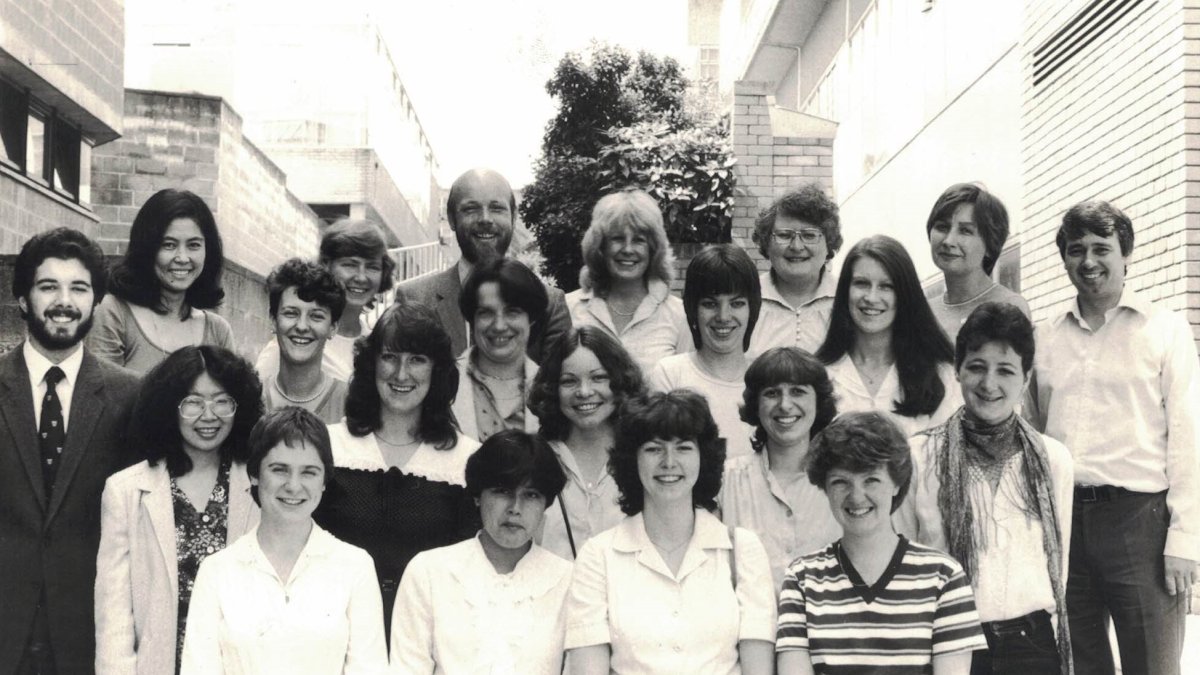 From the first Professor of Men's Health to advising the World Health Organisation, graduates from the Class of 1982 have excelled in their careers and contributed enormously to health services around the world. During their time at Surrey, the 16 students who graduated in that first cohort undertook extensive practical and educational training, helping to prepare them for life in the nursing profession.
Professor Alan White, who was part of the Class of 1982, said:
"Once I arrived in Guildford, I never looked back. Everything about Surrey's nursing programme was magical.

"We were thrown in at the deep end, but our course was phenomenal, and our nursing lecturers were second to none. When I look at my career, everything I've done always comes back to Surrey, and I wouldn't change a thing."
Since 1978, nursing programmes at Surrey have equipped its 6,600 nursing graduates with the skills to deliver high-quality, compassionate care to patients in a number of different settings. Such skills and professionalism have helped cement Surrey as one of the country's leading health schools, consistently ranked highly in national and global league tables.1
Professor Melaine Coward, Head of the School of Health Sciences and Deputy Dean of the Faculty of Health and Medical Sciences, said:
"I am beyond proud of everything the Class of 1982 has achieved and their contribution to the health care sector and the trail they blazed for the thousands of nurses that followed in their footsteps.

"These students took a leap of faith in coming to Surrey, and without them, we would not have been able to build the successful school we have today, helping to train nurses of the future."
Students from the School of Health Sciences continue to embark on clinical placements with organisations across and beyond Surrey, helping to deliver care for the community. This is possible due to the strong relationships the University has with healthcare partners across the South East and the high calibre of students it attracts.
Louise Stead, Chief Executive of Royal Surrey Foundation Trust and Visiting Professor at the University of Surrey, said:
"Congratulations to the School of Health Sciences on the 40th anniversary of their first graduating class. At Royal Surrey, we have had hundreds if not thousands of nursing students from the University of Surrey pass through our doors, gaining practical experience of working on wards and with patients. I have always been impressed with their skills and professionalism, and I look forward to welcoming students for many more years to come."
The University's continued commitment to training health professionals is reinforced by the recent launch of a new medical programme due to start in Spring 2024 and the recent opening of the Kate Granger building. This new state-of-the-art facility is at the forefront of educating the next generation of nurses, midwives, paramedics, physician associates and healthcare leaders.
Professor Paul Townsend, Pro-Vice-Chancellor and Executive Dean of the Faculty of Professor Paul Townsend, Pro-Vice-Chancellor and Executive Dean of the Faculty of Health and Medical Sciences at the University of Surrey, said:
"I am very proud that for the last 40 years, we have had a graduating class from our nursing programmes. Nurses are vital to the social and healthcare sectors, and it is an honour that we at Surrey help to contribute to this by equipping our students with the relevant knowledge and skill. It is this rich history that fills me with excitement about the launch of our new medical programme that will see medical students and nurses train and work together to improve patient health.

"I would like to congratulate and thank all the staff and students over the last 40 years who have made this all possible."
A celebratory event will take place on 23rd September 2022 with the Class of 1982 and final year nursing students.
Ends
1 Nursing programs at Surrey are ranked:
· Third by The Complete University Guide 2023
· Fourth by The Times and The Sunday Times Good University Guide 2022
· In the top 100 in the Global Ranking of Academic Subjects 202
Media Contacts
---
External Communications and PR team
Phone: +44 (0)1483 684380 / 688914 / 684378
Email: mediarelations@surrey.ac.uk
Out of hours: +44 (0)7773 479911