---
news
Published:
29 September 2023
Five reasons to study nursing at Surrey
Our nursing courses are ranked 8th in the UK by The Times and The Sunday Times Good University Guide 2024. Discover how you'll develop your skills and knowledge as a nursing student at Surrey.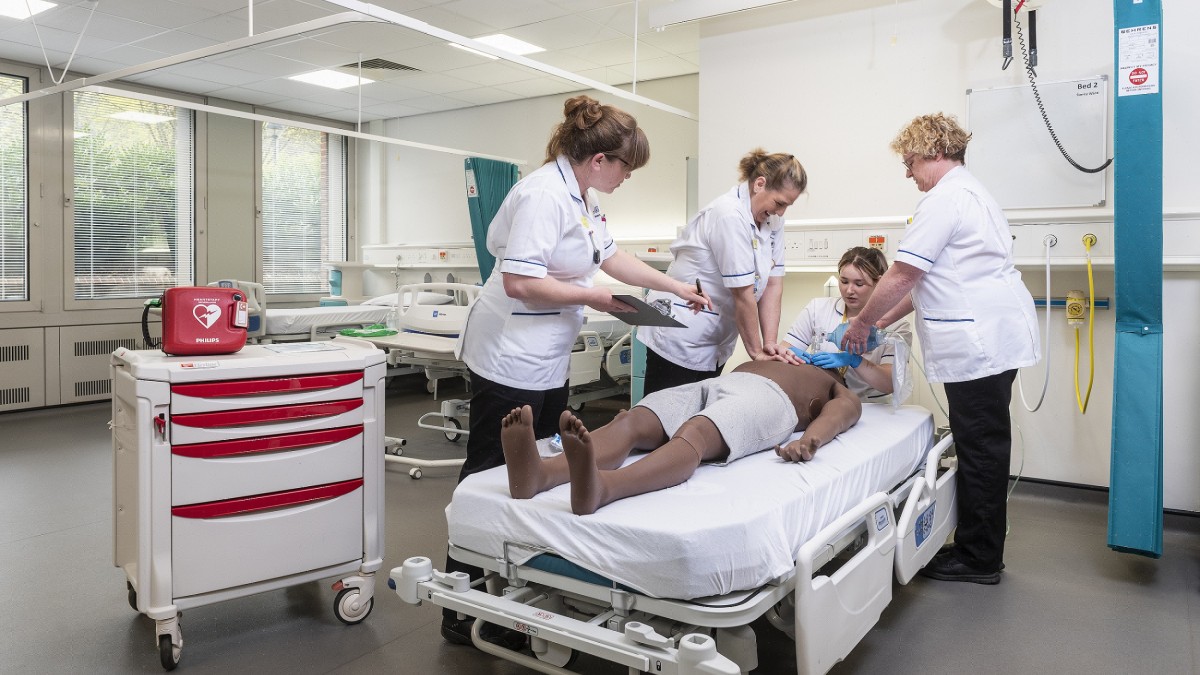 2. We're immersive
Our multimillion-pound facilities give you access to the latest industry equipment, including our Clinical Simulation Centre, consisting of two large wards, an operating theatre, a community flat and an ambulance bay. Here you'll get to practise real scenarios using lifelike manikins and actors as patients, fitting cannulas, checking for heart murmurs, monitoring breathing and much more.  
As one of our students, you'll also get exclusive access to our independent clinical learning room. The room is set up each week with the necessary equipment required to practise the techniques you'll be learning. 
3. You'll learn from practitioners 
We have a clinical-led focus to our teaching, ensuring everything you learn is up-to-date and relevant to an NHS care setting. Our lecturers have a range of clinical expertise, and many are active researchers, investigating topics such as cancer, dementia, ethics and compassionate practice.   
You'll also be taught by a multidisciplinary team of guest lecturers, made up of local doctors, nurses, midwives and other healthcare workers.  
On your clinical placements, you will be exposed to a wide variety of scenarios and patients, allowing you to practise the skills you'll learn in the classroom out in the real world under the supervision of qualified practitioners. Your placements will take place across Surrey, Sussex and Hampshire. 
4. You'll benefit from an integrated approach to teaching 
The Faculty of Health and Medical Sciences implements a 'One Health, One Medicine' vision which champions interprofessional learning. In addition to field-specific studies in Year 1, you will spend time learning alongside our paramedic science and midwifery students, both in the classroom and in simulation. This allows you to develop an understanding of how healthcare professionals work together as a multidisciplinary team to put patient care first. You will also learn to recognise the skill sets of other professionals and how this can benefit your own work. 
In Years 2 and 3, you can volunteer to support learning for Year 1 students, which is a great opportunity to strengthen the teaching and leadership skills required to be a qualified nurse. 
5. We're focused on your future 
When you choose to study nursing, you are choosing your career, and it starts the moment you step onto campus in your first year. Our nursing courses are accredited by the Nursing and Midwifery Council (NMC), giving you the academic requirements needed to register to work as a nurse once you've graduated. 100% of our nursing studies graduates go on to full-time employment or further study (Graduate Outcomes 2023, HESA), and our graduates can be found working for NHS trusts across the UK.  
Visit the NHS Careers website for further information about the different opportunities and specialisms within nursing.