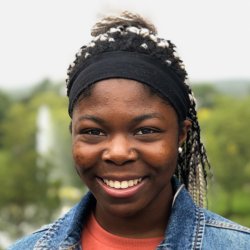 Deborah Akinyose
"My placements have made me realise that even the smallest thing can make a difference to patients and their families. Never forget that kindness and compassion are fundamental."
Course
Nursing Studies (Registered Nurse Children's Nursing) BSc (Hons)
Why I chose Surrey
I'm a caring person by nature and I've always enjoyed looking after others. I originally wanted to be a doctor. But when things didn't work out, it made me realise that nursing was what I wanted to do all along.
In all honesty, I mainly choose Surrey as I really liked the look of the campus with its lake. It looked like a wonderful place to study and it lived up to my expectations!
My course
I love that my children's nursing course is so practical. What you learn in lectures and simulations directly relates to what you do out on placement. The teaching staff are very caring and supportive. They always look out for you – just let them know if you need help.
The Clinical Simulation Centre is so immersive, it's a place where I can practise my skills and make mistakes in a safe environment. The facilities include wards with manikins that are programmed to respond to interventions.
Credit: University of Surrey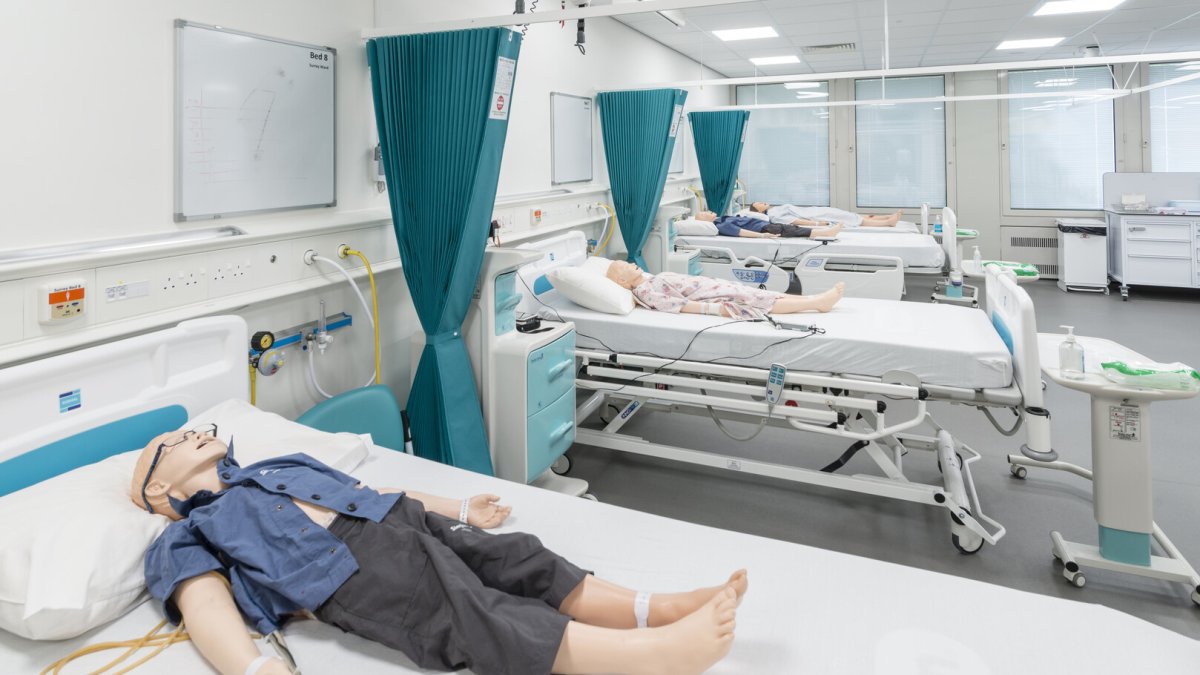 My clinical placements
I've had placements on the children's ward, in paediatric A&E, in outpatients and at a special needs school. I've also had the privilege of going to Great Ormond Street Hospital to work on the endocrine and metabolic conditions ward, and in urology.
When I first started my placements, I mainly did basic observations, like counting respiration and heart rates, and checking temperatures and blood pressures. I got to practise calculating medication doses for patients and preparing them, under supervision. I talked to patients, helped change bed sheets, removed cannulas and spent a lot of time getting used to the hospital environment.
Over time, I've taken on more responsibility and I'm now looking after my own patients with minimal supervision. I can check blood glucose levels by doing a heel prick test, analyse urine for markers of infection and complete a 12-lead electrocardiogram to check heart activity. I also ensure patients get their medication on time, observations are made, and families are kept up-to-date. Additionally, I've worked collaboratively with doctors, other nurses, dieticians, pharmacists and other healthcare professionals.
One patient's story will always stay with me. She was a toddler with type 1 diabetes, who I helped look after from the day she got her diagnosis. During one of my shifts, I saw the patient's mum crying and I went over to her with a tissue and gave her a hug. I explained it was a difficult situation, but she was doing an amazing job adjusting to the news. To my surprise she said, "I wish you were our nurse." I replied to her, "I'm just trying to be kind," to which she responded, "That's pretty much all that I need, and I really appreciate it."
It made me realise that even the smallest thing can make a difference to patients and their families. It's important to never forget that kindness and compassion are fundamental, and without that nursing isn't nursing at all!
My career and development
Being at Surrey has helped me grow so much. I'm now much better at time management and setting priorities. I've learnt to fend for myself and be my own person, meeting some amazing people and making incredible friends along the way.
Once I qualify, I plan on enjoying life as a nurse in a general hospital and see where it takes me. One day, I'd love to complete a masters to become a nurse practitioner. This role would give me additional responsibilities, like prescribing medication. I'm excited by the idea of being more of an expert in my field. I just need to pick a specialism!
My advice
Firstly, build your knowledge of basic human anatomy and physiology. Take a biology A Level or a foundation course if you can. Whatever you do, learn about the human body and its systems. Knowing about how the body works is integral to being a nurse. In your first semester, you'll learn anatomy, but it will be much easier if you already know the basics!
Secondly, when you're on placement, keep a diary. Each day make a record of:
What you've learnt
How you've impacted a patient positively
Something that could have gone better
One thing you want to improve on your next shift.
I've got a diary entry for almost every shift and it's a great way to see how I've progressed. It helps with my whole learning experience.