---
press release
Published:
14 December 2020
Green walls, roofs and screens can improve air quality in street canyons, finds a new review
Green walls, screens and roofs could help improve air quality in street canyons where there is little room to plant trees or hedges, finds a new study from the University of Surrey.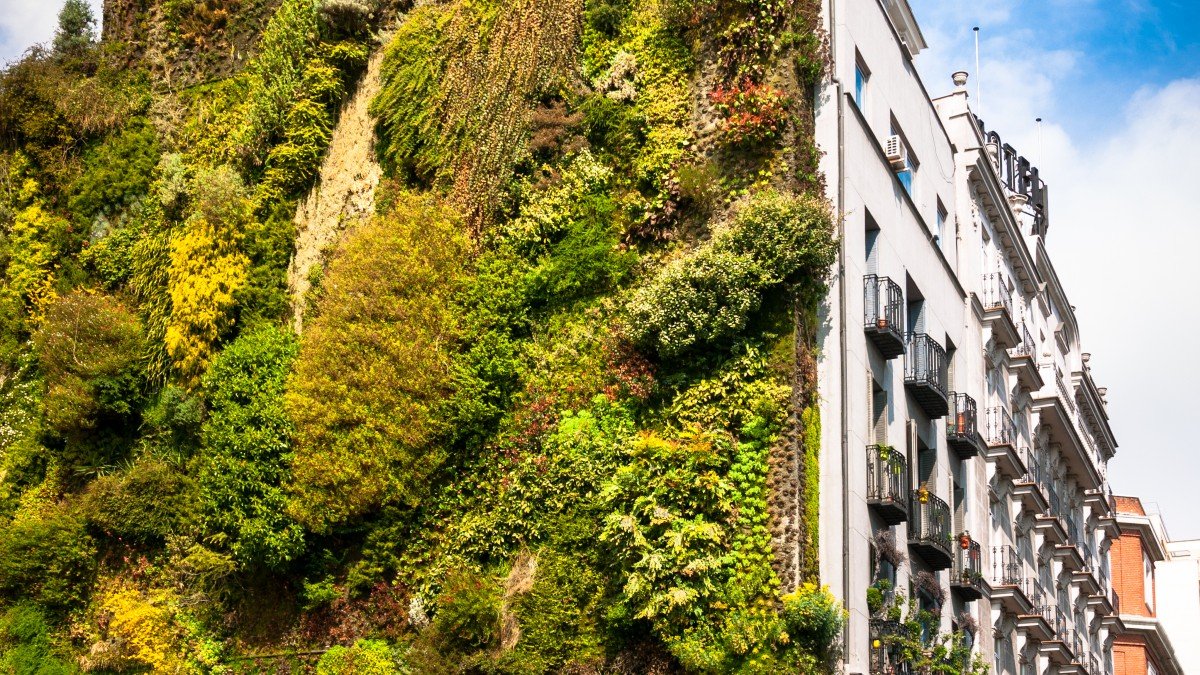 Street canyons are created where human-made structures or buildings flank a road. These are typically the most polluted parts of a town or city due to high traffic and impeded airflow, which results in a lack of ventilation.
In a paper published by the Environment International journal, researchers from Surrey's Global Centre for Clean Air Research (GCARE) and their collaborators from Australia conducted a comprehensive review of green infrastructures (GI) – such as green roofs – to identify their impact on air quality within a street canyon.
The paper found that street canyons are unique and extraordinarily complex environments, suggesting that each canyon will likely need its tailored solution.
The GCARE team found promise for three types of GI in street canyons with very little space for planting at ground level:
Green walls are more useful for capturing fine and ultrafine pollutant particles than gaseous pollutants. The extent of pollutant concentration reduction in street canyons effected by green walls is influenced by wind speed and direction, canyon geometry and characteristics of the vegetation.
Green screens are a new and emerging option, with few studies to date on their efficacy, none of which have been undertaken in street canyon environments. However, initial research has shown up to a 41 per cent concentration reduction for coarse particles and up to a 53 per cent reduction for nitrogen dioxide concentrations.
Modelling studies found that green roofs can result in up to a 30-57 per cent reduction in air pollution. Air quality improvement by green roofs depends on a range of factors, including the position of the green roof, wind velocity and direction, dry deposition velocities of air pollutants, plant morphology and leaf traits.
The study provides a holistic assessment of multiple potential scenarios and recommendations regarding the design, implementation and analysis of GI in street canyon environments for reduced human exposure to air pollution.
Professor Prashant Kumar, Director of GCARE at the University of Surrey, said: "As the world faces up to the fight against climate change and the health implications of air pollution, we must continue to provide decision-makers and communities with information on how to make their air cleaner.
"Unfortunately, we have seen fewer green spaces in urban areas, but our study has shown that there is hope – green roofs, screens and walls can still help improve the air we breathe, and we must study their impact further."
Note to editors
This work builds upon the GCARE team's growing body of work in the field of GI for air pollution mitigation, including previous studies on plant species selection, air pollution modelling, quantifying pollutant attenuation by GI and the nexus between air pollution, green infrastructure and human health. Findings from the recent study will also feed into future resources such as the GCARE team's guidance document on GI implementation. The work was supported by the EPSRC INHALE project (EP/T003189/1), UGPN SCAN project, UGPN's dual PhD Studentship Award and an EPSRC PhD studentship (2124242).
Terminology
A green wall is a term that encompasses all forms of vegetated wall surfaces.
Green screens are a relatively new concept and consist of steel or plastic mesh on which climber vegetation grows.
A green roof is a roof of a building that is covered with vegetation.
Reference
Tomson, M., Kumar, P., Barwise, Y., Perez, P., Forehead, H., French, K., Morawska, L., Watts, J., 2021. Green infrastructure for air quality improvement in street canyons. Environment International 146, 106288. Available here: https://doi.org/10.1016/j.envint.2020.106288.
Media Contacts
---
External Communications and PR team
Phone: +44 (0)1483 684380 / 688914 / 684378
Email: mediarelations@surrey.ac.uk
Out of hours: +44 (0)7773 479911