---
news
Published:
08 February 2022
Meet the academic: Dr David Bartlett
"Immunology is a vast and complex discipline, but once you commit to what may feel like swimming an ocean, the rewards, applications, and knowledge you will gain are limitless."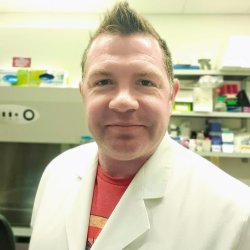 Dr David Bartlett
Dr David Bartlett is a lecturer of exercise immunology in the School of Biosciences and Medicine. With a career that's taken him across the USA, David's focused his research on using exercise training and nutrition to understand its beneficial effects on the immune system for people with diseases.
Why did you become an immunologist? 
There's no doubt that immunology is one of the most complex biological disciplines and plays a central role in almost all health conditions. I knew that understanding the immune system and how to manipulate it would provide me with the knowledge to help people live healthier lives.  
How did you become an immunologist?  
During the first year of my exercise science degree, I realised that I wanted to be a cross-disciplinary researcher and that I was interested in how exercise could improve the immune system of people with disease or at risk of chronic disease. As such, I managed to convince my programme director to let me focus my studies on immunology, immunity and infection, genetics and pharmacology.
After my undergraduate degree, I secured an immunology PhD with the world-renowned immunologist, Professor Janet Lord at the University of Birmingham. I was truly fortunate with the timing as this PhD focused on understanding the relationships between physical activity and immune function in older adults.
Once you qualified, where did your career take you?
After I graduated with my PhD, I was fortunate to be awarded an Outgoing Fellowship from the EU Marie Curie Project. This award funded me to work at Duke University Medical School in North Carolina.
Duke University is consistently ranked as one of the top research universities globally. Not only was it a wonderful experience to be part of such a school, but North Carolina was also a fantastic place to live. Some of the highlights included having our second son (who may one day become President of the USA) and visiting some amazing places with work. For example, my work took me to the Rockies, Disney World, Washington DC, the National Air and Space Museum, American football games and amazing universities such as Harvard University.
How and why did you become an academic?
I knew very early on in my career that becoming an academic would provide me with an environment to explore my research interests with degrees of freedom not typically found in other workplaces. Furthermore, as an academic, I'd directly influence the development of the next generation of scientists.   
What excites you most about your current role?
I'm particularly excited to develop a new area of research and teaching for the University. I hope to establish exercise immunology at Surrey as an area of excellence.
What is your specific area of expertise?
My area of expertise is in innate immune cell biology, specifically in the response of cells to exercise or energy balance modification and the mechanisms of these responses. Because I work with people with chronic diseases characterised by immune dysfunction such as cancer and rheumatoid arthritis, I get to see exciting lab results and watch people become healthier – which can be a truly humbling experience.
Why should people study Immunology?
The immune system plays a role in almost every single process that your body completes. When processes don't work so well, your immune system will be involved to some degree. Whatever your discipline is, if part of it is understanding the human or animal body, then it's critical you understand some immunology. Immunology is a vast and complex discipline, but once you commit to what may feel like swimming an ocean, the rewards, applications, and knowledge you will gain are limitless. 
What are you looking for in a student?
Curiosity, dedication, patience and a desire to explore at the deepest levels of science.
Do you have any advice for prospective students?
Undergraduate studies can be a fulfilling but challenging experience. If you're ready to actively engage in your own development and learning, you'll find university such a rewarding experience.