---
news
Published:
18 February 2021
Meet the academic: Dr Georgia Volioti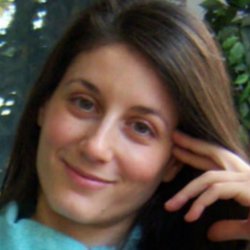 Dr Georgia Volioti
What inspires you about Surrey?
Those cherished 'aha' moments in the classroom with my students. You know, when a lecture or seminar is going well and you are totally immersed in the role as you discuss something hot – like the performativity of gender in opera – and the teaching itself is a performance! Then you come out of the classroom (or virtual meeting) and you feel uplifted as you think to yourself, "Oh yes, that was good!"
Why should a student choose Surrey to study music?
Music at Surrey has a longstanding and highly-acclaimed reputation for teaching and research excellence. We are a very friendly Department with a great sense of community. One of the greatest strengths of the Music BMus course is the emphasis on creative practice and transferrable skills for the music industry. The opportunity to do a Professional Training placement, as part of the four-year BMus, is another bonus! Many Surrey music students have gained invaluable professional experience and have even launched their careers from job offers following their placement.
How would you describe your time at Surrey?
My time at Surrey has been a whirlwind experience in the most positive sense of the word – no two days are the same! There has been lots of change and with it transformation and growth, resilience, and opportunity. Working in a fast-paced higher education environment prompts you to pursue avenues you might have otherwise overlooked, and for me as an early career academic, this has been invaluable. For example, I am currently completing a study (supported by a FASS Teaching Innovation Award) on music students' experience of their placement. This research interest grew out of my role as Senior Placement Tutor, and the realisation that there is very little guidance about tertiary-level musicians' professional transitions and industry development in the context of self-regulation and self-determination theories of learning. Another example, just before going on maternity leave, I convened a two-day international conference at Surrey on 'Recorded Music, Performance, Creativity and Technology'. The Department was very supportive of this initiative. With my co-editor, we are now preparing a book stemming in part from this conference. I am really excited to be working on this cross-disciplinary book project with a wonderful team of international authors and practitioners. So the great thing about Surrey is that if you have an idea you want to pursue, you can just go for it!  
Is there a particular memory at Surrey which stands out for you?
Having a well-deserved ice cream with our lovely music student helpers after a long open day, back in the summer of 2015.
What are your interests and hobbies outside of academia?
I love dancing. I am an avid Argentine tango dancer, something I've been doing for more than ten years. I really miss it now that classes are suspended due to the pandemic, but I still practise at home, whenever I can, with my 14-month old son. I'm both leader and follower since I have to hold him, but I can still do the basic figures – the crosswalk, ochos, even the odd gancho! And he loves a good milonga tune. To see the smile and joy on his face is priceless.
Discover all of our courses on offer within the Department of Music and Media.