---
news
Published:
12 November 2021
Meet the academic: Dr Luciano Rispoli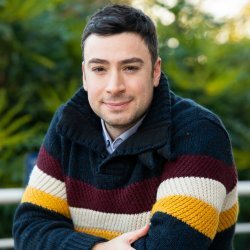 Dr Luciano Rispoli
How would you describe your time at Surrey?
Fantastic! Over the last three years, I've experienced a very collegial and supportive environment. I've also particularly enjoyed interacting with our undergraduate and postgraduate students. Lastly, there are some good cafés on campus, which is a great plus!
What inspires you about Surrey?
I love the University's focus on high-quality teaching and research. The University is very attentive to students and staff needs, which ensures everyone is motivated to give their best.
Why should a student come to Surrey to study economics?
I teach on both undergraduate and postgraduate programmes. The common thread is to not only equip students with the necessary knowledge and skillset but also to give the students the chance to apply these to real-life problems. For instance, in the undergraduate Corporate Finance module, I organise the Portfolio Investment Challenge. Through a simulation exercise, this gives students the chance to apply the portfolio theory principles learnt in class to real-world finance problems. 
What fascinates you about your subject?
Macroeconomics as a subject, in particular, by how different agents interact in the economy and make (optimal) decisions, which result in observed macroeconomic outcomes. More specifically, within the vast field of macroeconomics, my research areas focuses on monetary policy and macroeconomic forecasting. 
What was your background before Surrey?
Previously, I was a Teaching Fellow in economics at the University of Warwick and a sessional lecturer in economics at Birkbeck College, University of London. I have also taught finance on the Executive MBA programme at Glion Institute HE. Aside from this, I've also been involved as a consultant for a leading macroeconomic forecasting institution based in London.
Is there a particular memory at Surrey which stands out for you?
Yes, I remember the day of my first interview! I was really surprised at how welcoming the staff and interview panel made me feel on the day. This was definitely a deciding factor in my choice to join the University of Surrey.
What are your interests and hobbies outside of academia?
I'm a massive football fan! It doesn't matter which league or level, I can watch any game. On the weekends, if I am not watching a game, I love to go out and try new types of cuisines. I'm also an avid traveller. So far, I've travelled to four continents, including trips to India, Australia, the USA, south-east Asia and various places in Europe.   
Discover all of our courses on offer within the School of Economics.