---
news
Published:
06 September 2023
Small satellite pioneer honoured with lifetime achievement award
Professor Sir Martin Sweeting has been recognised for his integral role in kickstarting the modern commercial 'Newspace' industry with a lifetime achievement award at the US SmallSat conference in August.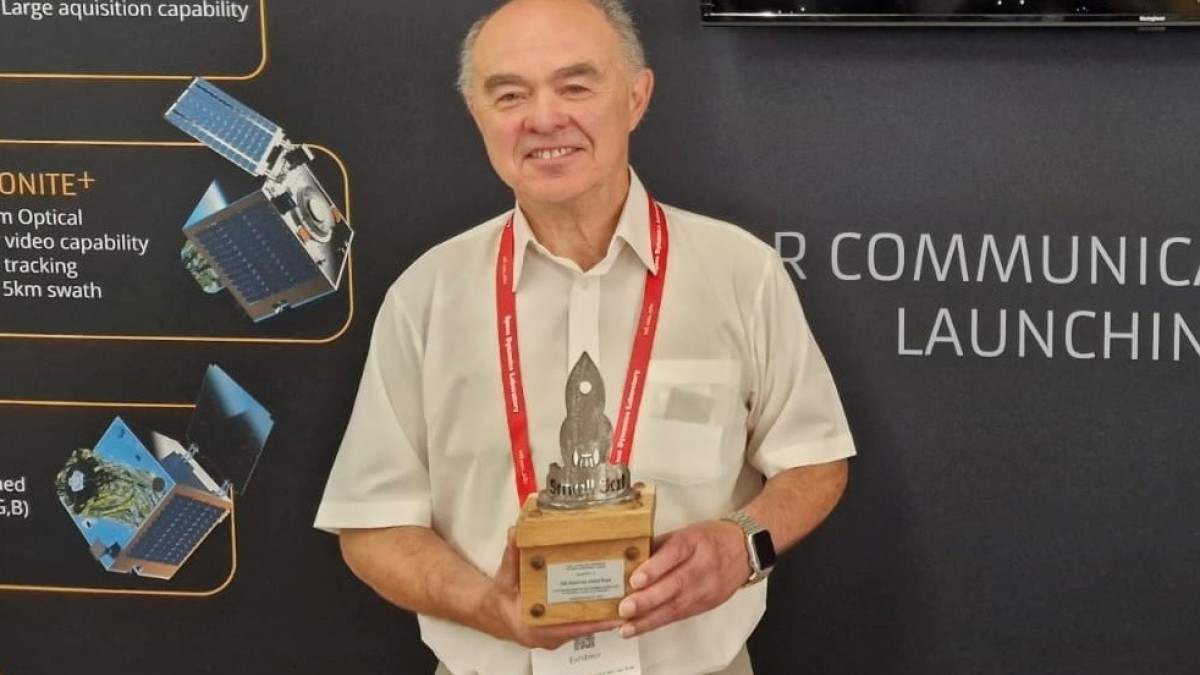 Distinguished Professor of Space Engineering in the Surrey Space Centre, Professor Sir Martin was presented with the award at the 37th Annual Small Satellite Conference (SmallSat), which took place in Utah, USA, from 5 to 10 August.
Professor Sir Martin built Surrey's satellite tracking and control groundstation on campus as a PhD student in the late 1970s. Then in the early '80s, he designed and built the world's first small satellites in Surrey's Department of Electronic Engineering, laying the foundations for a revolution in space engineering and a booming global small satellite industry today. He is the founder of University spin-off company Surrey Satellite Technology Limited (located on Surrey Research Park) which has been a world leader in the field for 40 years.
SmallSat, the major international conference for the small satellite industry, reflects the growth of the industry. A frequent speaker at the conference over the years, Professor Sir Martin remembers: "When the first conference was held in 1987, small satellites were not considered to be anything serious and there were just 50 people in the room. This year's conference was attended by 4,000."
The technical capabilities of small satellites have increased so much over the last two decades that they can now solve real commercial challenges. As a result, the emphasis has moved from very large expensive satellites to much lower cost small satellites, and 'Newspace' – as this industry is called – now arguably dominates the space industry.
Small satellites are used for applications such as weather monitoring, Earth resource management, disaster relief and urban planning – but also for applications such as optimising ship routing across oceans and monitoring heat loss from homes. These capabilities have led smaller nations to buy into the small satellite industry to enhance their economies and manage their environments efficiently for a relatively modest budget: today over 120 countries have an active space programme. 
Professor Sir Martin, who is a Fellow of the Royal Society, Royal Academy of Engineering, IET and Institute of Physics, says of the latest honour: "I'm delighted to have been given this lifetime achievement award, which recognises not only my work but all the contributions made by very many colleagues at Surrey Space Centre and SSTL over the years. Much of the success of small satellites today is built on these valuable contributions."
Dr Pat Patterson, Chairman of SmallSat, commented: "With over 40 years of service to the space industry, Martin has become an icon across the small satellite community, and for good reason. He has helped lead the growth of our community with his skills as a thought leader, entrepreneur, innovator, and educator. By leveraging commercially available electronics and components to build small satellites, and by graciously sharing his knowledge with the community, his efforts have helped change the economics of space."
Discover our courses in electrical and electronic engineering including our Space Engineering MSc.