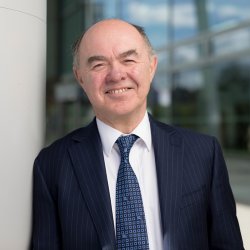 Martin Sweeting
---
Distinguished Professor of Space Engineering
About
Biography
Professor Sir Martin Sweeting is an international leader in satellite engineering research and applications. He holds both a position at the University of Surrey and also at Surrey Satellite Technology Ltd.
Sir Martin studied for his PhD in the late 1970s on HF (shortwave) antennas but, with a passion for space and in his spare time, he built a tracking station at the University to receive images from US and Soviet weather satellites and a telecommand station for amateur radio satellites in the OSCAR series. In 1979, he started designing and building UoSAT-1, the first modern 70kg 'microsatellite', and persuaded NASA to launch it 'piggyback' on a DELTA rocket. UoSAT-1 was controlled in orbit after launch in 1981 from the ground station on the Surrey campus and its transmissions were monitored by thousands of radio amateurs and schools worldwide. Following the launch of the University's second satellite (UoSAT-2) in 1984, Martin vigorously pursued research funding to develop this new concept of 'microsatellites' using the emerging microelectronics revolution to meet applications in satellite communications and Earth observation. With modest research funding, he formed a young and dynamic research group that developed more sophisticated and capable satellite subsystems and payloads.
Launching the Surrey Satellite Technology Limited
Recognising that research funding alone would be insufficient to enable the team to build a series of microsatellites, Sir Martin launched the University-owned spin-off company, Surrey Satellite Technology Limited (SSTL) in 1985 to exploit the commercial potential of Surrey's novel small satellites - initially with four employees and a capital of just £100.
In the 1990s, SSTL's business developed a unique "Know-How Transfer and Training" (KHTT) programme, alongside building a series of increasingly advanced microsatellites, where a combination of academic and hands-on technical training was provided to young engineers and scientists from countries who wanted to take their first steps into space - but on an affordable budget. Working together as a team with Surrey engineers to build a satellite, each of our international partners were able to master the complex and diverse skills required to design, build, launch, and operate a satellite once in orbit. Surrey has since provided 22 highly successful international programmes and has trained over 150 engineers and scientists, some of whom are the nucleus of staff that formed five new space agencies! Importantly, these KHTT programmes with SSTL fuelled the research activity in the Surrey Space Centre (SSC) academic team to develop ever more capable yet affordable microsatellites. Recent KHTT programmes have been completed with Nigeria resulting in the launch of NigeriaSat-2 and Nx in August 2011, a team from Kazakhstan building an EO satellite launched in 2013 and currently with a second team from Algeria building a micro- and nano- satellites for launch in 2016.
Around the year 2000, following landmark UoSAT-12 minisatellite and SNAP-1 nanosatellite demonstration missions, small satellites made the transition from being a research novelty to becoming a very powerful provider of operational missions. This transition was demonstrated first by the creation by SSTL of the international Disaster Monitoring Constellation (DMC) of Earth observation microsatellites - building medium resolution microsatellites for Algeria, China, Nigeria, Turkey, Spain and UK. And then by securing contracts for a series of operational small satellite missions such as RapidEye, FormoSat-7, Kanopus and DMC-3.
SSTL's capabilities grew rapidly and won the contract to build 22 navigation payloads for the Galileo Full Operational Constellation for ESA/EC; a constellation of three high-resolution (1-metre) Earth Observation minisatellites with capacity leased to customers through a novel business model; and its first 'small' (4,000kg!) Geostationary communications satellite ('Quantum') for EutelSat. In 2016, SSTL built eight new satellites including a low-cost medium-resolution radar minisatellite (NovaSAR), supported by the UK government and planned for launch in December 2016.
SSTL has grown now to 500 staff with an annual turnover of £100M and exports exceeding £700M. In early 2009, the University sold its shareholding in SSTL to EADS Astrium NV and today the company has a larger order book than at any time in its past.
The Surrey Space Centre has similarly expanded to around 100 researchers working across a wide range of multi-disciplinary space topics, with very close links to both SSTL and ASTRIUM for the sponsorship and exploitation of its research - demonstrating the real synergy of academic research and commercial exploitation.
University roles and responsibilities
Chair of the Surrey Space Centre
Affiliations and memberships
Surrey Satellite Technology Ltd
Executive Chairman
National Space Centre, Leicester
Director and Chair of the Board of Trustees
Radio Communications Foundation
Chair of the Trustees
The London Institute of Space Policy and Law
Trustee
UK Hub on Space Robotics and Autonomous Systems
Director
Magrathea Research Ltd
Director
Karista CosmiCapital
Advisor
Space Energy Initiative
Advisor
Research

Indicators of esteem

In recognition of his pioneering work on cost-effective spacecraft engineering, Sir Martin was appointed OBE in 1996 and awarded a Knighthood in the Queen's New Year's Honours list in 2002

Royal Institute of Navigation Gold Medal in recognition of the successful GIOVE-A mission for the European Galileo system

Awarded the Sir Arthur Clarke Lifetime Achievement Award

Named as one of the 'Top Ten Great Britons' in 2008

In 2010, Sir Martin was awarded the Faraday Medal by the Institute of Engineering and Technology, and an Elektra Lifetime Achievement Award by the European Electronics Industry

In March 2012, he was made an Honorary Fellow of the Institution of Engineering Design - presented by HRH Duke of Edinburgh

In 2014 he received the prestigious von Karman Wings Award from CalTech/JPL and Chinese Academy of Sciences/COSPAR Jeoujang Jaw Award recognising his contribution to international space development

In 2016 Sir Martin was made an honorary fellow of the Royal Aeronautical Society and identified by The Sunday Times as one of the UK's 20 most influential engineers