---
news
Surrey Student Enterprise showcase women entrepreneurs
Building An Entrepreneur: Women's Edition, was a dynamic collaboration between Student Enterprise and The Guildford School of Acting designed to raise awareness and support for women's entrepreneurship on campus and beyond with building networks and empowerment at its heart.
Credit: colinbaldwinphotography.com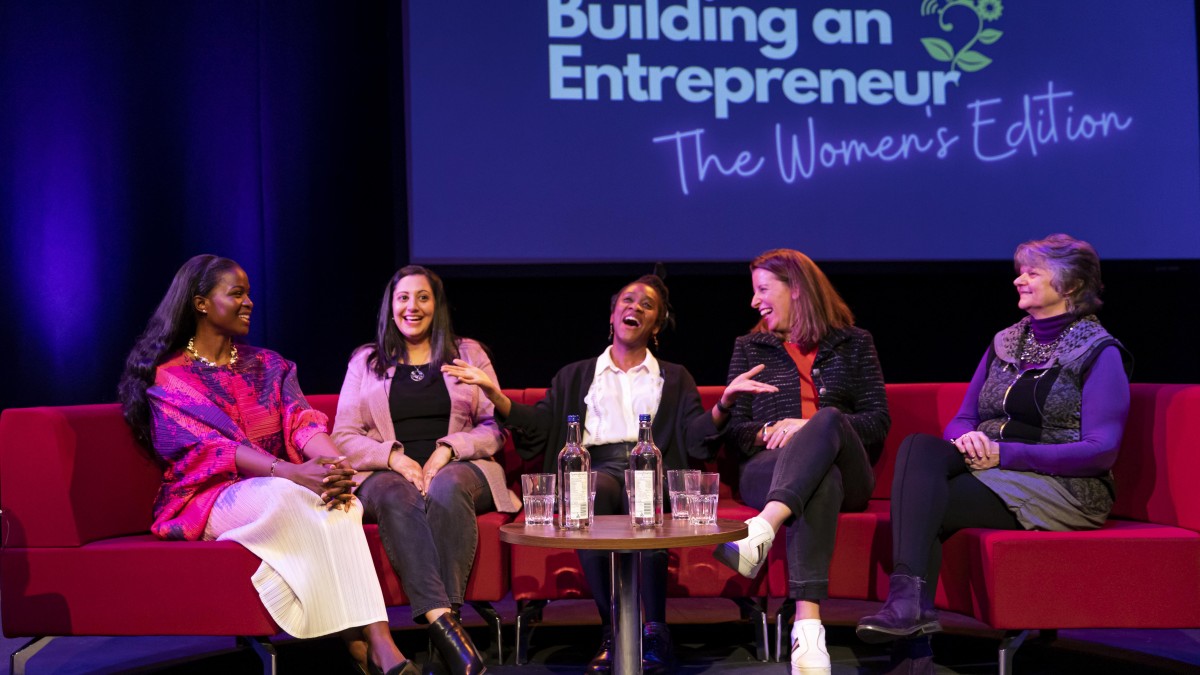 The annual Student Enterprise showcase, on Thursday 30 March 2023, was on the theme of women's entrepreneurship.
A quirky keynote by Surrey alumnus and creative entrepreneur Megan Goodwin touched on the importance of collaboration, followed by a dynamic panel of more women alumni and five business pitches by those in the Student Enterprise community.
Panellists Mary Dinah, Fiona Sweny, Dr Janet Preston, Serin Ibrahim and Cassandra Hercules discussed finding their tribe, the importance of mentoring and what it is that inspires them, ending on key messages they would share with their younger selves in hindsight. Hosted by Louise Power, Equity, Diversity, and Inclusion Manager at GSA and social entrepreneur herself, the panel was full of passion with plenty of laughs from the audience as the women on the couch told tales of their entrepreneurial journeys.
"On behalf of GSA, we were delighted to be part of this amazing collaboration with Student Enterprise," said Louise Power. "It is as important to raise awareness about Business and Entrepreneurship as it is for options for working elsewhere in the creative industry. We must put diversity, equity, and inclusion at the forefront of our objectives so that our students from all intersections have access and opportunity.
"We were very proud to have two of our alumni Serin and Cassie, the founders of Culture Clash on the panel. And we hope their journey will only inspire more of our students who aspire to own businesses someday.
"I thoroughly enjoyed working with Katrina Mack on this and hosting the panel and look forward to more collaborations with Student Enterprise."
Finally, the spotlight shone on students and recent graduates Abi Weaver, Tobi Eyinade, Ana Moreno, Riya Peruvalil and Simona Krassin. These early-stage entrepreneurs impressed the audience with their confidently delivered, cause-driven start-up ideas. Pitches were warmly received by the audience who had plenty to contribute and offers of support and ideas for further development were forthcoming from the engaged 80-strong audience.
PATS Studio provided the perfect theatrical setting for this flagship event for the Student Enterprise team, led by Kat Mack, Student Enterprise Manager and Caroline Fleming, Director of Innovation whose wider portfolio includes Student Enterprise.
"Building An Entrepreneur always has a great atmosphere but this year was truly elevated as we brought our panel and pitches to the stage," said Caroline. "It was fitting then to have two GSA alumni join the panel, which really spoke to the importance of diversity in entrepreneurship. We are delighted to have raised the agenda of women's entrepreneurship further and to have championed some talented students and recent graduates and we hope we have inspired more people to join our community as mentors, student participants or academic collaborators."
Student Enterprise at the University of Surrey provides practical business support to entrepreneurial students from all disciplines and all levels, with opportunities throughout the year for students to gain entrepreneurial skills, take part in intrapreneurial programmes and challenges and get help to start their own ventures.
Equity, diversity and inclusion are strongly championed within the programme. It is a fundamental part of our core values at Student Enterprise, and we invite people from all diverse backgrounds to join us. Representation matters, and it is our objective to create an inclusive business community on campus for the future.
To learn more or get involved with Student Enterprise, please contact Student Enterprise Manager, Kat Mack.