---
news
Published:
16 September 2022
Top tips on how to give a speech at a graduation ceremony
Marie Wiseborn, a Law student who graduated in the summer of 2022, was invited to give the valedictory address at her graduation ceremony held in Guildford's Cathedral.
Marie Wiseborn was invited to give the valedictory speech at her graduation ceremony in the summer of 2022. Here she gives her top 10 tips on how to prepare for such a speech....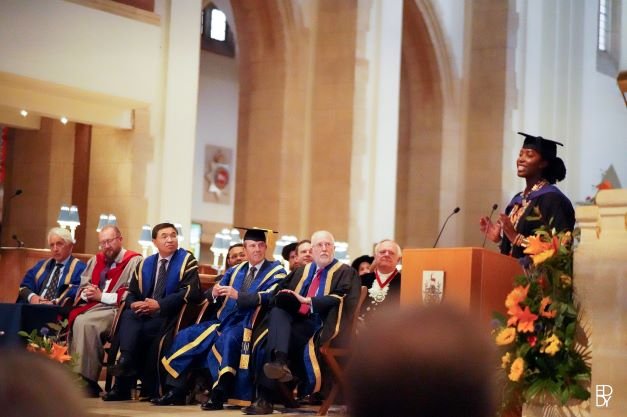 1.    Reference Surrey memories
Try refer to some moments of your time at Surrey, some of the things you've gained or enjoyed whilst at University.
2.    Be aware of others' experience
When you refer to your experiences at University, be mindful to not paint every student's experience with the same brush because their journey or lifestyle may have been different from yours. 
3.    Find something that inspires you…
…whether it is a key quote, something a loved one has shared with you, or a life experience, and let what you write be inspired from that.
4.    A common thread
Like an essay, make your writing coherent so it flows better. Find a thread that ties your speech together – be it the quote that inspires you, an analogy or a life experience.
5.    What do you want your audience to take away?
As you plan your speech ask yourself some questions such as: what do I want to achieve by the end of this speech? How do I want the audience to feel as they listen? Is this paragraph relevant to my theme or linked to the paragraph before? Can I re-word this sentence, so it is more concise and punchy? 
6.    Build backwards
If you are not sure how to begin your speech, you could write the last paragraph first and build backwards. The last paragraph contains the final thoughts and words the audience will hear so it should be memorable and inspirational. Identify themes from that paragraph which can form the wider theme of your speech.  
7.    Write, re-write and re-write
Don't be afraid to refine your speech and build upon it in the weeks leading up to graduation, as new thoughts or ideas come to you after the first draft. Make sure to update the Ceremonies team with the newest copy if you do change it.   
8.    PRACTISE! PRACTISE! PRACTISE! 
It's very beneficial to practise and familiarise yourself with your speech leading up to graduation. As you rehearse out loud to yourself or to family and close friends, you will find ways to improve your delivery by mentally noting where to take pauses and where to place emphasis. 
9.    Dress rehearsal
If the University offers you a rehearsal in the Cathedral before the ceremony I would advise that you take that opportunity. The rehearsal really helped me to understand how the echo in the Cathedral affects the clarity of the words for those seated further away. Familiarising yourself with the sound and finding the right speaking pace to balance the impact of the echo is very important! 
10.    Take a deep breath
You'll do a great job! 
 
You can watch Marie's speech here (from about 1:22:43)
Find out more about undergraduate study at Surrey, including our programmes in the School of Law.