---
news
Published:
12 January 2022
Two more schools come on board for Heat-Cool initiative
GCARE researchers have brought the Heat-Cool initiative to Holy Trinity Pewley Down Primary School, Guildford, and the Royal Grammar School (RGS) Guildford – the first secondary school to join the project – enabling children of different ages to learn about climate change.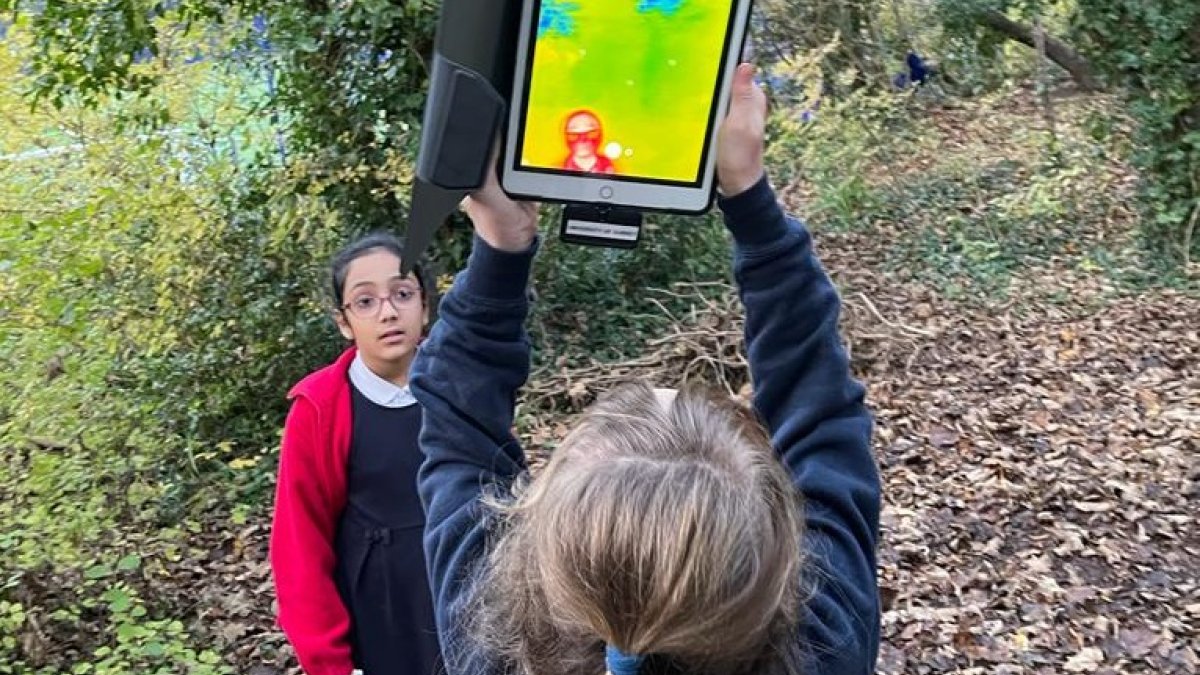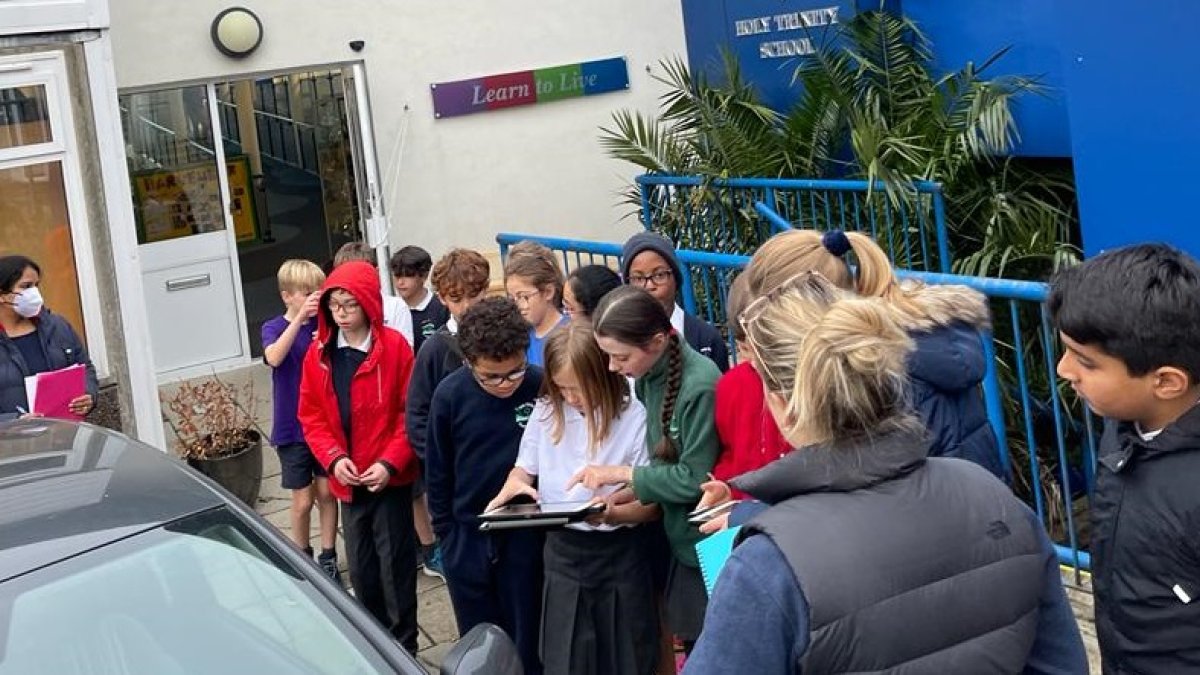 The Heat-Cool initiative is aimed at educating children about how energy heats and cools our planet, sparking their curiosity in STEM (science, technology, engineering and mathematics) subjects by helping them to understand topics such as common local heat sources and the effects of air pollution. The project implements a 'citizen-science' approach, with plenty of opportunities for interactive learning and practical activities.
In November, researchers from GCARE visited Holy Trinity Pewley Down School in Guildford, where Year 5 children took part in a quiz and used FLIR infra-red cameras to see heating and cooling in the environment for themselves.
The school's head teacher, Clare Brunet, said: "The Heat-Cool initiative has been an exciting way of ensuring that our children learn, in an interactive way, about climate change, how energy from different objects heats and cools our planet, and how important it is to preserve it."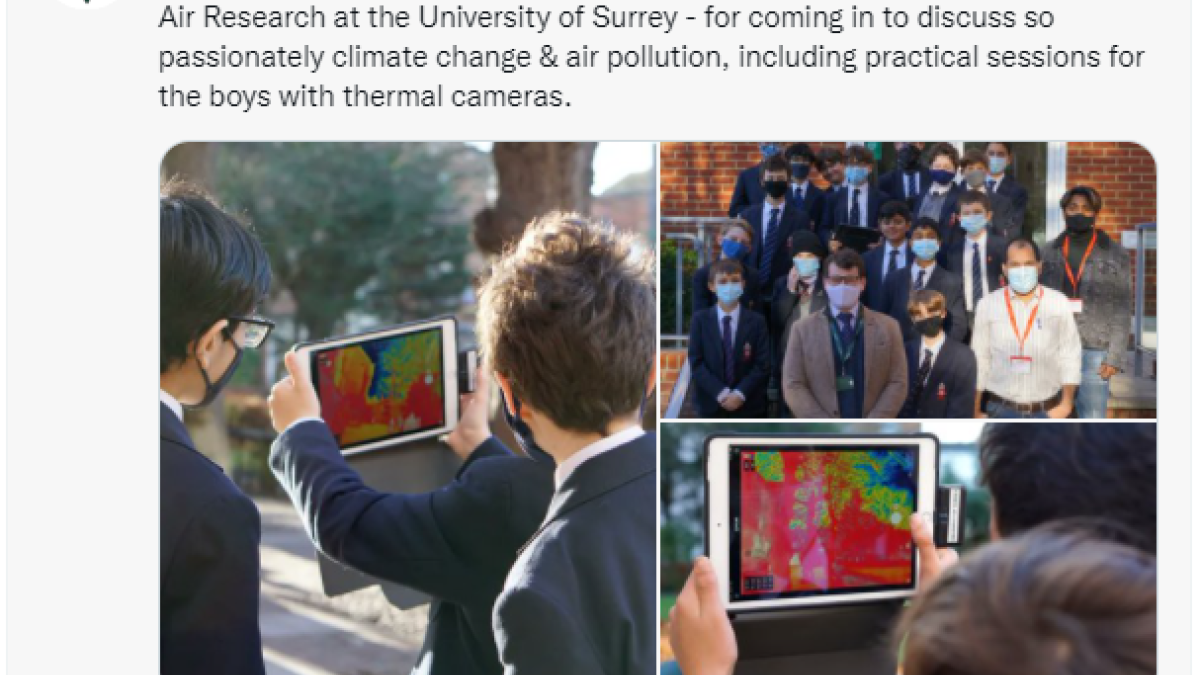 GCARE then visited RGS Guildford on 1 December for a day of talks and practical sessions. 19 school pupils from Year 7 took part in a more advanced version of the quiz than primary school, and were inspired by the passion and enthusiasm of the GCARE team and the chance to use thermal cameras to assess heating and cooling in their local environment.
Mrs R Waters, Head of Geography at RGS Guildford said: "Our sincerest thanks to GCARE at the University of Surrey. Climate change and air pollution are issues of the utmost importance in our society. GCARE discussed these issues so passionately with our boys, including a number of practical sessions using thermal cameras which brought the theory into the classroom with some very visual and practical demonstrations. The sessions were fun and interesting and provided some excellent learning experiences for the boys. Thank you."
The two school visits follow on from the successful launch of the Heat-Cool initiative at Henry Fawcett Primary School in London.
Professor Prashant Kumar, Director of GCARE, commented: "Heat-Cool is proving to be an exciting STEM initiative for schools. It has been great to see children at the three schools we've engaged with so far showing a genuine interest in learning about our planet and local environment, and how we can maintain them for future generations. I'd like to thank the staff and students at Holy Trinity Pewley Down and RGS Guildford for taking part in the project, and we look forward to a continuing collaboration with both schools."
Heat-Cool is supported by the Royal and Sun Alliance under the Climate Change and Risk Education grants among other grants.