---
press release
University hosts Dr Jitendra Singh, Indian Minister of State of the Ministry of Science and Technology
The setting up of semiconductor research and development and widening research collaboration with India was the focus of a visit to the University of Surrey by Dr Jitendra Singh – India's Minister of State of the Ministry of Science & Technology, and of the Ministry of Earth Sciences – on Friday 28 April.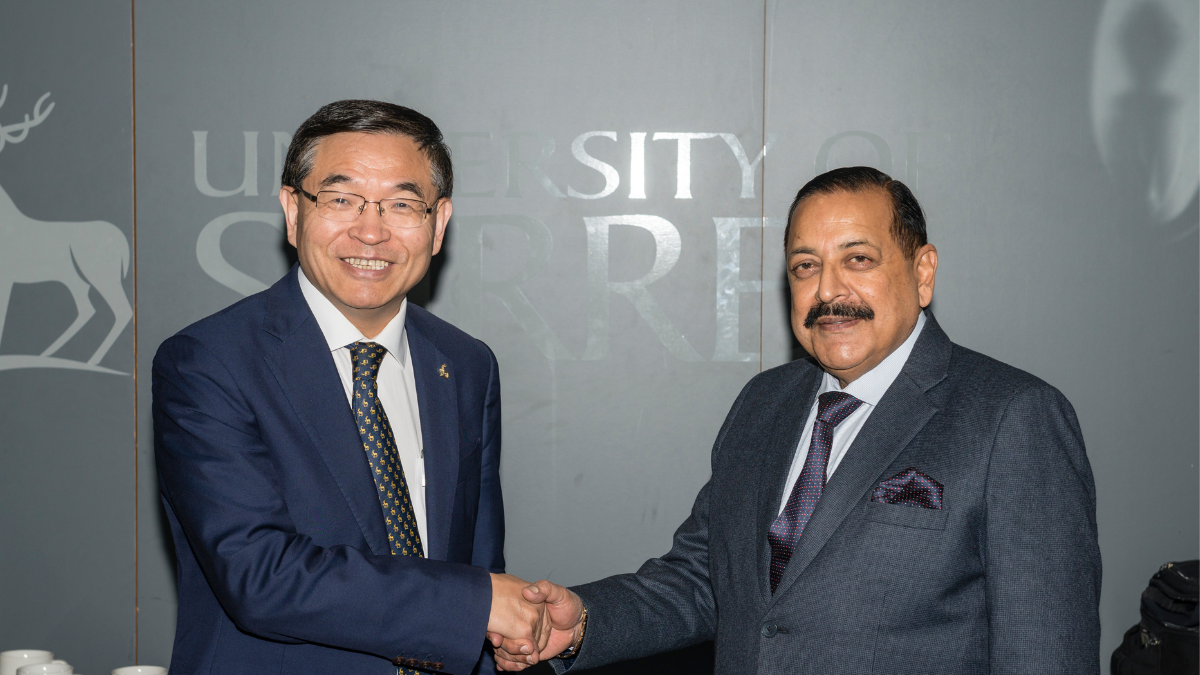 The visit, which took place in the Advanced Technology Institute and Ion Beam Centre, was also joined by Mr Sanjeev Kumar Varshney (Adviser & Head, International Bilateral Cooperation Division, Department of Science & Technology). 
During the day, the delegation met with staff and students before taking part in a roundtable with key UK semiconductor institutions. 
The focal point of the visit was developing semiconductor research and development that can help spur the whole ecosystem to enable the next generation of technologies and industries to cater for integrated chips (IC) that are at the heart of all electronic equipment and enable AI to function suitably. 
Semiconductor chips are integral to the evolution of the modern world, enabling technology in homes, offices, factories and transport networks to function efficiently, sustainably and in a secure and safe environment. 
This visit came two days after the UK and India signed a landmark agreement on science, research and innovation at the UK-India Science and Innovation Council in Parliament.  
This new agreement will help facilitate a raft of new joint research programmes, with India partnering with the UK's initial £119 million International Science Partnerships Fund.  
While meeting Dr Singh, University of Surrey President and Vice-Chancellor Professor Max Lu said that the University of Surrey would be delighted to participate in a Memorandum of Understanding to facilitate future interactions and discussions on the semiconductor and future nanoelectronics sphere.  
This would add to the formal agreements (MoAs) or MoUs that already exist with four Indian universities: Banaras Hindu University, Indian Institute of Management (Ahmedabad), IIT Roorkee and Amity University. 
Professor Max Lu commented: "We are delighted to host the visit by Dr Singh and his colleagues, in the week of signing a landmark agreement between the UK and India. 
"This is a significant milestone for developing close and impactful collaboration with India, in particular through our Advanced Technology Institute to develop semiconductor, quantum and renewable energy technologies for the future.  
"We will build on the already strong partnerships that Surrey has with India to further our international collaboration and reputation. 
"I am incredibly proud of the strong partnerships that Surrey already has with India, and our ambition is to build on these, in particular to further semiconductor research and development." 
Professor Ravi Silva, Director of the Advanced Technology Institute and Head of the Nano-Electronics Centre, said: "As this visit demonstrates, the importance of building the entire semiconductor supply chain in order to contribute to technology and society has never been greater. 
"With recent announcements by the UK Prime Minister Rishi Sunak on support to semiconductors in excess of £1bn last week, and the willingness of the Indian government to invest in the field in similar measures, there is no better time to progress a Memorandum of Understanding. 
"Ahead of the King's coronation, discussions about a new MoU represent a new dawn in the advancement of semiconductor research and development at the heart of the Commonwealth." 
Professor Amelia Hadfield, Dean International, said: "We were thrilled to welcome Dr Singh and his delegation to the University of Surrey. International collaboration is at the heart of our university mission to ensure our research is both globally relevant, and socially relevant. It's about transforming lives for the better.
"The development of semiconductors will have an immense impact on each and every one of us, and by furthering our collaborations with institutions in India, the University of Surrey can be a major role in this future-facing research and development for the general good of society as a whole."
Featured Academics
---
Media Contacts
---
External Communications and PR team
Phone: +44 (0)1483 684380 / 688914 / 684378
Email: mediarelations@surrey.ac.uk
Out of hours: +44 (0)7773 479911