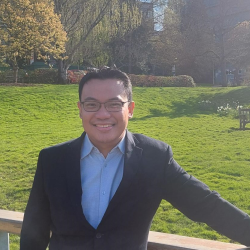 Dr Aditya Putranto
---
Senior Lecturer
PhD (Monash) MSc GCHE FHEA
About
Biography
Dr Aditya Putranto is a Senior Lecturer at the University of Surrey, with expertise in sustainable energy, environment and food systems. He has fifteen-year experience as an academic across United Kingdom and Australia. Previously, he was an academic (Senior Lecturer and Lecturer) at Queen's University Belfast and Monash University and was a Research Fellow at Monash University. He obtained PhD from Monash University, where he was awarded Mollie Holman Medal for the best PhD thesis. 
Combining with his expertise in digital tools, he has integrated sustainable systems with digital technology to create digital sustainable systems aiming at achieving net zero and attaining low carbon economy. Up to date, he has published 50+ peer-reviewed journal papers. He has been awarded with Royal Society UK grant (PI) and international grants. 
In terms of education, he has been acknowledged for his effective teaching methods and high-level engagement with students. For promoting students' learning experience, he has been successful in developing teaching innovations, utilizing modeling and simulation tools. He has further developed and revamped curriculum by embedding sustainability and digital aspects. 
Areas of specialism
sustainable energy;
sustainable environment;
sustainable food;
cleaner production;
modeling and simulation;
heat mass transfer processes
My qualifications
MEng
Bandung Institute of Technology
BEng
Bandung Institute of Technology
Graduate Certificate of Higher Education Teaching
Queen's University Belfast
Research

Research interests

My research is focused on achieving net zero in food, energy and environment systems. More importantly, I have linked the sustainability with digital technology, through digital sustainable systems, by establishing modeling and simulation tools, which are used for optimization and decision-making in industry. 1. Sustainable Energy Systems: aiming at lowering energy demands and adverse environmental impacts, innovative processes and plant intensification schemes are developed and investigated. Based on biomass, integrated facility to simultaneously produce green energy, food additives and useful materials is proposed. Here, plant-wide simulation is used for designing the processes, analysing resources and energy flows as well as evaluating the economic feasibility and environmental impacts. 2. Sustainable Environment Systems: this project focuses on 'waste to wealth' process based on circular economy principles to upscale waste. Simulation tools are used to develop the processes and evaluate the feasibility. 3. Sustainable Food Systems: aiming at producing high quality food materials and achieving net zero in food systems, solar energy and enhanced methods (i.e. by using microwave, infrared, ultrasound) are proposed and investigated in food processing. Similarly, active packaging combined with understanding of food material science has been used to lower the refrigeration load during food distribution.
Teaching
Heat and Mass Transfer
Separation Processes
Process Modeling and Simulation
Materials and Energy Balances
Reaction Engineering
Thermodynamics
Sustainable Processes
Publications
Highlights
I have published 50+ peer-reviewed journal papers, including 5 papers in AIChE Journal, where one of them is acknowledged as the "Hottest Paper" by Wiley. 
Full publications are accessible in Google Scholar https://scholar.google.co.uk/citations?user=zocjfgEAAAAJ&hl=en
Key publications:
Book:
Chen, X.D., Putranto, A., 2013. Modeling Drying Processes: a Reaction Engineering Approach, Cambridge: Cambridge University Press (ISBN: 9781107012103)
Journal papers:
Energy saving combination of N2 production, NH3 synthesis and power generation. International Journal of Hydrogen Energy 42, 27174-27183
A new model to predict diffusive self-heating during composting incorporating the reaction engineering approach (REA) framework. Bioresource Technology 232, 211-221.
Drying of a system of multiple solvents: modeling by the reaction engineering approach (REA). AIChE Journal 62, 2144-2153.
Spatial reaction engineering approach (S-REA) as an alternative for non-equilibrium multiphase mass transfer model for drying of food and biological materials. AIChE Journal 59, 55-67