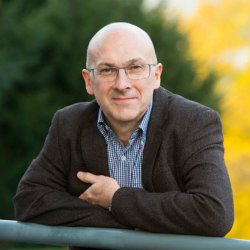 Dr Andrea Rocco
---
Lecturer in Physics and Mathematical Biology
PhD (Physics), MInstP, FHEA
Biography
I graduated in Physics at the University of Pisa (Italy) in 1994, discussing a thesis in quantum field theory. In 1998 I obtained my PhD in Physics from the University of North Texas (USA), where I focused on the role of stochastic processes in classical and quantum mechanical systems.
Between 1998 and 2007 I held postdoctoral positions at the University of Barcelona (Spain), the University of Rome "La Sapienza" (Italy), CWI (The Netherlands), and the University of Oxford (UK). During this period of time, I made a gradual transition from the general fields of statistical mechanics and pattern formation towards the modelling of biological systems. In 2007 I obtained a Lectureship in Applied Mathematics at the University of Bath (UK), where I taught mathematical biology modules at both MSc and undergraduate levels.
In 2009 I joined the University of Surrey (UK) as Research Fellow in Systems Biology, and was appointed Lecturer in Mathematical Biology in 2012. I now have a shared appointment between the Physics Department and the School of Biosciences and Medicine. 
Research Activity
As a theoretical physicist, my research focus has primarily been within the general fields of statistical mechanics, nonlinear dynamics, and pattern formation. In recent years, I have made a transition towards the study of biological systems, for which I adopt a variety of theoretical methodologies borrowed from physics and mathematics, such as dynamical systems theory and the theory of stochastic processes. In my group, the emphasis is not on building high complexity models, but rather on uncovering general and fundamental mechanisms in biological systems.
I am always happy to consider applications for PhD positions. Interested candidates are welcome to enquire by email to discuss suitable topics. Given the theoretical aspects involved, a solid mathematical or theoretical physics background is required in all projects. I don't have openings at the postdoctoral level at the moment, but a number of grant applications are currently under evaluation, and openings may appear in the close future.
More details on recent and current research projects can be found by clicking on the tab Research above.
Academic Roles
Departmental Erasmus/Exchange Coordinator 
International Relations Committee Member 
Program Director for Biomedicine with Data Science
Program Director for Biomedicine with Electronic Engineering
Nominated Member of Senate
Editorial and Review Activity
Editorial Board Member of Nature journal Scientific Reports, Biological Physics Area
Review Editor for Frontiers in Bioinformatics and Computational Biology
Reviewer for Physical Review E, Physical Review Letters, European Physical Journal B, Bulletin of Mathematical Biology, PLOS Computational Biology, PLOS ONE, Journal of the Royal Society Interface, Nucleic Acid Research, Fluctuations and Noise Letters, Physica A.
Research Networks and Metrics
Research
Research interests
My current research focuses on noise propagation across molecular networks, critical phenomena in living systems, stochastic dynamics in cell differentiation, and noise effects in open quantum systems. In general, my research questions regard understanding the noise-induced transitions in gene networks, stochastic off-equilibrium dynamics and non-ergodic behaviours, and the balance between biological variability and individual robustness. The ultimate goal is to construct a theoretical framework in which fluctuations can be understood in general terms, and their role in shaping the organism dynamics elucidated.
Research projects
Stochastic effects in subcellular networks
Molecular networks, such as gene regulatory networks or metabolic networks, are affected by stochastic fluctuations. Fluctuations due to low copy numbers of proteins, or to gene expression bursts, define so-called 'intrinsic' noise, while fluctuations originating in the environment are usually referred to as 'extrinsic' noise. This part of my research concerns the study of both intrinsic and extrinsic noise, and of their interplay. In particular, extrinsic noise can have highly non-trivial and counterintuitive effects, which may lead to noise-induced transitions [Rocco , in "Systems Biology of Tuberculosis", Springer (2013)]. Consideration of these effects has led me to introduce the concept of stochastic control in metabolic networks [Rocco, Phys. Biol. (2009)], where noise itself is proven to be able to act as a control mechanism that tunes metabolic concentrations and fluxes. I am now interested in the principles underpinning noise propagation across different layers of regulation in gene networks.
Dynamics of stem cell differentiation
A major problem in developmental biology is to explain the emergence of different cell types from multipotent stem cells. In collaboration with (University of Bath), we have constructed the first core gene regulatory network describing stable differentiation of melanocytes in zebrafish [Greenhill , PLoS Genetics (2011)]. By using a combination of mathematical analysis and simulations, we could predict mathematically and validate experimentally several new features of this network. More recently we have refined that core network, to include an analysis of the role played by Wnt signaling in melanocyte differentiation [Vibert , Pigment Cell & Melanoma Research (2017)]. We are now interested in assessing the role played by noise, both intrinsic and extrinsic, in the dynamics of the differentiation process. More details in our dedicated website. We acknowledge the UK Biotechnology and Biological Sciences Research Council (BBSRC) for funding.
Ergodicity breaking and persistence in isogenic bacterial populations
Stochastic fluctuations are at the base of much of the variability that we see in biology. Different phenotypes are well known to arise in populations of genetically identical cells in the same environment. It is an intriguing conjecture that this variability is under positive selection. Yet, what precisely its origin is remains an unanswered question. The requirement that distinct phenotypes be observable over typical experimental times suggests that they result from static heterogeneities in the population, which distinguish individual cells from each other. In collaboration with (University of Surrey), we have recently investigated the possibility that such static heterogeneities are in fact produced by the stochastic bursting activity of gene expression, supplemented with specific mechanisms capable of slowing down fluctuations. To explain this mechanism in general terms, we have introduced in the context of bacterial growth the concept of 'ergodicity breaking', borrowed from statistical mechanics and dynamical systems theory. This has also led us to a novel explanation of the phenomenon of so-called bacterial persistence, or drug tolerance [Rocco , PLoS ONE (2013)]. The proposed mechanism is currently under experimental validation.
Memory and noise in open quantum systems
In my group we are also investigating the effect that stochastic fluctuations may have on the reduced dynamics of a quantum system. Fluctuations in the environment of the system, as well as intrinsic fluctuations, may break the time-scale separation between system of interest and thermal bath, which is at the basis of the derivation of Markovian (memory-less) reduced quantum-mechanical descriptions. When memory is present, the resulting quantum master equations for the reduced density operator are not expected to satisfy the celebrated Lindblad form, and can show non-trivial dynamics. In particular we are interested in analyzing the effect of correlated noise on the continuum measurement process exerted by the environment on the system of interest, and in turn on its decoherence times. We also aim to investigate the possible relevance of these processes in a biological context.
Past research
In the past, I have been involved in the study of branching of gas discharges (so-called streamers), and in the development of the related description in terms of conformal mapping techniques [see for instance Ebert , Plasma Sources Sci. Technol. (2006) for a review]. I also studied the effect of extrinsic noise on the propagation of reaction-diffusion fronts. In the case of the so-called Fisher Equation (FKPP), I contributed to identifying the anomalous sub-diffusive behaviour characterizing the front position [Rocco , Phys. Rev. E (2000)], and to generalize it through the definition of a new roughness universality class for travelling waves in 2 bulk dimensions [Tripathy Phys. Rev. Lett. (2001)]. In the context of off-equilibrium statistical mechanics, I also addressed fundamental issues on complexity reduction in models for glasses [Crisanti , J. Chem. Phys. (2000)]. During my PhD, I developed fractional calculus techniques to study fractal phenomena in both space and time [Rocco & West, Physica (1999); Grigolini , Phys. Rev. E (1999)].
Group Members
Postdoctoral level
Saeed Farjami, Postdoctoral Research Fellow, Dynamical models of stem cell differentiation
Gerardo Aquino, Visiting Researcher, The role of stochastic fluctuations in stem cell differentiation
PhD candidates
Nick Werren, PhD candidate, Memory effects in open quantum systems, (Supervisors: A. Rocco, Jim Al-Khalili)
Lester Buxton, PhD candidate, The role of noise on quantum decoherence in cellular systems - Theory (Supervisors: A. Rocco, Jim Al-Khalili)
Michael Clarke-Whittet, PhD candidate, The role of noise on quantum decoherence in cellular systems - Experiments (Supervisors: A. Gerber, A. Rocco)
Sapphire Lally, PhD candidate, Modelling proton tunnelling in DNA (Supervisors: Jim Al-Khalili, A. Rocco)
Jake Reeves, PhD candidate (Supervisors: C. Avignone-Rossa, A. Rocco)
Former Group Members
Winifred Nyinoh, PhD candidate, Molecular investigation of drug synergy in mycobacteria, (Supervisors: J. McFadden, A. Rocco)
Ethan Wyke, MSc Student in Physics, Quantum Tunnelling through a Stochastically Fluctuating Barrier, (Supervisors: A. Rocco, J. Al-Khalili)
Finn Gubay, Postdoctoral Research Fellow
Hossein Nili, Postdoctoral Research Fellow. Now at IPM, Institute for Research in Fundamental Sciences, Iran
Noah Mesfin, MSc student in Systems Biology. Now PhD candidate at Oxford Brookes University, UK.
Research Collaborations
My teaching
Topics in Theoretical Physics (Level M - Module Lead, Module Descriptor)
This module introduces important topics and techniques in theoretical physics with a wide range of applications. Topics covered include functions of complex variable, calculus of variations, and Integral transforms. Both the mathematical techniques and their applications are covered at a level appropriate for Masters level students coming to the end of their degree and who should be able to pull many different ideas in theoretical physics together.
Introduction to Mathematical Biology (Level 3 - Module Lead, Module Descriptor)
This module aims at providing students with the problem-solving skills required to construct and solve simple mathematical models of molecular networks. Dynamical modelling, in terms of ordinary differential equations, is introduced, using gene regulatory networks as case studies (regulatory cascades, feedback loops, logic gates). The students are provided with the general techniques to analyse such models, and compute the solution numerically with the aid of dedicated software. Derivation of qualitative features, relating to steady states analysis, multistability, and oscillatory behaviours, is also discussed.  
My publications
Publications
S.M. Hingley-Wilson, N. Ma, Y. Hu, R. Casey, A. Bramming, R.J. Curry, H.L. Tang, H. Wu, R.E. Butler, W.R. Jacobs, A. Rocco*, J. McFadden*, Loss of phenotypic inheritance associated with ydcI mutation leads to increased frequency of small, slow persisters in Escherichia coli, PNAS 117 (8), 4152 (2020) [ * equal senior authorship]
K. Petratou, T. Subkhankulova, J.A. Lister, A. Rocco, H. Schwetlick, R.N. Kelsh, A systems biology approach uncovers the core gene regulatory network governing iridophore fate choice from the neural crest, PLoS genetics 14 (10), e1007402 (2018)
L. Vibert, G. Aquino, I. Gehring, T. Subkankulova, T.F. Schilling, A. Rocco, R.N. Kelsh, An ongoing role for Wnt signaling in differentiating melanocytes in vivo, Pigment cell & melanoma research 30 (2), 219 (2017)
Y. Hu, S. Wang, N. Ma, S.M. Hingley-Wilson, A. Rocco, J. McFadden, H. Tang, Trajectory energy minimization for cell growth tracking and genealogy analysis, Royal Society Open Science 4 (5), UNSP 170207 (2017)
A.A. Mannan, Y. Toya, K. Shimizu, J. McFadden, A.M. Kierzek*, A. Rocco*, Integrating kinetic model of E. coli with genome scale metabolic fluxes overcomes its open system problem and reveals bistability in central metabolism, PloS one 10 (10), e0139507 (2015) [ * equal senior authorship]
A. Rocco*, A. Kierzek, J. McFadden, Slow protein fluctuations explain the emergence of growth phenotypes and persistence in clonal bacterial populations, PloS one 8 (1), e54272 (2013) [ * corresponding author]
A. Rocco, A. Kierzek, J. McFadden, Stochastic Effects in Metabolic Networks, Encyclopedia of Systems Biology, 1991, Springer (2013)
A. Rocco, A. Kierzek, J. McFadden, Stochastic gene expression in bacterial pathogens: A mechanism for persistence? Systems Biology of Tuberculosis, 157, Springer (2013)
E.R. Greenhill, A. Rocco, L. Vibert, M. Nikaido, R.N. Kelsh, An iterative genetic and dynamical modelling approach identifies novel features of the gene regulatory network underlying melanocyte development, PLoS genetics 7 (9), e1002265 (2011) [see also modelling supplementary material]
E. Greenhill, A. Rocco, M. Nikaido, R.N. Kelsh, Melanocytes, modeling and maths-do we really understand differentiation? Pigment Cell & Melanoma Research 5 (22), 21 (2009)
L. Vibert, A. Rocco, M. Nikkaido, E.R. Greenhill, R.N. Kelsh, Testing in vivo the genetic regulatory network underlying melanocyte differentiation, Mechanisms of Development 126, S316 (2009)
A. Rocco, Stochastic control of metabolic pathways, Phys. Biol. 6, 016002 (2009)
G. Lunter, A. Rocco, N. Mimouni, A. Heger, A. Caldeira, J. Hein, Uncertainty in Homology Inferences: Assessing and Improving Genomic Sequence Alignment, Genome Res. 18, 298 (2008) [see also commentary paper]
U. Ebert, C. Montijn, T.M.P. Briels, W. Hundsdorfer, B. Meulenbroek, A. Rocco, E.M. van Veldhuizen, The multiscale nature of streamers, Plasma Sources Sci. Technol. 15, S118 (2006)
B. Meulenbroek, A. Rocco, U. Ebert,  Streamer branching rationalized by conformal mapping techniques,  Phys Rev. E 69, 067402 (2004)
B. Coluzzi, A. Crisanti, E. Marinari, F. Ritort, A. Rocco, A New Method to Compute the Configurational Entropy in Spin Glasses, Eur. Phys. J. B 32, 495 (2003)
A. Rocco, U. Ebert and W. Hundsdorfer, Branching of Negative Streamers in free flight, Phys. Rev. E 66, 035102 (2002)
A. Crisanti, F. Ritort, A. Rocco, and M. Sellitto, Is the Stillinger and Weber decomposition relevant for coarsening models? J. Phys.: Condens. Matter 14, 1523 (2002)
A. Rocco, L. Ramírez-Piscina, J. Casademunt, Kinematic reduction of reaction-diffusion fronts with multiplicative noise: Derivation of stochastic sharp-interface equations, Phys. Rev. E 65, 056116 (2002)
A. Torcini, A. Vulpiani, A. Rocco, Front propagation in chaotic and noisy reaction diffusion systems: A discrete-time map approach, Eur. Phys. J. B 25, 333 (2002)
A. Rocco, J. Casademunt, U. Ebert, and W. van Saarloos, Diffusion coefficient of propagating fronts with multiplicative noise, Phys. Rev. E 65, 012102 (2002)
G. Tripathy, A. Rocco, J. Casademunt, and W. van Saarloos, Universality class of fluctuating pulled fronts, Phys. Rev. Lett. 86, 5215 (2001)
A. Crisanti, F. Ritort, A. Rocco, and M. Sellitto, Inherent Structures and non-equilibrium dynamics of 1D constrained kinetic models: A comparison study, J. Chem. Phys. 113, 10615 (2000)
F.X. Magdaleno, A. Rocco, J. Casademunt, Interface dynamics in Hele-Shaw flows with centrifugal forces: Preventing cusp singularities with rotation, Phys. Rev. E 62, R5887 (2000)
A. Rocco, U. Ebert, and W. van Saarloos, Subdiffusive fluctuations of "pulled" fronts with multiplicative noise, Phys. Rev. E 62, R13 (2000)
P. Grigolini, A. Rocco and B.J. West, Fractional Calculus as a Macroscopic Manifestation of Randomness, Phys. Rev. E 59 2603 (1999)
A. Rocco and B.J. West, Fractional Calculus and the Evolution of Fractal Phenomena, Physica A 265, 535 (1999)
A. Rocco and P. Grigolini, The Markov approximation revisited: Inconsistency of the standard quantum Brownian motion model, Phys. Lett. A 252, 115 (1999)
P. Allegrini, P. Grigolini, A. Rocco, Slow motion as a thermal gradient effect, Phys. Lett. A 233, 309 (1997)