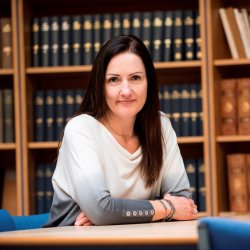 Mrs Anna Cook
---
Teaching Fellow in Developmental Psychology
BSc Music & Psychology (Oxford Brookes University), MA Music Education (Institute of Education, University of London), MSc Research Methods in Psychology (University of Surrey), PhD (University of Surrey)
Biography
I completed my undergraduate degree at Oxford Brookes University in 1993 followed by an MA in Music Education at the Institute of Education, University of London. Throughout my career I have worked in the field of education both as a teacher in schools and colleges, and also for regulatory bodies and exam boards. I decided to return to university in 2013, studying for the MSc in Research Methods in Psychology and went on to complete my PhD at the University of Surrey in 2019. Since then I have worked as an Associate Tutor in Developmental Psychology and Postdoctoral Research Fellow at the University of Greenwich.  I returned to the University of Surrey to take up the position of Teaching Fellow in Developmental Psychology in February 2020.
Research
Research interests
I conduct research in developmental and educational psychology. In particular, I focus on social psychological perspectives on areas relating to autism, inclusion and bullying. My PhD explored the impact of inclusion on the experiences of autistic children and the influence of contact/exposure on the attitudes of typically developing children. It also evaluated whether attitudes can be improved by exposure-based interventions such as a school-based music programme.
My teaching
PSY3082 Psychology & Education (convenor)
PSY3065 Psychology Dissertations (convenor)
PSY2015L Developmental Psychology with Research Methods 2
Final Year Dissertation Tutor
My publications
Publications
Cook, A., Ogden, J., and Winstone, N.
(2016).
The Experiences of Learning, Friendships and Bullying of Boys with Autism in Mainstream and Special School Settings: A Qualitative Study. British Journal of Special Education 43: 250–271.
Cook, A., Ogden, J., and Winstone, N.
(2017).
Friendship motivations, challenges and the role of masking for girls with autism in contrasting school settings. European Journal of Special Needs Education. JOUR. http://doi.org/10.1080/08856257.2017.1312797
Cook, A., Ogden, J. & Winstone, N.
(2018).
The impact of a school-based musical contact intervention on prosocial attitudes, emotions and behaviours: A pilot trial with autistic and neurotypical children. Autism. https://doi.org/10.1177/1362361318787793