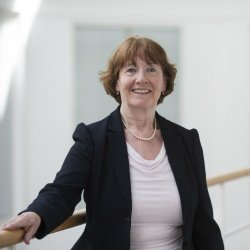 Dr Anne Arber
---
Senior Lecturer in Cancer and Palliative Care
Biography
Biography
Anne Arber has a clinical background in cancer nursing. Her research focuses on supportive care for patients with cancer and their carers; including support for family members and symptom support using e-health. She is an experienced PhD supervisor and combines research and teaching as part of her role.
She has research expertise in discourse analysis, ethnography and mixed methods research. She is a trainer in Advanced Communication Skills and has been invited to run workshops in advanced communication in the UK and in Europe.
Research interests
Supportive care of patients with advanced cancer
Carers, and family members affected by cancer
Communication and breaking bad news
Ongoing Research Projects
Peer support for carers of people with advanced cancer. University of Surrey Research Support Fund. April 2016
Real time symptom assessment for patients with malignant pleural mesothelioma. Funded by British Lung Foundation September 2016-2018
A Delphi study on the research priorities of UK oncology nurses and patients. Co-researcher with Professor Emma Ream 2015. Funded by United Kingdom Oncology Nursing Society.
Research Projects
Think family project (November 2013 - August 2014) A project related to pre bereavement support for children who have a parent with cancer in collaboration with Frimley Park NHS Trust. Principal Investigator. Funded by Macmillan Cancer Support.
A study on fostering empathy between students and older people - a practical approach (AFRESH). Co-researcher funded by Averil Osborne Fund March 2012-October 2012.
Nurses' Decision-Making Practices at the End of Life in the Intensive Care Unit: A cross-cultural exploration. Co - researcher with Brazil, Germany and Ireland (2012-2013).
Carers in the 21st Century. Economic and Social Research Council Seminar Series (October 2012-September 2013).
Information giving and patients receiving oral chemotherapy for Multiple Myeloma (January 09-June 11 Awarded by Myeloma UK).
A project to examine the patient's experience of their care pathway following a diagnosis of mesothelioma. Awarded by Surrey, West Sussex and Hampshire Cancer Network (April 2008-June 2009).
A project to explore the needs of carers of patients with a malignant brain tumour (April 2006-August 2007).
Teaching
Module Leader
Research design and methodology (Master's Level NURM141)
Advanced Communication Skills (Master's/Degree Level NURM105/NUR3206)
Challenges in Pain Management (Master's Level/Degree Level NURM108/NUR3310)
Current doctoral students
Isaac Badu Appiah: Traditional herbalists and cancer in Ghana.
Michelle King-Okoye: Men and their partners' experiences of prostate cancer in Trinidad and Tobago.
Evangelos Latzourakis: Cypriot nurses' perceptions on role and preparation in caring for patients with chronic kidney disease.
Jackie McBride: Patient experience and meaning of using a remote monitoring tool within the context of cancer treatment
Emma Wadey: An exploration of the mental health and well-being of those bereaved by suicide
Doctoral Students who have completed
Nicola Ayers: An ethnography of the palliative care and dying at home in Ethiopia.
Nicola Beech: Restoring a sense of wellness following colorectal cancer: a grounded theory
Elizabeth Dunn: The lived experience of returning home following allogeneic stem cell transplantation.
Diane Laverty: Respite care for people with neuro-degenerative diseases
Sebastian Probst: Malignant fungating wounds- experiences of living in and with an unbounded body
Departmental duties
Chair of Faculty Research Ethics Committee
Chair Service Users and Carers Group
Member of the NCRI sub group for Quality of Life
Member of the steering group Jigsaw South East, Pre Bereavement Project Group
Member of the Race Equality Group
Conference presentations
Arber A, Greenwood N (2013) Invited speakers ESRC seminar series: Supporting carers of people at the end of life. University of York 11th September 2013
Arber A (2012) How do carer's talk about 'illness work' and 'caring'? 29th Annual Qualitative Analysis Conference. Memorial University of Newfoundland, St John's Campus, Canada June 20-22nd 2012
Beech N, Arber A, Faithfull S (2011) Restoring a sense of wellness following colorectal cancer: a grounded theory. BSA Medical Sociology Group 43rd Annual Conference University of Chester 14th-16th September 2011
Arber A (2010) Invited Key Note Speaker: First three months following a diagnosis of pleural mesothelioma. Manchester Lung Cancer Group November 2010. The Christie Hospital, Manchester, UK
Invited speaker - Masterclass in Advanced Communication Skills- ESO-ESMO Masterclass in Clinical Oncology Zurich, Switzerland 2012-2015
My publications
Publications
Gregg N., Arber A., Ashkan K., Brazil L., Costello A et al (2014) Behavioural and personality changes following brain tumour: patients and relatives perspectives. Supportive Care Cancer (In press)
Gamlen E., Arber A. (2013) First assessments by specialist cancer nurses in the community: an ethnography. European Journal of Oncology Nursing 17,6, 797-801
Laverty D, Faithfull S. Arber A (2013) Respite care at an inner London hospice. European Journal of Palliative Care. 20,2 72-76
Arber A, Hutson N, de Vries K, Guerrero D, (2013) Finding the right kind of support: A study of carers of those with a primary malignant brain tumour. European Journal of Oncology Nursing 17,1 52-58
Probst S, Arber A, Faithfull S. (2013) Malignant fungating wounds- the meaning of living in an unbounded body. European Journal of Oncology Nursing 17,1 38-35
Arber A., Spencer L (2013) 'It's all bad news': the first 3 months following a diagnosis of malignant pleural mesothelioma. Psycho Oncology Published online DOI 10.1002/pon.3162
Probst S, Arber A, Trojan A, Faithfull S. (2012) Caring for a loved one with a malignant fungating wound. Supportive Care Cancer 20,12 3065-3070
Beech N, Arber A, Faithfull S. (2012) Restoring a sense of wellness following colorectal cancer: a grounded theory. Journal of Advanced Nursing, 68,5: 1134-1144
Arber A, Hutson N, Guerrero D, Wilson S, Lucas C (2010) Carers, of patients with a primary malignant brain tumour. Are their information needs being met? British Journal of Neuroscience Nursing 6,7:329-334
Arber A, Faithfull S, Plastoka M, Lucas C, de Vries K (2010) A study of patients with a primary malignant brain tumour and their carers: Experience of symptoms and access to services. International Journal of Palliative Nursing 16,1 24-30.
Gallagher A, Arber A, Quirk A and Chaplin R (2009) Service users' experience of receiving bad news about their mental health, Journal of Mental Health (In press)
Probst S, Arber A and Faithfull S (2009) Malignant fungating wounds: a survey of nurses' clinical practice in Switzerland, European Journal of Oncology Nursing 13, 295-298
Arber A, Gallagher A (2009) Generosity and the moral imagination in the practice of teamwork, Nursing Ethics, 16 (6)
Arber A (2008) Team meetings in specialist palliative care, Qualitative Health Research, 18, 1323-1335
Hughes N and Arber A (2008) The lived experience of patients with pleural mesothelioma., International Journal of Palliative Nursing, 14,2, 66-71
Arber A (2007) "Pain talk" in hospice and palliative care team meetings, International Journal of Nursing Studies, 44, 916-926
Arber A (2006) Reflexivity. A challenge for the researcher as practitioner. Journal of Research in Nursing, 11(2)147-157
Li S and Arber A (2006) The construction of "troubled" and "credible" patients: a study of "emotion talk" in palliative care settings, Qualitative Health Research, 16(1)27-46
Arber A (2004) Is Pain What the Patient Says It Is? Interpreting an account of pain, International Journal of Palliative Nursing, 10, 491-496