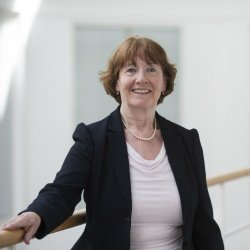 Dr Anne Arber
---
Visiting Reader in Cancer and Palliative Care
PhD, MSc, RN
About
Biography
Anne Arber has a clinical and research background in supportive cancer care. She completed her PhD in 2004 in Medical Scociology at Goldsmiths, University of London, UK. Her research focuses on supportive care of patients with cancer and their carers; including  symptom support using e-health and patient and public involvement in cancer and palliative care research. Anne also conducts research in  Advanced Communication Skills.  She is an Honorary Faculty Member for the European School of Oncology. 
Anne is a highly experienced PhD supervisor and  was awarded  the Vice-Chancellors Award for Post Graduate Research Supervisor of the Year 2018  in the Faculty of Health and Medical Sciences; in recognition of creating the most supportive, stimulating and inspirational research environment.  She combines research and teaching as  integral parts of her role  within the university. Recently, she became an Editorial Board Member for BMC Health Services Research.
She has research expertise in grounded theory, ethnography and mixed methods research. She is a trainer in Advanced Communication Skills and has been invited to run workshops in advanced communication in the UK and in Europe.  
She has examined many doctoral thesis as both an internal and external examiner across the UK and internationally.
Research

Research interests

Supportive care of patients with advanced cancer
Carers, and family members affected by cancer
Communication and breaking bad news
Patient and public involvement in research

Ongoing Research Projects

Closing the engagement gap: creating Research Champions to promote patient and public involvement/engagement in mesothelioma research. The June Hancock Mesothelioma Research Fund 2019-2020 
End of life planning for young people with learning disabilities.  Funded by Health Education England 2017-18 

Real time symptom assessment for patients with malignant pleural mesothelioma. Funded by British Lung Foundation September 2016-2018

 

Research Projects

Peer support for carer of people with advanced cancer, University of Surrey Research Support Fund. April 2016
A Delphi study on the research priorities of UK oncology nurses and patients. Co-researcher with Professor Emma Ream 2015. Funded by United Kingdom Oncology Nursing Society
Think family project (November 2013 - August 2014) A project related to pre bereavement support for children who have a parent with cancer in collaboration with Frimley Park NHS Trust. Principal Investigator. Funded by Macmillan Cancer Support.
A study on fostering empathy between students and older people - a practical approach (AFRESH). Co-researcher funded by Averil Osborne Fund March 2012-October 2012.
Nurses' Decision-Making Practices at the End of Life in the Intensive Care Unit: A cross-cultural exploration. Co - researcher with Brazil, Germany and Ireland (2012-2013).
Carers in the 21st Century. Economic and Social Research Council Seminar Series (October 2012-September 2013).
Information giving and patients receiving oral chemotherapy for Multiple Myeloma (January 09-June 11 Awarded by Myeloma UK).
A project to examine the patient's experience of their care pathway following a diagnosis of mesothelioma. Awarded by Surrey, West Sussex and Hampshire Cancer Network (April 2008-June 2009).
A project to explore the needs of carers of patients with a malignant brain tumour (April 2006-August 2007).
Supervision
Postgraduate research supervision
Anne has supervised many MSc and PhD students.
Currently she is  a PhD supervisor for Emma Wadey and Penny Franklin
Her past MPhil & PhD students include:
Marilena Hadjittofi
Isaac Badu-Appiah
Michelle King-Okoye
Alison Buchanan
Nicola Ayres
Liz Dunn
Diane Laverty
Sebastian Probst
Nicola Beech
Teaching
Module Leader
Research design and methodology (Master's Level NURM141)
Advanced Communication Skills (Master's/Degree Level NURM105/NUR3206)
Challenges in Pain Management (Master's Level/Degree Level NURM108/NUR3310)
Current doctoral students
Isaac Badu Appiah: Traditional herbalists and cancer in Ghana.
Emma Wadey: An exploration of the mental health and well-being of those bereaved by suicide
Penny Franklin: Connecting with parents and their dependent children
Doctoral Students who have completed
Michelle King-Okoye: Silence among Afro-Caribbean men diagnosed with prostate cancer in Trinidad and Tobago: a grounded theory study
Nicola Ayers: An ethnography of the palliative care and dying at home in Ethiopia.
Nicola Beech: Restoring a sense of wellness following colorectal cancer: a grounded theory
Elizabeth Dunn: The lived experience of returning home following allogeneic stem cell transplantation.
Diane Laverty: Respite care for people with neuro-degenerative diseases
Sebastian Probst: Malignant fungating wounds- experiences of living in and with an unbounded body
Departmental duties
Chair of Faculty Research Ethics Committee
Chair Service Users and Carers Group
Member of the NCRI sub group for Quality of Life
Member of the steering group Jigsaw South East, Pre Bereavement Project Group
Member of the Race Equality Group
Publications
Additional publications
Chen X, Arber A, Gao J, Zhang L, Ji M, Wang D, Wu J, Du J (2021) The mental health status among nurses from low-risk areas under normalized COVID-19 pandemic prevention and control in China: A cross sectional study.  International Journal of Mental Health Nursing (In press)
Maguire R, Connaghan J, Arber A et al (2020) Advanced symptom management system for patients with malignant pleural mesothelioma (ASyMSmeso): mixed methods study. Journal of Medical Internet Research, 22,10 e19180
Hadittofi M, Gleeson K, Arber A (2020) The experience of disgust by health professionals: a literature review.  International Journal of Nursing Studies, 110, 103720
Wang Q, Arber A, Shen A, Qiang W (2020) Perspectives of Chinese cancer patients toward disclosure of cancer diagnosis to their minor children. Cancer Nursing 43,1 2-11
Allan HT, Arber A eds (2018) Emotions & Reflexivity in Health and Social Care Field Research.  Palgrave Macmillan, Switzerland
King-Okoye M, Arber A, Faithfull S (2019) Beliefs that contribute to delays in diagnosis of prostate cancer among Afro-Caribbean men in Trinidad and Tobago. Psycho Oncology 28, 1321-1327
Gallagher A, Arber A, Peacock M (2019) Helping Young People with Learning Disabilities and their Families to Plan End of life Care: The ADVANCE Toolkit for Care-Givers.  Learning Disability Nursing
Franklin P, Arber A, Reed L, Ream E (2018) Health and social care professionals' experiences of supporting parents and their dependent children during, and following, the death of a parent: A qualitative review and thematic synthesis. Palliative Medicine  33,1 49-65
Arber A, Odelius A (2018) The experiences of oncology and palliative care nurses when supporting parents who have cancer and dependent children. Cancer Nursing 41, 3 248-254
Cox A, Arber A, Gallagher A, MacKenzie M, Ream E (2017) Establishing priorities for UK oncology nursing research: nurse and patient collaboration.  Oncology Nursing Forum 44,192-203
King-Okoye M, Arber A, Faithfull S (2017)  Routes to diagnosis for men with prostate cancer: men's beliefs about how changes to their bodies and symptoms influence help-seeking actions.  European Journal of Oncology Nursing 30, 48-58
Ayers NE, Vydelingum V, Arber A (2017) An ethnography of managing emotions when talking about life-threatening illness.  International Nursing Review 64,4 486-493
Cox AC, Arber A, Bailey F, Dargan S, Gannon C, Lisk R, Quinn B, Samarasinghe J, Wrigley M, Gallagher A. (2017) Developing, implementing and evaluating an end of life care intervention. Nursing Older People, 29 (1), pp. 27-35
Dunn E, Arber A, Gallagher A. (2016) The Immediacy of Illness and Existential Crisis: Patients' lived experience of under-going allogeneic-stem cell transplantation for haematological malignancy. A phenomenological study. European Journal of Oncology Nursing, 21, pp. 90-96
Laverty D, Arber AM, Faithfull S. (2016) Respite for patients and carers in neurodegenerative disease: a grounded theory study. European Journal of Palliative Care, 23 (4), pp. 175-179
Gallagher A, Bousso RS, McCarthy J, Kohlen H, Arber A et al (2015) Negotiated reorienting: A grounded theory of nurses' end-of-life decision-making in the intensive care unit.  International Journal of Nursing Studies, 52, 4,  pp. 794-803
Mishelmovich N, Arber A, Odelius A. (2015) Breaking significant news: the experience of clinical nurse specialists in cancer and palliative care. European Journal of Oncology Nursing, 21, pp. 153-159