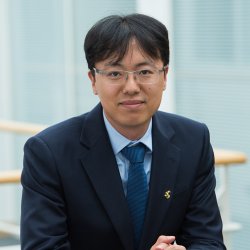 Biography
Anyu is a Lecturer in Hospitality with the research interests of applied economics in tourism and hospitality. He received his BA in Economics in 2008 and MSc in Economics and Statistics in 2011 in Dongbei University of Finance and Economics, China. After working as a research assistant at Peking University, China and the Hong Kong Polytechnic University (PolyU), he started to pursue his PhD at PolyU, focusing on the impact of tourism on economic growth. He gained his PhD degree in 2016, then worked as a postdoc fellow at PolyU for one year and joined Surrey in September 2017. Anyu has been involved in a number of international collaborative projects on tourism and hospitality demand modelling and forecasting, tourism satellite account and tourist satisfaction index.
University roles and responsibilities
Deputy Programme Leader of IHM

Deputy Director of Doctoral Studies
Affiliations and memberships
Editorial board member of Tourism Economics
Research
Research interests
Applied economics in tourism and hospitality
Tourism and hotel demand modelling and forecasting
Quantitative research method for tourism and hospitality studies
My teaching
Undergraduate:
Financial Accounting
Applied Financial Management
Hotel Investment
Supervision
Postgraduate research supervision
My publications
Publications
Liu. A. & S. Pratt
(2017).
Tourism's Vulnerability and Resilience to Terrorism. Tourism Management, 60, 404-417.
Pratt. S. & A. Liu
(2016).
Does Tourism Really Lead to Peace? A Global View. International Journal of Tourism Research, 18(1), 82-90.
Lin. V. S., A. Liu & H. Song
(2015).
Modelling and Forecasting China Outbound Tourism. Journal of Travel & Tourism Marketing, 32(1-2), 34-49.
Liu. A. & B. McKercher
(2014).
The Impact of Visa Liberalization on Tourist Behaviors—The Case of China Outbound Market Visiting Hong Kong, 1-9. Journal of Travel Research, 55(5), 603-611.
Liu, A., H.Song & A. Blake
(2018).
Modelling productivity shocks and economic growth using the Bayesian dynamic stochastic general equilibrium approach, International Journal of Contemporary Hospitality Management, https://doi.org/10.1108/IJCHM-10-2017-0686
Liu, A., V.S. Lin & H. Song
(2018).
Analysing and Forecasting Tourism Demand, The SAGE Handbook of Tourism Management, 202-221.
Fan, D.X.F., A. Liu & R.T.R. Qiu
(2018).
Revisiting the relationship between host attitudes and tourism development: A utility maximization approach, Tourism Economics, DOI: 10.1177/1354816618794088
Kim, B., L. Zhou & A. Liu
(2018).
Culture and Service Quality: Case of Hong Kong, Quality Services and Experiences in Hospitality and Tourism, 59-74
Wu, D.C., J. Liu, H. Song, A. Liu and H. Fu
(2018).
Developing a Web-based regional tourism satellite account (TSA) information system, Tourism Economics, DOI:10.1177/1354816618792446
Volchek, K., A. Liu, H. Song & D. Buhalis
(2018).
Forecasting tourist arrivals at attractions: Search engine empowered methodologies, Tourism Economics, DOI:10.1177/1354816618811558
Li, S., A. Liu & H. Song
(2019).
Does tourism support supply-side structural reform in China?, Tourism Management, 71, 305-314.
Li, G., D.C. Wu, M. Zhou & A. Liu
(2019).
The combination of interval forecasts in tourism, Annals of Tourism Research
Stienmetz, J. L., A. Liu & I.P. Tussyadiah
(2019).
UK Residents' Opinions of Peer-to-Peer Accommodation Impact on Quality of Life, Information and Communication Technologies in Tourism 2019, 80-91