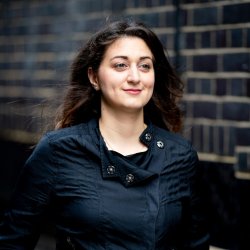 Astra Papachristodoulou
---
PhD Researcher and Tutor
BA (University of Surrey), MA (Royal Holloway, University of Surrey)
My research project
Poetry in the Anthropocene: Sculpting and Materialising Language as a Social, Ecological and Feminist Gesture
Materials play a significant political and ecological role in the 21st century life, and as our understanding of material footprints grows, so does the need for poetry that engages with our current geological time, the Anthropocene. This thesis revives the notion of sculptural poetry as a future-oriented intervention with a potential to shape society and the environment surrounding it. Through my critical and creative work, I consider sculptural poetry as a form with linguistic values tied to the properties and use of materials with, often, interactive strata, in which materiality, texture and movement are harnessed to retell, reimagine, or reorient our relationship to the environment and materials that stratify us. 
Central to this thesis is Joseph Beuys' concept of social sculpture as an example of three-dimensional work that promotes social and ecological justice. But whilst Joseph Beuys created sculptures that engaged deeply with society and ecology, he does not consider the feminist implications of a sculpture, and in the context of the current discussion, sculptural poetry. These implications are necessary for a 21st century contribution to this field of experimental poetry, which is driven by global inequalities, alongside the realities of the climate emergency. As the thesis shows, and with a new generation of female sculptural poets including Kate Siklosi, Martina O'Shea, Alexis Fedorjaczenko, Ragnhildur Jóhanns and Mira Schendel, who explore materials in unconventional ways, this poetics takes a turn towards a new future-facing practice.
Within this wider social, ecological and aesthetic context, I offer a model for innovative sculptural poetry by developing embodied research into the decline of bees as an exemplary sustainability challenge. Specifically, the thesis explores the way human-made materials affect this species through relevant poetic content and the use of unconventional materials for the production of sculptural poems, while drawing connections of the theme of bees with the other threads which are crucial to this project, including social and ecological justice and Neo-Futurism. This body of work considers contemporary sculptural poetics as a practice in tune with its environments, lifting this term from its ekphrastic sense that historically describes poems about sculptures, and towards a future-facing form with revolutionary potential. 
Supervisors
My qualifications
2013
BA (Hons) Theatre Studies
University of Surrey
2017
MA Poetic Practice
Royal Holloway, University of London
Areas of specialism
Experimental and Innovative Poetry; Ecopoetry; Visual and Object Poetry; Sculptural Poetics; Neo-Futurism.
My teaching
I teach seminars in the School of Literature and Languages. I have taught on the modules Introduction to Creative Writing (ELI1026), The American Century (ELI2036) and Thinking Like a Writer (ELI1027).
.
My publications
Additional publications
2021, Inside Ocean Größt's Time Capsule (Shropshire: Penteract Press).
2021, TEXT-ISLES anthology, (Guildford: Poem Atlas)
2021, AWW-STRUCK anthology, co-edited with Isabel Galleymore and Caroline Harris (Guildford: Poem Atlas).
2021, Bunnies Behind Bars, co-written with John Kilburn (Newton-le-Willows: KFS Press).
2021, Crescent Earth (Talgarreg: Broken Sleep Books).
2021, Auditioning for Poem Atlas, co-written with John Kilburn (Guildford: Poem Atlas).
2020, Astropolis (Bristol: Hesteglock Press).
2020, Temporary Spaces, co-edited with Nic Stringer (London: Pamenar Press).
2019, Blockplay (Bristol: Hesterglock Press).
2019, Stargazing (Cornwall: Guillemot Press).
2019, Perseverance Valley Interrupted (Cornwall: Stegosaurus).
2019, Almost a Dream (London: Sampson Low).
2019, Imprints We Leave Behind (London: Gang Press).
2018, Clockwork (London: Ampersand Publishing).
2017, Almost a Nightmare (London: Sampson Low).