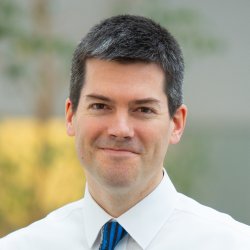 Dr Ben Field
---
Associate Professor of Diabetes and Endocrinology
BMedSci MBBS MSc PGCertULT PhD FRCP
About
Biography
Ben Field is an Associate Professor of Diabetes & Endocrinology at the University of Surrey and an honorary consultant endocrinologist at Surrey and Sussex Healthcare NHS Trust.  He is also the Caldicott Guardian for the University of Surrey; the NIHR Kent, Surrey and Sussex (KSS) Clinical Research Network specialty lead for diabetes, metabolic and endocrine disorders, and Health Education England KSS Training Programme Director for Internal Medicine Training.  His research interests include gut hormone physiology, drug development in type 2 diabetes, hypoglycaemia and self-management in type 1 diabetes, diabetic foot disease, vascular disease, thyroid disease, prescribing in primary care, and the development and implementation of clinical guidelines.  He is a member of the Academic Subcommittee of the Association of British Clinical Diabetologists (ABCD) and of the steering committees for ABCD national audits on COVID-19 and diabetes and on GLP-1 receptor agonists.
Ben Field served as a British Army officer in the Royal Engineers before entering the Medical College of St Bartholomew's Hospital, where he gained a first class BMedSci and graduated in medicine with distinction.  After specialist training at Guy's and St. Thomas' hospitals, he joined Imperial College London as an MRC clinical research training fellow, under the supervision of Prof Sir Steve Bloom FMedSci FRS, Dr Alison Wren FRCP and Dr Niamh Martin FRCP.  His PhD was awarded for research into the physiological role of gut hormones in controlling appetite, energy expenditure and insulin secretion.  
Subsequently, Dr Field became a member of Prof Bloom's laboratory management team, supervising the early phase development of potential new obesity treatments.  He was jointly responsible with Dr (now Prof) Tricia Tan for the regulatory and ethical submission, clinical conduct and reporting of an in-house first-time-in-human trial, and for the design and external contracting of phase 1 single ascending dose and multiple ascending dose trials of another potential diabetes and obesity treatment.  In addition, he supervised a team of clinical research fellows using indirect calorimetry and intravenous glucose tolerance tests to investigate the effects of combinations of gut hormones on beta-cell function and metabolic rate in humans.  He also collaborated with engineering colleagues, Dr Iasonas Triantis and Dr Amir Eftekhar, in development of techniques to record from, and to stimulate, the vagus nerve, using an atraumatic interface.  He has given invited lectures on his work and related developments in the Nobel Forum, Karolinska Institutet, Stockholm; the University of Aarhus, Denmark; the World Gastroenterology Congress in London; the European Congress on Obesity in Istanbul, the European Association for the Study of Diabetes annual meeting in Berlin, and at other conferences in Ireland, Belgium, Switzerland, Romania, Dubai and Abu Dhabi.
As HEE KSS Training Programme Director, Dr Field is responsible for coordinating the Internal Medicine Training programme for junior doctors across Kent, Surrey and Sussex.  For eight years until the summer of 2020 he was also the Royal College of Physicians Tutor at Surrey and Sussex Healthcare NHS Trust, with responsibility for the welfare and training of junior doctors in the medical specialties.  He continues to pursue his interest in medical education through tutoring in diagnostic acumen on the University of Surrey Physician Associate Studies PGDip course.
Alongside designing and recruiting to clinical trials, Dr Field chairs the Independent Data Monitoring Committee for an ongoing NIHR-funded, randomised, double-blind, clinical trial in the field of adrenal hormone replacement.  He is a Review Editor for Frontiers in Endocrinology (Lausanne).
University roles and responsibilities