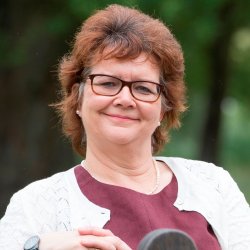 Dr Bernadette Egan
---
Senior Research Fellow/Senior Adviser NIHR Research Design Service South-East/Acting Co-Chair University of Surrey Ethics Committee
BSc (University College Cork) PhD (University College Cork)
About
Biography
Bernadette Egan graduated with a 1st Class honours degree in Biochemistry from University College Cork (UCC) in 1982, where she subsequently obtained her PhD. She then joined the Microbiology Department at the University of Surrey as a postdoctoral fellow, working on a number of projects in the area food microbiology. After a career break Dr Egan held a Daphne Jackson fellowship in the School of Biomedical and Life Sciences (SBLS) at the University of Surrey (2000-2002), and then worked briefly with Professor Sibel Roller, establishing web based information systems on natural antimicrobials.
Bernadette joined the Food, Consumer Behaviour and Health Research Centre, in the University of Surrey's Department of Psychology in November 2002 where she has worked as a Research Fellow on a range of projects funded by organisations including the Food Standards Agency and the EU. She has also been involved in a number of applied health research projects in conjunction with Professor Heather Gage.
Bernadette is the Academic Lead at Surrey for the NIHR Research Design Service, which is part of the Research Design Service-South East. 
Research interests
Bernadette's research interests are primarily public health-related (food safety, food choice, behavioural nutrition). She works with consumers, professionals (e.g. teachers) and other stakeholders to investigate food-related attitudes, beliefs and behaviour using both qualitative and quantitative methods. Bernadette also has extensive experience in developing study protocols and in the collection, analysis and reporting of data.
Research collaborations
Plant Food Supplements: Levels of Intake, Benefit and Risk Assessment - PlantLIBRA (European Union; June 2010 to May 2014)
The Effect of Diet on the Mental performance of Children - NutriMENTHE (European Union; March 2008 to February 2013)
Early Nutrition programming - long term follow up of efficacy and safety trials and integrated epidemiological, genetic, animal, consumer and economic research - EARNEST (European Union; April 2005 to March 2010)
European Food Information Resource Network - EuroFIR (European Union; 5 years from January 2005)
Getting food safety and food hygiene messages into schools (Food Standards Agency; March 2004 to November 2005)
Evaluation of UK food hygiene and safety training (Food Standards Agency; August 2002 to March 2004)