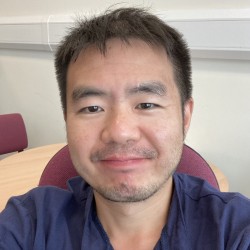 Dr Bin Cheng
---
Senior Lecturer
PhD, University of Maryland
About
Biography
Dr. Cheng was born and raised in China. He earned a Bachelor's degree in Mathematics from the Peking University (PKU) at Beijing, China in 2001, went on to study in the University of California at Los Angeles (UCLA), USA where he earned a Master's degree in Applied Mathematics in 2003, and in the University of Maryland, College Park (UMD), USA where he earned his Ph.D. in Applied Mathematics and Scientific Computing in 2007.
Dr. Cheng then took on a Hildebrandt Assistant Professorship (postdoctoral) at the University of Michigan, Ann Arbor, USA from 2007 to 2010, and a Research Assistant Professorship (postdoctoral) at the Arizona State University, Tempe, USA from 2010 to 2012.
Dr. Cheng joined the University of Surrey at Guildford, UK in January, 2013. He currently holds a Senior Lectureship (roughly the UK equivalent of tenured assistant professor) in the Department of Mathematics. His research interests sit in the general areas of applied mathematics and mathematical physics, especially in the analysis of nonlinear PDEs and applications to large-scale atmospheric and oceanic circulations. But he is curious just about everything.
Dr. Cheng has taught university-level mathematics for over 10 years, and has also delivered numerous seminars and colloquia. He has much experience in communicating mathematics to others and always enjoys doing so.
His personal website is at http://personal.maths.surrey.ac.uk/st/bc0012/
Research

Research interests

I am the PI of the project "Mathematical analysis of 'near resonance' in the physical world of finiteness" funded by a Leverhulme Research Project Grant (RPG-2017-098), 2017-2021.

I am also a co-I of the project "On the way to the asymptotic limit: mathematics of slow-fast coupling in PDEs" funded by an EPSRC Standard Research Grant (EP/R029628/1), 2018-2021.
Supervision
Postgraduate research supervision