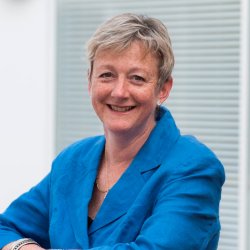 Professor Emma Ream
---
Professor, Director of Health Sciences Research
Personal Assistant: Vikki Boughtflower
Biography
Biography
Emma is a Registered Nurse; she qualified in 1990 having undertaken a BSc in Nursing with Economics at St Bartholomew's Hospital in conjunction with City University. She worked in general and oncology nursing before moving into academia at King's College London. She was awarded her MSc in Nursing from King's College London (1995) and later her doctorate (2002) for her work developing and evaluating an intervention for cancer-related fatigue.
Emma held various research and teaching posts at King's College London before being conferred the title Professor of Supportive Cancer Care in 2009 in recognition of her contribution to cancer and palliative care nursing and her outstanding research profile and academic leadership. In 2011 she was awarded a King's College London Supervisory Excellence Award for excellence in postgraduate research supervision.
At King's College London she led the Supportive Cancer Care Research Group and provided strategic leadership in the Florence Nightingale Faculty of Nursing and Midwifery for cancer and palliative nursing education and research. She has a research career spanning 25 years and is internationally recognised for her research in cancer care.
Research interests
Emma's research programme aims to enhance supportive care provided to patients and their carers (family members/friends who share the experience of cancer with patients). It aims to help patients maximise the benefits of treatment whilst enabling patients and their carers to live as well as possible with the effects of the disease and consequences of its treatment. Key themes within her research programme include: determining unmet supportive care needs in people living with and beyond cancer; understanding impact of inequalities on experience and outcomes of cancer care; developing and evaluating complex interventions to facilitate supported self-management of symptoms (in particular fatigue) and enhance people's lives following treatment for cancer; and developing and evaluating interventions to enhance the role and wellbeing of carers. She has considerable experience of developing complex interventions and evaluating their outcomes through mixed method research designs.
Current Research
1. EU 7th Framework Programme (2013; 60 months) Randomised controlled trial to evaluate electronic Symptom Management using the Advanced Symptom Management System (ASyMS) Remote Technology for patients with cancers (Kearney, Maguire, Ream et al) €5,999,991
2. National Institute of Health Research (2014; 36 months) Evaluating the feasibility and acceptability of early decongestive treatment for newly presenting breast cancer-related lymphedema (BCRL) of the upper limnb. Clinical doctoral research fellowship (Jeffs & Ream) £325, 969
3. Dimbleby Cancer Care (2014; 15 months) Walking for health in people with advanced cancer: a study to assess acceptability and feasibility (Armes, Purushotham, Ream, Van Helmrick) £74, 946
4. Big Lottery Fund (2010; 60 months) Improving breast cancer patients' wellbeing during transition to survivorship (Scanlon, Harding, Ream) £395,974
Teaching
Emma provides strategic leadership for education in research across modules and programmes within the School.
My publications
Publications
Plant H, Moore S, Richardson A, Cornwall A, Medina J, Ream E
Nurses' experience of delivering a supportive intervention for family members of patients with lung cancer,
European Journal of Cancer Care
European Journal of Cancer Care Nurses' experience of delivering a supportive intervention for family members of patients with lung cancer Families contribute to maintaining the well-being of people with cancer through providing emotional and practical support, frequently at significant cost to their own well-being, and often with little help from healthcare professionals. This paper describes nurses' experience of providing an innovative service to support the families of people with lung cancer. A process of group reflection by the three nurses involved in delivering the intervention has produced an autoethnographic account of taking part in this study. Three main themes relating to the nature and process of delivering the intervention were identified: 'meeting diverse need', 'differing models of delivery' and 'dilemma and emotion'. Supporting family members of patients with lung cancer can be immensely rewarding for nurses and potentially bring significant benefit. However, this kind of work can also be demanding in terms of time and emotional cost. These findings demonstrate the value of incorporating process evaluation in feasibility studies for articulating, refining and developing complex interventions. Determining the applicability and utility of the intervention for other practice settings requires further evaluation. © 2011 Blackwell Publishing Ltd.
Burt J, Shipman C, Richardson A, Ream E, Addington-Hall J
(2009)
The experiences of older adults in the community dying from cancer and non-cancer causes: a national survey of bereaved relatives,
AGE AND AGEING
39
(1)
pp. 86-91
OXFORD UNIV PRESS
Armes J, Finnegan-John J, Moore J, Bloomfield J, Shewbridge A, Ream E
(2011)
End of Treatment Consultation Evaluation,
EUROPEAN JOURNAL OF CANCER
47
pp. S318-S318
ELSEVIER SCI LTD
GOULD D, REAM E
(1994)
NURSES VIEWS OF INFECTION-CONTROL - AN INTERVIEW STUDY,
JOURNAL OF ADVANCED NURSING
19
(6)
pp. 1121-1131
BLACKWELL SCIENCE LTD
Foster C, Calman L, Grimmett C, Breckons M, Cotterell P, Yardley L, Joseph J, Hughes S, Jones R, Leonidou C, Armes J, Batehup L, Corner J, Fenlon D, Lennan E, Morris C, Neylon A, Ream E, Turner L, Richardson A
(2015)
Managing fatigue after cancer treatment: development of RESTORE, a web-based resource to support self-management,
Psycho-Oncology
24
(8)
pp. 940-949
Wiley
Objective
The aim of this study is to co-create an evidence-based and theoretically informed web-based intervention (RESTORE) designed to enhance self-efficacy to live with cancer-related fatigue (CRF) following primary cancer treatment.
Methods
A nine-step process informed the development of the intervention: (1) review of empirical literature; (2) review of existing patient resources; (3) establish theoretical framework; (4) establish design team with expertise in web-based interventions, CRF and people affected by cancer; (5) develop prototype intervention; (6) user testing phase 1; (7) refinement of prototype; (8) user testing phase 2; and (9) develop final intervention.
Results
Key stakeholders made a critical contribution at every step of intervention development, and user testing, which involved an iterative process and resulted in the final intervention. The RESTORE intervention has five sessions; sessions 1 and 2 include an introduction to CRF and goal setting. Sessions 3?5 can be tailored to user preference and are designed to cover areas of life where CRF may have an impact: home and work life, personal relationships and emotional adjustment.
Conclusions
It is feasible to systematically ?co-create? an evidence-based and theory-driven web-based self-management intervention to support cancer survivors living with the consequences of cancer and its treatment. This is the first account of the development of a web-based intervention to support self-efficacy to manage CRF. An exploratory trial to test the feasibility and acceptability of RESTORE is now warranted. Copyright © 2015 John Wiley & Sons, Ltd.
Background:
Net survival rates for cancer are increasing worldwide, placing a strain on health service provision. There is a drive to transfer care of cancer survivors - individuals living with and beyond cancer - to the community and encourage them to play an active role in their own care. Telehealth, the use of technology in remote exchange of data and communication between patients and healthcare professionals, is an important contributor to this evolving model of care and may offer additional benefits to cancer survivors. Telehealth is a complex intervention and understanding patient experiences of it is important in evaluating its impact. However, a wider view of patient experience is lacking as qualitative studies detailing cancer survivor engagement with telehealth have yet to be synthesised.
Objective:
Systematically identify, appraise and synthesise qualitative research evidence on the experiences of adult cancer survivors participating in telehealth intervention(s), to characterise the patient experience of telehealth interventions for this group.
Methods:
Medline (PubMed), PsychINFO, CINAHL (Cumulative Index for Nursing and Allied Health Professionals), Embase and Cochrane Central Register of Controlled Trial were searched on 14th August 2015 and 8th March 2016 for English-language papers published between 2006 and 2016. Inclusion criteria were: adult cancer survivors aged 18 and over; cancer diagnosis; experience of participating in a telehealth intervention (defined as remote communication and/or remote monitoring with a healthcare professional(s) delivered by telephone, internet, or hand-held/mobile technology); reporting qualitative data including verbatim quotes. An adapted Critical Appraisal Skill Programme (CASP) Checklist for Qualitative Research was used to assess paper quality. The results section of each included article was coded line by line and all papers underwent inductive analysis, involving comparison, re-examination and grouping of codes to develop descriptive themes. Analytical themes were developed through an iterative process of reflection on, and interpretation of, the descriptive themes within and across studies.
Results:
22 papers were included. Three analytical themes emerged, each with three descriptive subthemes: 1. Influence of telehealth on the disrupted lives of cancer survivors a. Convenience b. Independence c. Burden 2. Personalised care in a virtual world a. Time b. Space c. The human factor 3. Remote reassurance ? a safety net of healthcare professional connection a. Active connection b. Passive connection c. Slipping through the net Telehealth interventions represent a convenient approach which can potentially minimise treatment burden and disruption to cancer survivors? lives. Telehealth interventions can facilitate an experience of personalised care and reassurance for those living with and beyond cancer, but it is important to consider individual factors when tailoring interventions to ensure engagement promotes benefit rather than burden.
Conclusions:
Telehealth interventions can provide cancer survivors with both independence and reassurance; both important for everyday life or wellbeing. Future telehealth interventions need to be developed iteratively and in collaboration with a broad range of cancer survivors to maximise engagement and benefit.
Foster C, Grimmett C, May CM, Ewings S, Myall M, Hulme C, Smith P, Powers C, Calman L, Armes J, Breckons M, Corner J, Fenlon D, Lennan E, May CR, Morris C, Ream E, Turner L, Yardley L, Richardson A
(2014)
RESTORE: Testing Feasibility and Acceptability of an Online Intervention to Support Self-management of Cancer-related Fatigue in a Multi-centre Proof of Concept Randomised Controlled Trial,
PSYCHO-ONCOLOGY
23
pp. 262-262
WILEY-BLACKWELL
Ream E, Richardson A
(1999)
From theory to practice: designing interventions to reduce fatigue in patients with cancer.,
Oncology nursing forum
26
(8)
PURPOSE/OBJECTIVES: To review the evidence available to guide the development of interventions to alleviate cancer-related fatigue. DATA SOURCES: Published fatigue theories and research describing patients' self-care strategies and the efficacy of interventions for the management of fatigue. DATA SYNTHESIS: Fatigue is a pervasive problem for patients with cancer. Without guidance, patients adopt common-sense strategies that generally prove unsuccessful in alleviating fatigue. Theories that identify self-care actions that can reduce fatigue are becoming increasingly sophisticated. A small number of strategies, most notably exercise, has been evaluated. Other interventions--educational, attention-restoring, and psychosocial--have been tested to a lesser extent. The theoretical foundations of these experimental studies frequently are unclear. However, primary evidence is favorable and supports further evaluation. CONCLUSIONS: Passive approaches frequently fail to reduce fatigue in patients with cancer. Alternative approaches based on the growing body of theoretical and research evidence should be adopted. IMPLICATIONS FOR NURSING PRACTICE: Patients require guidance in managing cancer-related fatigue. Nurses need to develop and evaluate relief interventions. Systematic research programs based on sound theoretical premises and previous research will contribute to the growing body of evidence to aid future management of this troublesome symptom.
Ream E, Richardson A, Alexander-Dann C
(1997)
Patients' sensory experiences before, during and immediately following the administration of intravenous chemotherapy,
Journal of Cancer Nursing
1
(1)
pp. 25-31
Preparatory sensory information is essential for cancer patients receiving chemotherapy. Accurate sensory information prepares them for the sounds, sights, and sensations that they will encounter before during, and after treatment. This study investigates and describes the sensory perceptions and coping styles of cancer patients receiving chemotherapy, and compares the results with those reported from studies conducted in the USA. The data were collected through telephone interviews using the Sensory Information Questionnaire (Rhodes et al 1994). Following the presentation of the findings, the article concludes by making recommendations to reduce patients' anxiety during outpatient administration of chemotherapy. © Pearson Professional Ltd 1997.
Tompkins C, Scanlon K, Scott E, Ream E, Harding S, Armes J
(2016)
Survivorship care and support following treatment for breast cancer: a multi-ethnic comparative qualitative study of women's experiences,
BMC HEALTH SERVICES RESEARCH
16
ARTN 401
BIOMED CENTRAL LTD
Richardson A, Ream EK
(1997)
Self-care behaviours initiated by chemotherapy patients in response to fatigue,
INTERNATIONAL JOURNAL OF NURSING STUDIES
34
(1)
pp. 35-43
PERGAMON-ELSEVIER SCIENCE LTD
Gibson F, Mulhall AB, Richardson A, Edwards JL, Ream E, Sepion BJ
(2005)
A phenomenologic study of fatigue in adolescents receiving treatment for cancer,
ONCOLOGY NURSING FORUM
32
(3)
pp. 651-660
ONCOLOGY NURSING SOCIETY
Verity R, Wiseman T, Ream E, Teasdale E, Richardson A
(2008)
Exploring the work of nurses who administer chemotherapy,
EUROPEAN JOURNAL OF ONCOLOGY NURSING
12
(3)
pp. 244-252
ELSEVIER SCI LTD
Finnegan-John J, Foster R, Lennan E, Oakley C, Richardson A, Verity R, Ream E
(2013)
A longitudinal qualitative interview study to understand need for support in family members of people having chemotherapy,
PSYCHO-ONCOLOGY
22
pp. 1-1
WILEY-BLACKWELL
Ream E, Gargaro G, Barsevick A, Richardson A
(2009)
Telephone delivered intervention for fatigue using motivational interviewing: an exploratory trial,
EJC SUPPLEMENTS
7
(2)
pp. 231-231
PERGAMON-ELSEVIER SCIENCE LTD
Gould D, WilsonBarnett J, Ream E
(1996)
Nurses' infection-control practice: Hand decontamination, the use of gloves and sharp instruments,
INTERNATIONAL JOURNAL OF NURSING STUDIES
33
(2)
pp. 143-160
PERGAMON-ELSEVIER SCIENCE LTD
Kenyon M, Young F, Mufti G, Pagliuca A, Lim Z, Ream E
(2011)
Survivorship following bone marrow transplant: a pilot study exploring responses to a life-coaching intervention,
BONE MARROW TRANSPLANTATION
46
pp. S407-S408
NATURE PUBLISHING GROUP
Molassiotis A, Bardy J, Finnegan-John J, Mackereth P, Ryders WD, Filshie J, Ream E, Eaton D, Richardson A
(2013)
A randomized, controlled trial of acupuncture self-needling as maintenance therapy for cancer-related fatigue after therapist-delivered acupuncture,
ANNALS OF ONCOLOGY
24
(6)
pp. 1645-1652
OXFORD UNIV PRESS
Moore S, Sherwin A, Medina J, Ream E, Plant H, Richardson A
(2006)
Caring for carers: A prospective audit of nurse specialist contact with families and carers of patients with lung cancer,
EUROPEAN JOURNAL OF ONCOLOGY NURSING
10
(3)
pp. 207-211
ELSEVIER SCI LTD
BACKGROUND: Fatigue is commonly reported by patients with inflammatory bowel disease (IBD), both in quiescent and active disease. Few fatigue scales have been tested in IBD. AIM: To assess three fatigue assessment scales in IBD and to determine correlates of fatigue. METHODS: Potential participants (n = 2131) were randomly selected from an IBD organisation's members' database; 605 volunteered and were posted three fatigue scales: Inflammatory Bowel Disease Fatigue scale, Multidimensional Fatigue Inventory and Multidimensional Assessment Fatigue scale and questionnaires assessing anxiety, depression, quality of life (QoL) and IBD activity. The questionnaires were tested for stability over time with another group (n = 70) of invited participants. Internal consistency was measured by Cronbach's alpha and test-retest reliability by the intraclass correlation coefficient (ICC). RESULTS: Four hundred and sixty-five of 605 (77%) questionnaires were returned; of 70 invited, 48/70 returned test (68.6%) and 41/70 (58.6%) returned retest. The three scales are highly correlated (P