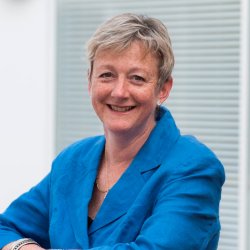 Professor Emma Ream
---
Professor, Director of Health Sciences Research
Personal Assistant: Vikki Boughtflower
Biography
Emma is a Registered Nurse; she qualified in 1990 having undertaken a BSc in Nursing with Economics at St Bartholomew's Hospital in conjunction with City University. She worked in general and oncology nursing before moving into academia at King's College London. She was awarded her MSc in Nursing from King's College London (1995) and later her doctorate (2002) for her work developing and evaluating an intervention for cancer-related fatigue.
Emma held various research and teaching posts at King's College London before being conferred the title Professor of Supportive Cancer Care in 2009 in recognition of her contribution to cancer and palliative care nursing and her outstanding research profile and academic leadership. In 2011 she was awarded a King's College London Supervisory Excellence Award for excellence in postgraduate research supervision.
At King's College London she led the Supportive Cancer Care Research Group and provided strategic leadership in the Florence Nightingale Faculty of Nursing and Midwifery for cancer and palliative nursing education and research. She has a research career spanning 25 years and is internationally recognised for her research in cancer care.
Research
Research interests
Emma's research programme aims to enhance supportive care provided to patients and their carers (family members/friends who share the experience of cancer with patients). It aims to help patients maximise the benefits of treatment whilst enabling patients and their carers to live as well as possible with the effects of the disease and consequences of its treatment. Key themes within her research programme include: determining unmet supportive care needs in people living with and beyond cancer; understanding impact of inequalities on experience and outcomes of cancer care; developing and evaluating complex interventions to facilitate supported self-management of symptoms (in particular fatigue) and enhance people's lives following treatment for cancer; and developing and evaluating interventions to enhance the role and wellbeing of carers. She has considerable experience of developing complex interventions and evaluating their outcomes through mixed method research designs.
Current research
1. EU 7th Framework Programme (2013; 60 months) Randomised controlled trial to evaluate electronic Symptom Management using the Advanced Symptom Management System (ASyMS) Remote Technology for patients with cancers (Kearney, Maguire, Ream et al) €5,999,991
2. National Institute of Health Research (2014; 36 months) Evaluating the feasibility and acceptability of early decongestive treatment for newly presenting breast cancer-related lymphedema (BCRL) of the upper limnb. Clinical doctoral research fellowship (Jeffs & Ream) £325, 969
3. Dimbleby Cancer Care (2014; 15 months) Walking for health in people with advanced cancer: a study to assess acceptability and feasibility (Armes, Purushotham, Ream, Van Helmrick) £74, 946
4. Big Lottery Fund (2010; 60 months) Improving breast cancer patients' wellbeing during transition to survivorship (Scanlon, Harding, Ream) £395,974
My teaching
Emma provides strategic leadership for education in research across modules and programmes within the School.