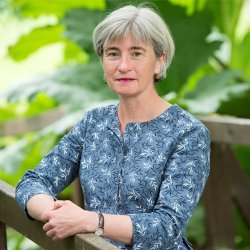 Dr Erica Russell
---
Doctoral Practitioner
Doctoral Practitioner, BSc, MSc Sustainable Development with Distinction
My research project
Leading role or bit player? Main contractors, supply chain and sustainable construction
Erica Russell is a Doctoral Practitioner within the Centre for Environment and Sustainability (CES) at the University of Surrey.  Her research builds on the systems-based thinking of the Centre, especially its pioneering work on the development of lifecycle approaches, and applies this to the role of the main contractor within the construction sector. The title of the doctoral thesis is 'Leading Role or Bit Player? Main contractors, supply chain and sustainable construction'. The doctoral thesis will be submitted in March 2019.
Erica has worked in various roles in industry for 30 years, both in public companies and in other private sector businesses. She has spent the last 9 years working with partners and businesses within the UK and Europe to integrate Sustainable Business practices into 'normal' business advice. This included a major UK Government programme piloted by the South East Regional Development Agency (2007-2010) in which sustainability was embedded into Business Link and advisors trained, metrics developed and over 20,000 companies were directly engaged on relevant 'sustainability actions'. Recently she has led or contributed to several EU projects working on the circular economy and SMEs, understanding and communicating sustainability in business, understanding the role of innovation in small companies and the development of an online innovation platform.
Erica completed her Masters in Sustainable Development at the University of Surrey in 2010.
Affiliations and memberships
Institute of Environmental Management Association
Practitioner (PIEMA)
Royal Society of Arts and Manufacturing (FRSA)
Fellow
Research
Research interests
I am interested in how we can translate complex sustainability issues into existing business structures to engender effective action. This work incorporates research areas such as life cycle thinking, the role of decision making in wicked problems and behavioural change.
Research collaborations
I am a member of the construction industry's Supply Chain Schools' Horizon Group. The group offer a dynamic interface between the construction sector and academic institutions. They provide a forum where academic research can be presented to industry practitioners and they facilitate the development of construction member insight  into 'real word' sustainability as research opportunities for academics and students.  
In previous projects I have collaborated with TU Delft, University of Dublin, University of Ghent, University of Lancaster, University of Brighton, University of Kent, and Anglia Ruskin University.
My publications
Publications
The Construction sector is characterised by complex supply networks delivering unique end products over short time scales. Sustainability has increased in importance but continues to be difficult to implement in this sector; thus, new approaches and practices are needed. This paper reports an empirical investigation into the value of the UN Sustainable Development Goals (SDGs), especially Sustainable Consumption and Production (SDG12), when used as a framework for action by organisations to drive change towards sustainability in global supply networks. Through inductive research, two different and contrasting approaches to improving the sustainability of supply networks have been revealed. One approach focuses on the ?bottom up? ethical approach typified by the Forest Stewardship Council (FSC) certification of timber products, and the other on ?top-down? regulations exemplified by the UK Modern Slavery Act. In an industry noted for complex supply networks and characterised by adversarial relationships, the findings suggest that, in the long term, promoting shared values aligned with transparent, third-party monitoring will be more effective than imposing standards through legislation and regulation in supporting sustainable consumption and production.
Driven by increased urbanisation, construction of buildings and infrastructure continues to grow worldwide, further exacerbating the social and environmental impacts created by this sector. Large scale projects, requiring thousands of component parts and globally sourced materials, flow across supply networks to construct built assets. Embodied within these supply networks are minerals, energy, water, labour, waste, modern slavery and other human rights abuses. This thesis focuses on the UK construction industry and the ability of the main contractor, a key procurer of materials and manager of the build process, to affect the sustainability of the final asset. This research is case study based on unprecedented access to staff and key suppliers of a major UK main contractor, Carillion plc. The work is an holistic approach to sustainability, incorporating both social and environmental lifecycle thinking, sustainable supply chain theory, and the fields of stakeholder and collaborative working. Applying grounded theory methodology, four major themes emerge from this inductive research; fragmentation, the role of focal nodes, inter- and intra-company collaboration and knowledge of sustainability. Set within the context of a lifecycle perspective they define the ability of the main contractor to directly implement or influence sustainable build. The research develops theory uniting economic equity, network actor perspective and life stage impacts. The findings demonstrate that operating within current unsustainable business models the main contractor can only play a bit role. Additionally, it provides the basis for recommendations on business model, policy and process change.