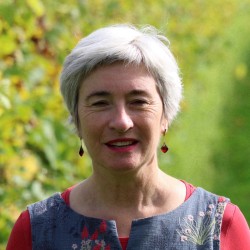 Dr Erica Russell
---
Visiting Research Fellow
PhD
About
Biography
I have worked for more than 30 years in industry and the public sector. I undertook my Masters in Sustainable Development at CES whilst working as a Sustainability Lead for the UK Governments Business Link. The programme supported over  20,000 south east based SMEs and my dissertation identified the importance of the personal beliefs of the company owner in achieving sustainable businesses. My PhD was undertaken as part of the Centre for Environment and Sustainability PDS Industry/academic partnership and it considered the role of  key construction sector actors and their role in carbon reduction with the supply chain.  I have continued to support knowledge development in this sector by volunteering with the Low Energy Transformation Initiative, with the most recent publication being the 'Low Embodied Carbon Specification and Procurement Guide'. 
Today I  undertake academic research alongside consultancy work in both the public and private sector. My climate change partnership, Russell&Dawson, supports local authority climate strategy and planning, development of funding and private sector embodied carbon research. 
I am a fellow of the Royal Society of Arts and Manufacturing and an IEMA Practitioner member. 
Research

Research interests

My research, framed by place-based carbon emissions reduction, has focused on difficult to reach, carbon reduction and climate issues. These include SMEs, affluent private home owners and embodied carbon within supply chains. Working as both an academic and practitioner allows me to develop ground up 'practical' areas for research whilst also expanding academic knowledge. My most recent work has been to explore top down and bottom up place-based approaches to climate action. I am currently working on a Placed-based Climate Action Network (PCAN) ESRC funded project assessing county based multi-level governance in the UK. A report is shortly to be published and two papers are in development, one considering the impact of climate networks on place-based carbon emissions reduction and the other will examine climate change driven institutional remaking. 

Research projects

The Place-based Climate Action Network (PCAN) is about translating climate policy into action 'on the ground' to bring about transformative change. This ESRC-supported network brings together the research community and decision-makers in the public, private and third sectors through five innovative platforms: three city-based climate commissions (in Leeds, Belfast and Edinburgh) and two theme-based platforms on finance and climate adaptation, with business engagement integrated into the working of each climate commission.
Publications
Russell, E. and Christie, I.,
(2022)
Developing a Carbon Baseline to Support Multi-Stakeholder, Multi-Level Climate Governance at County Level. In Addressing the Climate Crisis

Whilst carbon foot-printing and baselining has been completed for several UK cities, the work by the Surrey Climate Commission, Surrey County Council and the University of Surrey offers an insight into issues that arise when trying to provide information appropriate for county-based, multi-level governance across an urban/rural area. Key to the engagement of  local actors is the provision of a baseline carbon footprint that is relevant to place, local issues and interest group alignment. This has been considered for both consumption based and territorial emissions. Attempting to use publicly available, and thus accessible data, this  work has identified barriers that would face similar Commissions, such as the failure of national data to align with place-based approaches, emission models that are only available at a national level, complexity of overlapping data sets, opacity of data within topic-specific models and hotspot data gaps e.g. care homes. The analysis operates at a district and county level and offers a springboard for both strategic planning and practical action. We suggest this approach is critical for multi-level and cross sector networks, such as the Surrey Climate Commission, where data must inform public sector, business and third sector participants and underpin high ambition for change. 
Russell, E. and Christie, I.,
(2021)
The Remaking of Institutions for Local Climate Governance? Towards Understanding Climate Governance in a Multi-Level UK Local Government Area: A Micro-Local Case Study.
The crisis of climate disruption and shortcomings in top-down approaches has focused attention on the effectiveness of governance to achieve climate goals. New sub-national governance models such as business alliances, city networks and NGO coalitions have emerged; such institutional 're-making' is often motivated by frustration at national inaction, and by a belief thatlocal actors offer an effective 'bottom-up' approach. Literature on the emergence of climate-led multi-level and polycentric governance focuses primarily on cities; the role of urban-rural counties and of the micro-level of local government, and the challenges and opportunities before them, is less well studied. This paper draws on work in progress in a study exploring progress, challenges and failings in UK climate governance across multiple levels of county-based government: Surrey, an area of towns, peri-urban districts and countryside, is offered as a case study, with a focus on micro-level action in small towns and parishes. We find that despite a lack of national government orchestration or sub-regional frameworks, climate action is occurring voluntarily at all levels of governance. However, the nature of action is variable and irregular and there is little evidence as yet to demonstrate effectiveness. A fragmented form of multi-level governance is observed, with limited upward flows of ideas and no indication of national interest in micro-local climate lessons and experience. We identify the importance of 'wilful actors' and the need for greater coordination, information- and knowledge-sharing networks to achieve effective institutional 'remaking' for climate action.
Russell, E., Christie, I., and Murphy, R.
(2021)
Surrey Carbon Baseline Study
The transition to a net-zero economy and society in Surrey, as in the rest of the UK and the developed world, will require major changes to many aspects of the ways in which we work, travel and consume, and to our use of land. Decarbonising the economy is a massive challenge but also opens up opportunities on a major scale to improve wellbeing, enhance nature, generate new jobs and skills, and help enterprises thrive. To help understand the actions we need to take, and how effective they are, it is important that we have a baseline understanding of Surrey's carbon emissions at present. This can then be used to assess trends and progress in cutting the county's emissions. This complex work has been started by Surrey County Council, and this report for the Surrey Climate Commission, produced by a team from the University of Surrey, aims to complement and build on the estimates and data already gathered.
Russell, E.
(2020)
Leading Role or Bit Player? Main contractors, supply chain and sustainable construction (Doctoral dissertation, University of Surrey).
Driven by increased urbanisation, construction of buildings and infrastructure continues to grow worldwide, further exacerbating the social and environmental impacts created by this sector. Large scale projects, requiring thousands of component parts and globally sourced materials, flow across supply networks to construct built assets. Embodied within these supply networks are minerals, energy, water, labour, waste, modern slavery and other human rights abuses. This thesis focuses on the UK construction industry and the ability of the main contractor, a key procurer of materials and manager of the build process, to affect the sustainability of the final asset. This research is case study based on unprecedented access to staff and key suppliers of a major UK main contractor, Carillion plc. The work is an holistic approach to sustainability, incorporating both social and environmental lifecycle thinking, sustainable supply chain theory, and the fields of stakeholder and collaborative working. Applying grounded theory methodology, four major themes emerge from this inductive research; fragmentation, the role of focal nodes, inter- and intra-company collaboration and knowledge of sustainability. Set within the context of a lifecycle perspective they define the ability of the main contractor to directly implement or influence sustainable build. The research develops theory uniting economic equity, network actor perspective and life stage impacts. The findings demonstrate that operating within current unsustainable business models the main contractor can only play a bit role. Additionally, it provides the basis for recommendations on business model, policy and process change.
LETI
(2020)
LETI Climate Emergency Design Guide. How New Buildings can Meet UK Climate Change
The Climate Emergency Design Guide covers 5 key areas: operational energy, embodied carbon, the future of heat, demand response and data disclosure. Our methodology includes setting the requirements of four key building archetypes (small scale residential, medium/large scale residential, commercial offices, and schools). The guide was developed by over 100 LETI volunteers over a period of 12 months.
LETI
(2019)
LETI Embodied Carbon Primer
The Embodied Carbon Primer offers supplementary guidance to the Climate Emergency
Design Guide, for those interested in exploring embodied carbon in more detail. There is a current lack of knowledge in the built environment industry surrounding embodied carbon reduction strategies and calculations. Therefore, the London Energy Transformation Initiative has produced this document to support project teams to design buildings that deliver ambitious embodied carbon reductions.
This document is intended to provide designers including architects, engineers, interior designers and urban designers with easy-to-follow best practice and toolkits for reducing embodied carbon in buildings. The document can also aid planners to be aware of strategies available to designers to reduce embodied carbon in building design, and how planning recommendations on materials, massing and treatment of sites may affect embodied carbon.
Barron, M., Davies, J., Drake, N., Edwards, M., Ford, M., Ghumra, S., Hodson, S., Lowres, F., Macé, E., Modarres, P., Russell, E., Wingfield, A.
(2017)
Embodied Carbon: Developing a Client Brief
The guide is designed to support clients (e.g. building owners and developers) who need to write briefs for commissioning their first embodied carbon assessments on building and are at an early stage of embodied carbon knowledge. The goal of the guide is to provide straightforward information on how to develop a brief and 'get the job done', providing only essential guidance on the what and how of embodied carbon. Resources include example wording, an example brief, and what to do with the outputs of the assessment.
Deamer, L., Russell, E., Lee, J.
(2019)
Lost in translation: sustainability down the construction supply chain
We all know the issues of multiple industry prequalification questions (PQQs); often irrelevant, time consuming, repetitive and with requests for similar, but slightly different, standards and accreditations. With such barriers, is sustainability being addressed in PQQs? If so, do they make any difference to the final built asset? Our research, reviewing multiple PQQs as they flow across the supply network, looks to answer these questions.
Johnstone, A., Cant, C., Cox, D., Toogood, E., Russell, E., De Petris, F., Messenger, J., Kraska, M., Stojkovic, M., Jonsson, N., Obayda, P., Sanchez, R., Immler, S., Perks, S., Robinson, S.
(2023)
LETI Low Embodied Carbon Specification and Procurement Guide
This guide has been created to support designers and contractors who are facing the difficult task of trying to reduce embodied carbon without a clear roadmap to follow.
Design and construction is a complex process, with many factors, processes and issues to consider and until recently embodied carbon has not been a significant factor of consideration. This guide aims to share the collective experience of low embodied carbon project delivery, to provide greater understanding of the barriers and opportunities that exist within the process and raise awareness of some of the techniques that can be employed to reduce the embodied carbon of new construction. In particular the need for greater engagement between all members of the supply chain.