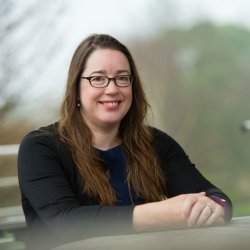 Dr Freda Elizabeth Mold
---
Lecturer in Integrated Care
BSc, PhD
Biography
I received my PhD from the University of Surrey in 2001 and worked as a post-doctoral researcher at King's College London for 9 years, initially in Public Health Sciences and then in the Florence Nightingale School of Nursing and Midwifery.
Since leaving Kings' I worked for NHS Evidence (previously part of the National Institute for Health and Care Excellence) conducting rapid online reviews.
I joined The University of Surrey again in 2010, working as a Research Fellow in the Department of Health Care Management and Policy.  At this time I undertook a large scale systematic review investigating patients access to their electronic medical records and online services in primary care.
Over the years I have been fortunate enough to work on various mixed methods research projects, focusing on long-term conditions and access to services. Studies included the investigation of factors impacting on patients' access and uptake of after stroke services in London, the care of ethnic elders in care homes, and early interventions for frail older people.
Since moving to Health Sciences I have continued to follow my research interest in access to services for specific patient groups in relation to primary/ community care delivery.
Research
Research interests
Research Interests:
Online access to computerised medical records and services in primary care.
E-consultations in primary care.
Obesity Stigma.
Spirituality in care homes.
Early interventions for frail older people.
Health care provision for people with Learning Disabilities.
My teaching
MSc Dissertation Module Lead
MSc Supervisor
PhD Supervisor
My publications
Publications
Edwards J, Mold F, Knivett D, Boulter P, Firn M, Carey N. Quality improvement of physical health monitoring for people with intellectual disabilities: an integrative review. J Intellect Disabil Res. 2017 Nov 29. doi: 10.1111/jir.12447.
Kidd T, Carey N, Mold F, Westwood S, Miklaucich M, Konstantara E, Sterr A, Cooke D. A systematic review of the effectiveness of self-management interventions in people with multiple sclerosis at improving depression, anxiety and quality of life. PLoS One. 2017 Oct 11;12(10):e0185931. doi: 10.1371/journal.pone.0185931.
Cox A, Lucas G, Marcu A, Piano M,Grosvenor W, Mold F, Maguire R, Ream E. Cancer Survivors' Experience With Telehealth: A Systematic Review and Thematic Synthesis. J Med Internet Res. 2017 Jan 9;19(1):e11.
Ajala O, Mold F, Boughton C, Cooke D, Whyte M. Childhood predictors of cardiovascular disease in adulthood. A systematic review and meta-analysis. Obes Rev. 2017 May 25.
Mold F & de Lusignan S. Patients' Online Access to Their Primary Care Electronic Health Records and Linked Online Services: Implications for Research and Practice. J. Pers. Med. 2015, 5(4), 452-469
Mold F, de Lusignan S, Sheikh A, Majeed A, Wyatt JC, Quinn T, Cavill M, Franco C, Chauhan U, Blakey H, Kataria N, Arvanitis TN, Ellis B. Patients' online access to their electronic health records and linked online services: a systematic review in primary care. Br J Gen Pract. 2015 Mar; 65 (632):e141-51.
Liyanage H, de Lusignan S, Liaw ST, Kuziemsky C, Mold F, Krause P, Fleming D, & Jones S. (2014) Big data usage patterns in the health care domain: A use case driven approach applied to the assessment of vaccination benefits and risks. International Medical Informatics Association (IMIA), Yearb Med Inform. Aug 15; 9 (1):27-35.
de Lusignan S. Mold F et al. (2014) Patients' online access to their electronic health records and linked online services: an interpretative review. BMJ Open. BMJ Open. 2014 Sep 8; 4 (9):e006021.
Mold F, Ellis B, de Lusignan et al. (2012) The provision and impact of online patient access to their electronic health records and transactional services on the quality and safety of health care: a systematic review protocol, Informatics in Primary Care. 2012; 20 (4):271-82.
Mold F and Forbes A. (2011) Patients and professionals experiences and perspectives of obesity in health care settings: a synthesis of current research. Health Expectations. 2013 Jun;16(2):119-42.
Mujika, A., Forbes, A., While, A., Mold, F & Canga, N (2010). Relationship between diabetes knowledge, glycaemic control and quality of life: Pilot study. Diabetes & Primary care, 12 (6): 374-381.
Mold F, Roberts JD, Fitzpatrick JM & Barriball KL.  (2008) Methodological challenges of researching in the care home sector. Nurse Researcher, 15 (4): 42-50.
Mold F, While A & Forbes A. (2008) The management of Type 2 diabetes care: the challenge within primary care. Practical Diabetes International, 25 (1):28-36.
Mold F, Forbes A & While A. (2008) The challenges of managing Type 2 diabetes in primary care. The Nursing Times, 104 (7):32-33.
Mold F. (2006), Sickness and salvation: social theories of the body in the sociology of religion. In J. Beckford & J. Walliss (Eds.), Religion and Social Theory: Classical and Contemporary Debates, Ashgate press, Aldershot. pp. 223- 236.
Mold F, Wolfe C & McKevitt C. (2006) Falling through the net of stroke care. Health and Social Care in the Community, 14 (4): 349-356.
Mold F, Fitzpatrick JM, Roberts JD. Minority ethnic elders in care homes: a review of the literature. Age Ageing. 2005 Mar;34(2):107-13.
Mold F, Fitzpatrick JM, Roberts JD. Caring for minority ethnic older people in nursing care homes. Br J Nurs. 2005 Jun 9-22;14(11):601-6.
McKevitt C, Redfern J, Mold F & Wolfe C. (2004) Qualitative studies of stroke: a systematic review. Stroke, 35 (6): 1499-1505.
Mold F, McKevitt C & Wolfe C. (2003) A review and commentary of the social factors which influence stroke care: issues of inequality in qualitative literature. Health and Social Care In the Community, 11 (5): 405-414.