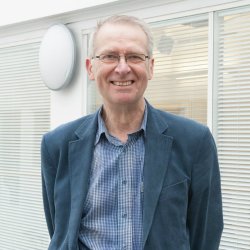 Professor Greville Corbett
---
Distinguished Professor of Linguistics
BA, MA, PhD
SMG Administrator Penny Everson
Biography
Biography
Greville Corbett is a member of the Surrey Morphology Group.
Research interests
My research attempts to bring together the remarkable variation we find across languages with the sense that they are deeply similar. I have three broad areas of interest:
Typology
- For some years I have been developing the Canonical Typology framework, which has expanded beyond its original heartland of morphology and syntax to include work in phonology and sign language (see the Canonical Typology bibliography). - Within the AHRC funded project From competing theories to fieldwork: The challenge of an extreme agreement system I am considering what this extreme agreement system tells us about the general typology of agreement systems. - The AHRC funded Combining Gender and Classifiers in Natural Language tackles the disparate range of phenomena labelled 'classifiers' as well as the somewhat more homogeneous gender systems. Working with Sebastian Fedden, we are developing a canonical approach to these challenging data.
Morphosyntactic features- Number, gender, person and case all offer interesting challenges. Recently I have returned to gender, editing a volume The expression of gender.- With Matthew Baerman, we show that asymmetries in gender marking can have the effect of expressing subject person even in the absence of dedicated person. We see this in Archi and notably in the Tucanoan languages of South America.
Inflectional morphology (especially Network Morphology)
- I led the European Research Council funded project Morphological Complexity, which examined the ways in which morphological structure introduces complexity which has no apparent function outside this component. My resulting research on the typology of splits in paradigms is to appear in Language.- My most recent work is on conditions on inflection, the generalizations which cross-cut the generalizations provided by inflection classes- The ESRC & AHRC funded Endangered complexity: Inflectional classes in Oto-Manguean languages has provided paradigms of remarkable complexity, including unusual types of split paradigms.- I am also concerned with the practical issue of how we represent inflectional material in a transparent and comprehensible way.
For more on my research, publications and presentations please see my academia.edu page: https://surrey.academia.edu/GrevilleGCorbettI am happy to supervise PhD students in the areas listed.
Affiliations
Professional associations and committees
I have been elected to these societies:
Academia Europaea (Member)Academy of Social Sciences (Fellow)British Academy (Fellow)International Grammar Commission of the Congress of SlavistsLinguistic Society of America (Honorary Member)
I am a member of the following academic organisations:
Association for Linguistic TypologyAustralian Linguistic SocietyBritish Association for Slavonic and East European StudiesLinguistics Association of Great BritainPhilological SocietySocietas Linguistica Europaea