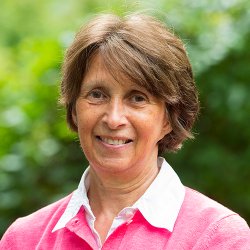 Professor Heather Gage
---
Professor of Health Economics
Biography
Heather Gage graduated with a BA (Hons) Economics and an MSc in Urban and Regional Planning Studies from the University of Reading. Subsequently, she gained a PhD in Health Services Research from the University of Surrey and became Professor of Health Economics in 2012. As Director of Surrey Health Economics Centre, Heather oversees a varied portfolio of applied health and social care projects.  She has held visiting positions at the Boston University School of Public Health and the Centre for Health Quality, Outcomes and Economic Research of the US Veterans Healthcare Administration.
Research
Research interests
Heather's research interests encompass many aspects of health service delivery, but particularly focus on evaluative studies and outcomes measurement. She is currently involved as economist in a variety of multidisciplinary projects funded by NHS, EU, industry and the voluntary sector. Recent work has been published in a range of health, clinical and medical journals.
Heather is a research adviser, and leads on health economics, for the NHS Research Design Service in Kent Surrey and Sussex.
My publications
Publications
Background
People living with dementia often develop distressing behavioural and psychological symptoms (BPSD) that can affect their quality of life and the capacity of family carers and staff providing support at home. This systematic review of qualitative studies considers the views and experiences of people living with dementia and care providers about these symptoms and what helps to reduce their impact.
Methods
The two-stage review involved (a) An initial mapping of the literature to understand the range of BPSD, and how it is operationalised by different groups, to develop a search strategy; (b) A search of electronic databases from January 2000 to March 2015, updated in October 2016. Included studies focused on people living in their own homes. Data extraction and thematic analysis were structured to provide a narrative synthesis of the evidence.
Results
We retrieved 17, 871 records and included relevant qualitative papers (n = 58) targeting community-dwelling people with dementia and family carers around the management of BPSD. Five key themes were identified: (1) Helpful interventions/support for BPSD management, (2) Barriers to support services for BPSD management, (3) Challenges around recognition/diagnosis of BPSD, (4) Difficulties in responding to aggression and other BPSD, and (5) Impact of BPSD on family carers and people living with dementia.
Conclusions
Family carers sometimes feel that their experiences of BPSD may not be evident to professionals until a crisis point is reached. Some helpful services exist but access to support, lack of knowledge and skills, and limited information are consistently identified as barriers to their uptake. The lack of common terminology to identify and monitor the range of BPSD that people with dementia living at home may experience means that closer attention should be paid to family carer accounts. Future research should include qualitative studies to evaluate the relevance of interventions.
Building an evidence base for the effects of different types of staff in general practice is challenging and takes time. McCartney is right to say that no evidence shows that physician associates make a difference to clinician stress and burnout. But more evidence is available than she suggests, which may be important at a time of considerable vacancies for general practitioners and practice nurses.
Trend P, Kaye J, Gage H, Owen C, Wade D
(2002)
Short-term effectiveness of intensive multidisciplinary rehabilitation for people with Parkinson's disease and their carers,
Clinical Rehabilitation
16
(7)
pp. 717-725
Objective: To evaluate the short-term effectiveness of an intensive multidisciplinary rehabilitation programme for people with Parkinson's disease and their carers. Design: Observational, with assessments before and after intervention. Setting: An elderly care day unit in a district general hospital in south-east England. Subjects: One hundred and eighteen people with Parkinson's disease and no cognitive impairment, and their carers. Intervention: Participants attended the day hospital in groups of six patients with their carers for one day per week over six consecutive weeks. After assessment, they received individual treatment from a specialist team. Weekly group activities included relaxation and talks from experts. Outcome measures: Patients and carers were assessed for: health-related quality of life, psychological well-being, social services need, perceptions of the programme. Patients were additionally assessed for mobility, gait and speech. Carers were assessed for strain. Results: After treatment significant improvements were recorded in patients' mobility and gait (p
Trivedi D, Goodman C, Gage H, Baron N, Scheibl F, Iliffe S, Manthorpe J, Bunn F, Drennan V
(2013)
The effectiveness of inter-professional working for older people living in the community: A systematic review,
Health and Social Care in the Community
21
(2)
pp. 113-128
Health and social care policy in the UK advocates inter-professional working (IPW) to support older people with complex and multiple needs. Whilst there is a growing understanding of what supports IPW, there is a lack of evidence linking IPW to explicit outcomes for older people living in the community. This review aimed to identify the models of IPW that provide the strongest evidence base for practice with community dwelling older people. We searched electronic databases from 1 January 1990-31 March 2008. In December 2010 we updated the findings from relevant systematic reviews identified since 2008. We selected papers describing interventions that involved IPW for community dwelling older people and randomised controlled trials (RCT) reporting user-relevant outcomes. Included studies were classified by IPW models (Case Management, Collaboration and Integrated Team) and assessed for risk of bias. We conducted a narrative synthesis of the evidence according to the type of care (interventions delivering acute, chronic, palliative and preventive care) identified within each model of IPW. We retrieved 3211 records and included 37 RCTs which were mapped onto the IPW models: Overall, there is weak evidence of effectiveness and cost-effectiveness for IPW, although well-integrated and shared care models improved processes of care and have the potential to reduce hospital or nursing/care home use. Study quality varied considerably and high quality evaluations as well as observational studies are needed to identify the key components of effective IPW in relation to user-defined outcomes. Differences in local contexts raise questions about the applicability of the findings and their implications for practice. We need more information on the outcomes of the process of IPW and evaluations of the effectiveness of different configurations of health and social care professionals for the care of community dwelling older people. © 2012 Blackwell Publishing Ltd.
This paper reports on the health system resources used in the treatment of in-hospital cardiac arrests in a British district general hospital. The resources used in resuscitation attempts were recorded prospectively by observation of a convenience sample of 30 cardiac arrests. The post-resuscitation resource use by survivors was collected through a retrospective record review (n=37) and by following survivor members in the prospective sample (n=6). Financial data were used to translate resource use into costs (1999 prices). There was a non-significant trend for more resources to be used in daytime resuscitations than at night. Survivors had significantly fewer diagnostic tests during resuscitation than those who died (P=0.004). Length of resuscitation attempt was positively and significantly related to resource use (P
Additional publications
M. Fader, A. Cottenden, H.Gage, P. Williams, K. Getliffe, S. Clarke-O'Neill, K. Jamieson, N. Green. Individual budgets for people with incontinence: results from a 'shopping' experiment within the British National Health Service, Health Expectations, doi: 10.1111/j.1369-7625.2011.00750.x
L. Axelrod, K. Bryan, H.Gage,J.Kaye, S.Ting, P. Williams, P. Trend, D.Wade, Disease - specific training in Parkinson's disease for care assistants: a comparison of interactive and self study methods. Clinical Rehabilitation, 26(6):545-57, 2012
H.Gage, E. Erdal, P. Saigal, Y. Qiao, P. Williams, J. Ogden, M. Raats. Recognition and management of overweight and obese children: a questionnaire survey of General Practitioners and parents in England. Journal of Pediatrics and Child Health, 48(2):146-52; 2012
B. Brands, B. Egan, E. Gyorei, J-C Lopez-Robles, H. Gage, C. Campoy, T. Decsi, M. Raats. A qualitative interview study on effects of diet on children's mental state and performance. Evaluation of perceptions, attitudes and beliefs of parents in four European countries. Appetite; 58: 739-746, 2012
C. Goodman, E. Mathie, M. Cowe, A. Mendoza, D. Westwood, D. Munday, P. Wilson P, C. Crang, K. Froggatt, S. Iliffe, J. Manthorpe, H. Gage, S. Barclay. Talking about living and dying with the oldest old: public involvement in a study on end of life care in care homes. BMC Palliative Care; 10:20, 2011
H. Gage, S. Ting, P. Williams, K. Bryan, B. Castleton, P. Trend, D.Wade. A comparison of specialist rehabilitation and care assistant support with specialist rehabilitation alone and usual care for people with Parkinson's living in the community: study protocol for a randomised controlled trial, Trials, 12: 250, 2011
S.L. Davies, C. Goodman, F.Bunn, C. Victor, A. Dickenson, S. Iliffe, H.Gage, W. Martin, K. Frogatt. A systematic review of integrated working between care homes and health care services. BMC Health Services Research, 11; 320, 2011
L. Poltawski, C. Goodman, S. Iliffe, J. Manthorpe, H.Gage, D.Shah, V. Drennan. Frailty scales - their potential in interprofessional working with older people: a discussion paper. Journal of Interprofessional Care, 25(4): 280-286; 2011
C. Goodman, V. Drennan, F. Schiebl, D. Shah, J. Manthorpe, H. Gage, S. Iliffe. Models of inter professional working for older people living at home: a survey and review of the local strategies of English health and social care statutory organisations. BMC Health Services Research, 11;337, 2011
S. Iliffe, V. Drennan, J. Manthorpe, H.Gage, S. Davies, H. Massey, C. Scott, S. Brearley, C. Goodman. Nurse case management and General Practice: implications for GP consortia. British Journal of General Practice, 61(591): 658-665; 2011
V. Drennan, C. Goodman, J. Manthorpe, S. Davies, C. Scott, H.Gage, S. Iliffe. Establishing new nursing roles: a case study of the English community matron initiative. Journal of Clinical Nursing, 20(19-20):2948-2957; 2011
H.Gage, M. Raats, P. Williams, B.Egan,V. Jakobik, K. Laitinen, E. Martin-Bautista, M. Schmid, J. von Rosen-von Hoewel, C. Campoy, T. Decsi, J.Morgan, B. Koletzko. Developmental origins of health and disease: the views of first time mothers in five European countries on the importance of nutritional influences in the first year of life. American Journal of Clinical Nutrition; 94(suppl):2018S-24S, 2011
H.Gage, J. Morgan, P. Williams, M. Schmid, K. Laitenen, J.von Rosen, B. Koletzko, T. Decsi, V. Jacobi, E. Martin-Bautista, C. Campoy, M.M. Raats. Infant feeding intentions of new mothers in five European countries. Proceedings of the Nutrition Society, 69 (OCE1), E69, 2010
B. Egan, H. Gage, M. Raats, B. Anton, B. Koletzko, E. Gyorie, T. Decsi, E. Martin-Bautista, J.C. Lopez-Roberts, C. Campoy. The effect of diet on children's mental performance: a study of the attitudes, knowledge and perceptions of UK parents. Proceedings of the Nutrition Society, 69 (OCE1), E72, 2010
C. Goodman, K. Froggatt, E. Mathie, C. Craig, J. Wright, M. Handley, H.Gage, S. Iliffe, et al. The experiences and expectations of older people resident in care homes, their carers and professionals: a prospective study. Report for NIHR Research for Patient Benefit Programme, Sept. 2010
H.Gage, J. Kaye, A. Kimber, L. Storey, M. Egan, Y. Qiao, P. Trend. Correlates of constipation in people with Parkinson's. Parkinsonism and Related Disorders, 17 (2):106-111; 2011
S. Iliffe, D. Kendrick, R. Morris, D. Skelton, H. Gage, S. Dinan, Z. Stevens, M. Pearl, T. Masud T. Multi-centre cluster randomised trial comparing a community group exercise programme with home based exercise with usual care for people aged 65 and over in primary care: protocol of the ProAct 65+ trial, Trials, 11:6,2010
E. Martin-Bautista, H. Gage, J. von Rosen-von Hoewel, V. Jakobik, K. Laitinen, M. Schmid2, J. Morgan, P. Williams, T. Decsi, C. Campoy, B. Koletzko, M. Raats. Lifetime health outcomes of breast-feeding: a comparison of the policy documents of five European countries. Public Health Nutrition, 13(10), 1653-1662, 2010
L. Axelrod, H. Gage, J, Kaye, K, Bryan, P. Trend, D. Wade. Workloads of Parkinson's specialist nurses: implications for implementing national service guidelines in England. Journal of Clinical Nursing, 19, 3575-3580, 2010
H. Gage, C Goodman, S.L. Davies, C. Norton, M. Fader, M. Wells, J. Morris, P. Williams. Laxative use in care homes, Journal of Advanced Nursing, 66 (6), 1266-72, 2010
H.Gage, J. Evans, W. Knibb, P. Williams, N. Rickman, K. Bryan. Nursing homes: more on quality of care. British Medical Journal, 339, b3526, 2009
C. Goodman, V. Drennan, S. Davies, H. Masey, H. Gage, C. Scott, J. Manthorpe, S. Brearley, S. Iliffe. The nursing contribution to chronic disease management: nursing case management. Report for the National Coordinating Centre, NHS Service Delivery and Organisation, June 2009
S. Kendall, P. Wilson, S. Proctor, E. McNeilly, F. Bunn, F. Brooks, H. Gage. The nursing, midwifery and health visitor contribution to chronic disease management: a whole system approach. Report for the National Coordinating Centre, NHS Service Delivery and Organisation, May 2009
H.Gage, J. Evans, W. Knibb, P. Williams, N. Rickman, K. Bryan. Why are some care homes better than others? An empirical study of the factors associated with the quality of care for older people in residential homes in Surrey. Health and Social Care in the Community, 17(6), 599-609, 2009