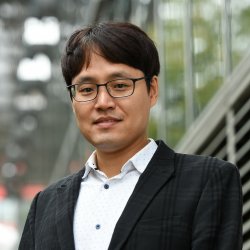 Biography
Hyungseok Joo graduated from the Yonsei University in South Korea and received a Ph.D. in Economics from Boston University in 2015. He joined the University of Surrey as Lecturer in 2019, after having spent years of research and teaching at Wayne State University, USA. His main research mainly focuses on Macroeconomics, International Finance/Macro, and Money and Banking.
Research
Research interests
Macroeconomics, International Finance/Macroeconomics, Fiscal Policy, and Money and Banking
My teaching
Intermediate Macroeconomics 1 
Foundations of Macroeconomics
My publications
Publications
Foreign creditors? business cycles influence both the process and the outcome of sovereign debt
restructurings. We compile two datasets on creditor committees and chairs and on creditor business
and financial cycles at the restructurings, and find that when creditors experience high GDP growth,
restructurings are delayed and settled with smaller haircuts. To rationalize these stylized facts, we
develop a theoretical model of sovereign debt with multi-round renegotiations between a risk averse
sovereign debtor and a risk averse creditor. The quantitative analysis of the model shows that high
creditor income results in both longer delays in renegotiations and smaller haircuts. Our theoretical
predictions are supported by data. (JEL: F34, F41, H63)
Additional publications
"Sovereign Debt Restructuring: Delays in Renegotiation and Risk-Averse Creditors" (with Tamon Asonuma), Forthcoming, Journal of the European Economic Association.