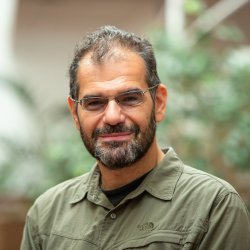 Dr Ioannis Lazopoulos
---
Lecturer in Economics
BA Business and Financial Economics (Staffs), MSc Money, Banking and Finance (Bham), PhD (Keele)
Biography
Ioannis joined the department as a lecturer in Economics in the University of Surrey in 2008. Prior to this, he worked in various capacities at Keele University (since 2001), where he also received his doctorate with commendation in 2006. Ioannis holds a B.A.(Hons) in Business and Financial Economics from Staffordshire University, and a M.Sc. in Money, Banking and Finance from the University of Birmingham.
Research
Research interests
Ioannis' main research interests are in microeconomics, information economics, financial economics and contract theory. His research focuses on theory of financial intermediation, encompassing the areas of financial stability and financial regulation. Other areas of interest include experimental economics with emphasis on the experimental evidence on multi-player repeated games.
Research collaborations
Vasco Gabriel (University of Surrey), Diana Lima (Central Bank of Portugal), Miriam Al Lily (Prince Mohammad bin Fahd University, Saudi Arabia),
Supervision
Postgraduate research supervision
Mrs. Diana Lima: Monetary Policy and Bank Regulation (passed Viva - minor corrections, February 2017)
Mr Onur Akkaya: The Role of Technological Change and Financial Innovations on Bank Failures in Turkey (passed Viva - minor corrections, April 2016)
My teaching
ECO-GMM: Quantitative Methods, Autumn Semester 2020
ECO3019: Money and Banking, Spring Semester 2020
ECO2039: Financial Economics 2, Spring Semester 2020
Ioannis holds the Post Graduate Certificate in Academic Practice
Departmental duties
Athena Swan Lead
Discussion Papers Coordinator
Webmaster
My publications
Publications
Lazopoulos I. and Gabriel V. (2019) 'Policy Mandates and Institutional Architecture'. Journal of Banking and Finance, vol 100, pages 122-134.
DOI: 10.1016/j.jbankfin.2019.01.006
Lazopoulos I. (2013) 'Liquidity Uncertainty and Intermediation'. Journal of Banking and Finance, vol. 37(2), pages 403-414.
DOI: 10.1016/j.jbankfin.2012.09.026 
Working Papers
Lima D., Lazopoulos I. and Gabriel V. "The Effect of Financial Regulation Mandate on Inflation Bias: A Dynamic Panel Approach, DP 06/16, School of Economics, University of Surrey.
Diedrich M. and Lazopoulos I. "Homophily in Friendship Selection: Experimental Evidence from a Multi-Player Prisoner's Dilemma".
Lazopoulos, I. "Information Transmission and Optimal Intermediation".
Lazopoulos, I. "Cycles and Banking Crisis".