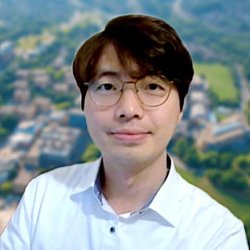 Dr Jae Sung Yun
---
Lecturer in Energy Technology
BEng, MPhil, PhD
About
Biography
I am currently a Lecturer (Assistant Professor) in Energy Technology, University of Surrey, Guildford, UK. I graduated with a bachelor degree in Materials Science and Engineering (MSE) at Yonsei University, Korea in 2008 and a Master of philosophy in MSE at the University of New South Wales, Australia in 2010. I was then awarded My PhD in silicon thin film solar cells under the supervision of Professor Martin Green in 2015, followed by postdoctoral research at the School of Photovoltaic and Renewable Energy Engineering in the University of New South Wales, Australia. Since then, I was awarded an Australian Centre for Advanced Photovoltaic Fellowship at the same institute and was promoted to Lecturer in 2018. In October 2021, I joined the Department of Electrical and Electronic Engineering at the Unversity of Surrey and Advanced Technology Insitute.
My research involves the development of emerging solar cells and nanoscale functional imaging of energy materials. I aim to elucidate device performance limiting factors by correlating various nanostructures to their electrical, chemical, and optoelectronic properties.
Research

Research interests

Research interest I: Nanoscale Photovoltaics

Our group established a unique setup to examine nanoscale electrical properties of defects using scanning probe microscopy (SPM). In general, an SPM image is constructed by moving a sharp probe across a sample surface while using a feedback mechanism to maintain the tip−sample separation. As the tip is scanned along the surface, electronic, topographical, force, optical, and other properties are mapped out at resolutions that range from the atomic scale up to tens of nanometres. In regards to semiconductor materials, it allows identifying individual defects and extracting various information including the location of the pn junction, charge separation/generation, and trapped charges. 

Research interest II: Indoor Photovoltaics

The significant increase in demand for low-power devices for "Internet of Things" (IoT) applications has caught our attention. Indoor PV technologies suitable to power these applications are underdeveloped, having a maximum efficiency at 30-35% though the theoretical efficiency limit is 52% under 1 W/m2 indoor lightings. The main problem is the lack of outstanding PV devices with optimal band gaps (1.8-2.0eV) for the low light intensity indoor spectrum. Mainstream inorganic solar cell materials such as silicon and GaAs perform un-optimally in these conditions. Our group aim to develop highly efficient (35-40%) PV technology by utilising wide bandgap halide perovskites to integrate to and power indoor IoT devices.
Supervision
Postgraduate research supervision
Postgraduate research supervision
Currently seeking for fully funded PhD (domestic) student in indoor photovoltaics. Please send me your cv to j.yun@surrey.ac.uk